Otanjobi Omedeto! Yuriko~
Oops, today going to swift away from Kuching post for a while, for this special post. Yap, my dear fren, Yuriko, having her birthday today. Muakkkk!!!
Happy birthday dear~
May this year a better year to you. Gakkou ganbatte ne~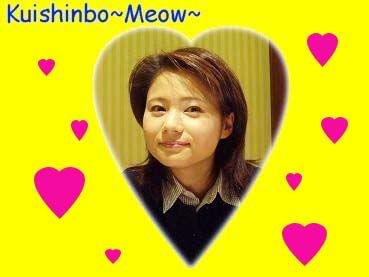 Heeee... she is a sweet gal, isn't she? Not only look sweet, personality oso very nice. Good news for all the single guys out there, Yuriko is still single at the moment. (Married or got gf, back off!) Kekeke... and she is waiting for her Mr. Right.
And for the 1st time in my blog, I'm going to do something special for her.
.
.
.
.
Calling for Mr. Right!!
Yap, you didn't see the sentence above wrong. This is a request from her, to do a short advertisement about this here.
Here is what she wants me to write here...
For guys that are interested to be fren with her... which knows who might have some more chemical reaction proceed from there...
You need to give the below information to my email. Then, I will forward the info to her. If she is interested to know you further, she will keep in touch with you in personal. :P (Ok, if you are too shy to let me see you too, fine, just mail me, I'll send you her email in personal after getting her permission.)
Qualifications needed to know her...
1.
xxx-born-Chinese
(The xxx means can from any countries, except China. From her last 2 trips to Australia and Taiwan, she discovered that Chinese guys are very gentle and nice).
2. You are not the skinny type that easily blown by the wind. She prefers guys that got more flesh. Dun really have to be tall. You dun have to look like Brad Pitt or Richard Gere.
3. Interested to be fren with her sincerely.
Information needed to send to her...
1. Your picture. A REAL one ok.
2. Your age, your location and what you are doing now. Name of the place where you work or study.
3. Weight and height.
Errr... I think that's all what she wants for the moment. More details, that will be up to her how much she wants to know you.
Send me the details, I'll forward to her. :)
Good luck!!
*wipe cold sweat!* Done... man~ seem like not an easy task to write this one. Kekeke...
Anyway, I celebrated her bd earlier with her on 19 March. Cause she was going back to Oregon on 22 March. Aarrgghh... I missed out her bye bye calls, was busy dealing my work yesterday. :(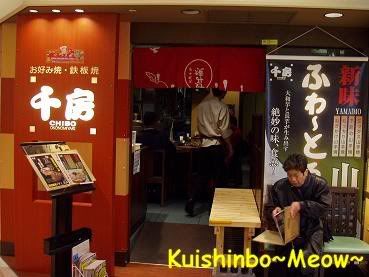 Here was the restaurant where we had our lunch. Chibo (
千房
), a famous Okonomiyaki restaurant. We went to the one in
Keihan Mall
, Osaka. Both of was actually confused whether to have Cheese Fondue or Okonomiyaki when we were standing in front of the 2 restaurants. Finally, we chose Japanese food.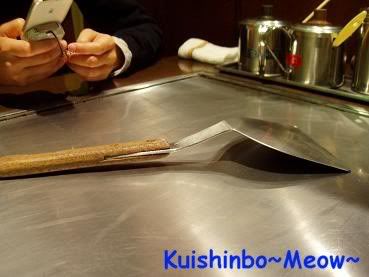 The special Okonomiyaki spade that is used for Okonomiyaki.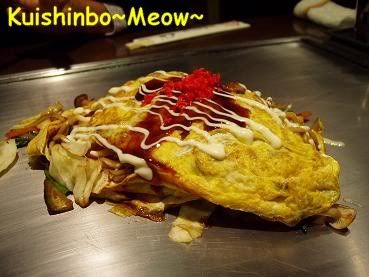 We ordered one Vegetable Omelette Yakisoba (オムレツ焼きそば). Fried noodle with a lot of vege that is wrapped in omelette. I love it~ The noodle was good... very munchy. And the sauce was to the right degree, not too sweet nor salty. One for 1260yen.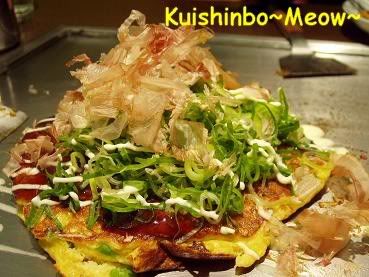 We oso ordered one Yamaimo Okonomiyaki (山芋お好み焼) with a lot of spring onion as topping. The okonomiyaki, instead of using a lot of wheat flour for the batter, the main ingredient used was Yamaimo (Japanese long yam). One for 1250yen.
So, it was a very fluffy kind of texture. For me, it was a new kind of texture in term of okonomiyaki. Definitely one new experience worth to try. However, I still prefer the Yakisoba.
We purposely just ordered 2 dishes, so that we left some space for desserts. Dessert time!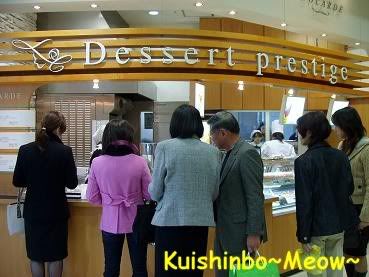 I was hooked by one of the dessert sold in Dessert Prestige. So Yuriko gave me a treat on that.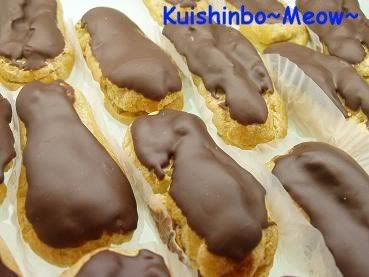 Heee... it was this choco eclair that attracted fish fish so much. The taste? Nice~ feel really happy when the choco cream melt slowly inside my mouth. One like this for 126yen, finished in 2 bites. :P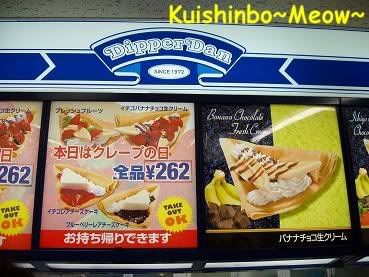 As for Yuriko, she is a big fan of crepe. In
DipperDan
(a crepe shop started started since 1972), for every month 9, 19 and 29... all the crepe would sell for only 262yen each. It was 19 that day, :P Lucky~
Yuriko bought one fresh fruit crepe for herself, and one blueberry rare chesecake for fish fish.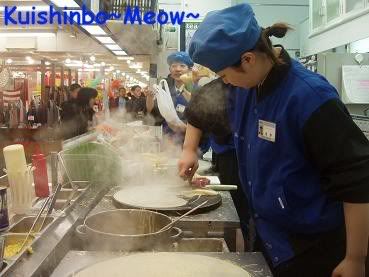 All the working gals were cute~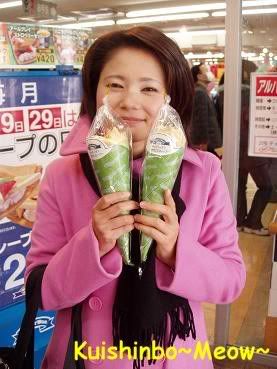 Weeeeeeee~ Our crepe with Yuriko sweet smile.
Time to munch on them...
I really love the cheesecake. It was very good, surprisingly. And the crepe itself was a good one. I would say one of the nicest among those I have tried in Japan. I'm not really a fan of crepe in Japan, however, if for this one, I would definitely go for 2nd, or even a 3rd visit then.
We had the crepe in a small children park. Just the 2 of us there, eating and chatting. It was a really great time we had spent.
Later, we went to lepak a while in a CD shop.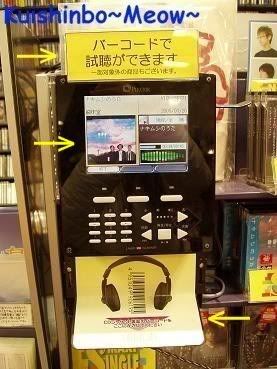 Both of us were impressed by this audition machine.
Top arrow : It was saying 'You can try to have a listen to the CD by using Bar Code".
Bottom arrow : So, we tried to get a CD, and scan the bar code face up here.
Middle arrow : Yippie! The CD that we wanted to listen immediately showed. Man~ we were really amazed. Too bad, it was only for 45 seconds only for each of the song.
Yuriko~ once again, a blessing muck from fish fish. オレゴンで、お誕生日どう過ごしまたか。^_^