Valentine's Night in Waterfront (Feb 14)
I sent Hoi Chin back before I rushed to meet KI, ST and Ah Chai at the
Kuching Waterfront
after
dinner with the Wongs
. Promised her to take some pictures on
Tua Pek Kong temple
that nite. She wanted to take pictures on Valentine's celebration around Waterfront area too.
However, we went there quite late, around 11 pm oledi... Not much we managed to see actually.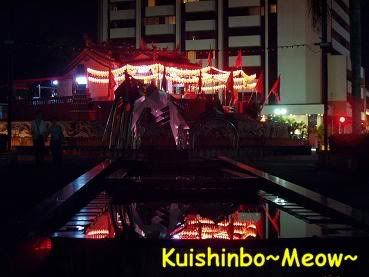 During CNY, the Tua Pek Kong temple was beautifully decorated with rows and rows of red lantern. Opposite the road... the metal hornbills were guiding it.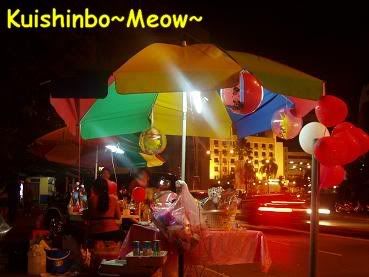 Many temporary stalls selling roses and some colourful stuffs have been set up since the day before Valentine's day. Most of the stalls were in a process of cleaning up by that time as it almost reached midnite. Bargain sales were on here for cleaning off their stuffs. ST took the chance to buy some plastic roses. Kekeke... I wonder what was that for... :P
It has been a long long time I didn't have a leisure walk along the Waterfront. It was good to walk there again, slowly... relaxingly... thinking nothing else, but just enjoying the slightly salty breeze across the river. Shiawasena~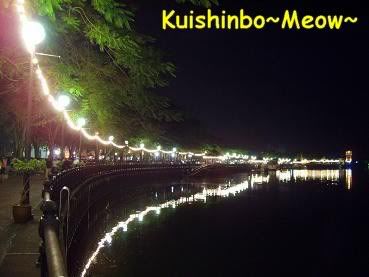 The long Kuching Waterfront during the night time. It is approximately 1km. A good place to pak toh without using any money. :P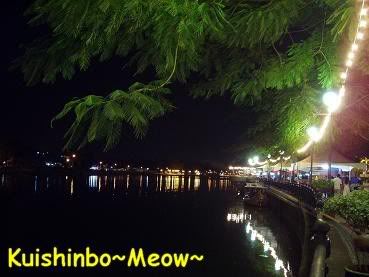 See the hawker stalls at the right corner? These stalls have a lot of customers during night time. A few frens told me that the nasi lemak over there very good... but I have never try it myself. Must do that next time.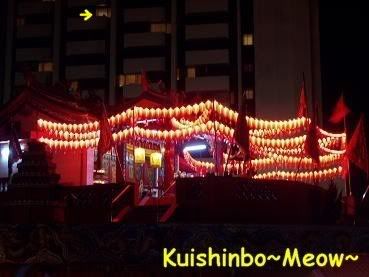 On the way back to our cars, I snapped another few pics on the Tua Pek Gong again. While I was busy doing that, I heard laughing voice from my back. KI, ST, Ah Chai and Bert Bert were looking to the same direction. So do a few guys beside us. And so, fish fish oso keypoh looked to the direction...
OMG! See the spot where I pointed with the yellow arrow?? That was what made them laugh so loud. A free show from the
Harbour View Hotel's room
.
*censored censored* Ai yar~ got 2 underaged boys with us that time.
Man~ that was a good show for the foreplay. These 2 show-off perverts... Regret I didn't bring my binocular that time. But I wonder, why do they have to show it on the balcony... will that make them feel higher??
However... it seemed like they were going to be ready for the main course... So, off they into their room, pull off the curtains and gone the light...
Bless you two~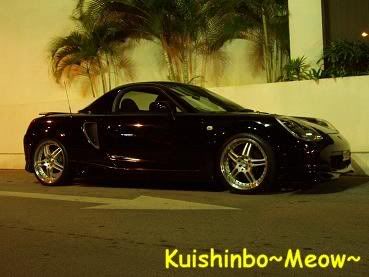 Then, another thing attracted the kids. ST, Ah Chai and Bert Bert were so excited with this MMR, that they took turn to take pic with it. Kekeke... I don't really know what car model it is... however, it is written mmr at the back, would really appreciate if anyone can tell me more about it, thanks.
The car number was same 4 digits. Hmmm... some rich dude.
Then, nearby my car... another same model sport car with same car number was there too. But this time was a yellow car body with a foldable black car roof.
Ok... these two must have been connected to each other.
But neither this my dream car, won't be able to bring me into the safari... Fish Fish want a four-wheel drive. :P
;) I had a good valentine's nite... how bout yours?