White Day... Oo la la~ (Mac 14)
February 14, everyone knows it is Valentine's Day. How bout March 14, how many of you realised it is called White Day? If you have no idea what it is at all, please go to read
Valentine's Day and White Day in Japan
...
I quote 2 sentences from there.
In Japan,
During
Valentine's Day
, women give the men gifts of chocolate as well as other gifts.
In return,
White Day
was created in 1980 by the Japanese for men who were lucky enough to receive gifts of chocolate have the chance to return the favor by giving the women who gave them gifts of chocolate
a more expensive
box of chocolate or sweets.
Get the idea here?? Kekeke... Gals! Go give chocos to your guy frens during Valentine's in order to get better chocos in White Day. :P *just kidding*
Anyway, this year Valentine's, fish fish was in Kuching. So, I skipped the obligation to buy chocos for my lab guys. Heeee...
However, today, the White Day, I get one nice box of present from the guys. Kekeke... Lucky fish~ get one without doing any investment. :P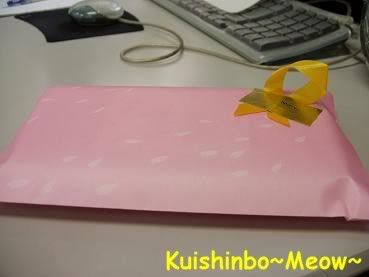 A nice pink parcel was put on my desk this morning. Branded
Furansuya
. That reminded me it is White Day. Well, I have guessed it must be choco or some kind of cookies. And when I see pink... oh no! Dun tell me it is strawberry... as fish fish dun prefer strawberry stuff except fresh red strawberry.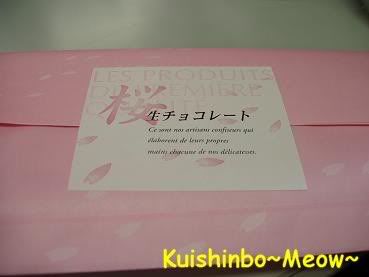 Turned to the back... Oh~ Nama chokoleto (Raw chocolate). Good~ I love raw chocolate.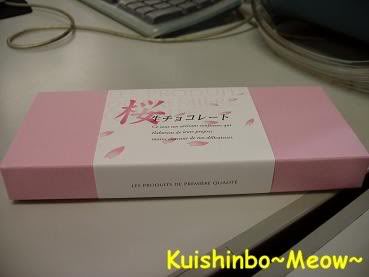 When I unwrapped the gift paper... A nice box of sakura nama chokoleto was revealed.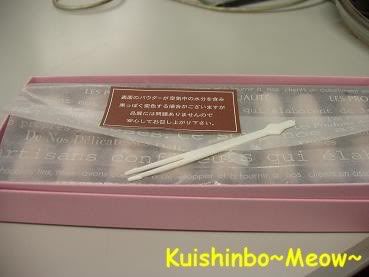 Oops! Still got another covering layer before the real thing can be seen. The little plastic fork is for one to take out the choco. And the brown paper was writing
"The powder on the choco surface will absorb the water in the atmosphere. In such case, the choco might turn black. However, it has no effect on the quality of the choco at all. Please feel safe to consume the product."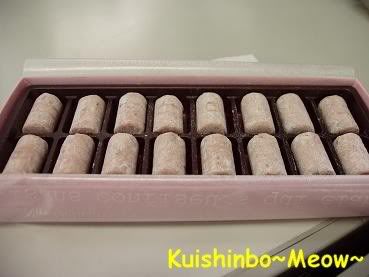 Dang Dang!! Finally, the pinkish sakura raw choco for fish fish this year.
The ingredients as quoted : Sugar, fresh cream, cocoa butter, full cream powder, liquor, strawberry powder,
sakura leave
, emulsifier (from soybean), spice and vegetable colouring.
Sakura leaves, hmm... the ingredient that made me interested the most.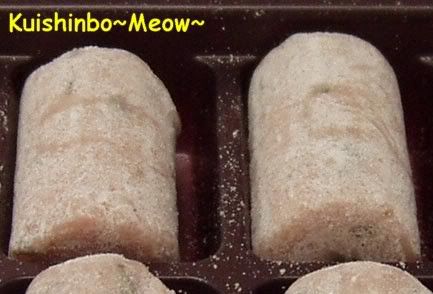 A much closer look at the choco. See the dotted black stuff inside the choco? That's the sakura leaves. How was the taste? Marvellous. Instead of the dull sweet strawberry flavour... The sakura leaves actually give a mild bitterness to the choco. Brilliantly soft that will melt inside your mouth once you chew on it.
Mmmm.... I'm falling in love again today~
Btw... I just got to know a good news, which is a very good 1st step for fish fish. Can't really tell you all what it is about yet, but I will announce once I settle everything. *nope, it has nothing to do with romance. :P*
Just bless me... k?
:P I feel like to have mucks now. Anyone would like to give me one?
Muak~~~ ;)