YUKI! YUKI! (Mac 13)
Going to interval my meow meow land post with a post from sakura land today. :)
Mughal
Today, I went to an Indian restaurant -
Mughal
- with my Japanese junior, Aso, for a weekends buffet lunch. When we reached, the restaurant still not yet started their business. So, used that time to capture a few pics at the river beside the restaurant.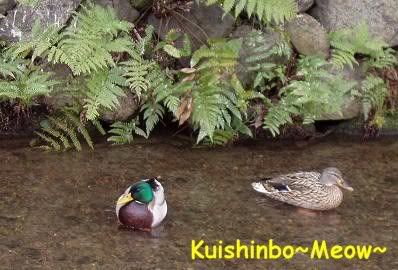 These are called Kamo (鴨), wild duck. An expensive meat in Japan. Normally, Japanese do not eat ahiru (家鴨), which we call domestic duck... they treat domestic duck an a pet. Ok... maybe except Peiking duck.
In animal kingdom, the male (left) owez much prettier than the female (right). ;)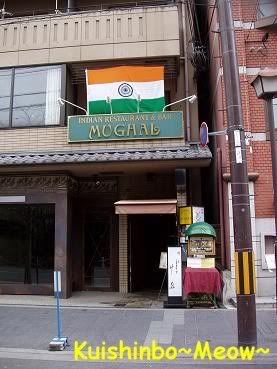 The outlook of the Mughal. It is a quite street in the day time.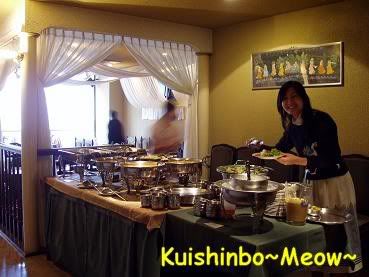 The buffet is from 1200 to 1430 in the weekends. Men are charged 1600 yen per head, while the ladies 1250 yen per head.
The interior of the restaurant, with sweet Aso in action. :P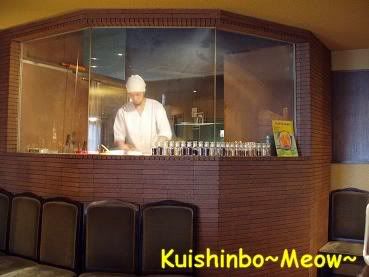 The assistant of the owner was preparing naan.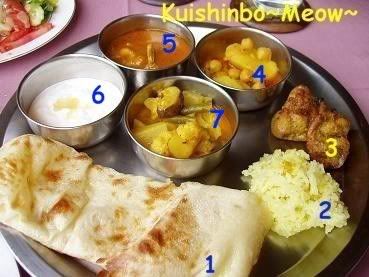 So, these are the foods you can eat-all-you-can for this buffet, without any time limitation.
1 : Naan, 2 : Yellow rice, 3 : Chicken, 4 : Dhal curry, 5 : Chicken curry, 6 : Home-made yogurt and 7 : Vegetable curry.
Fish Fish personally like the Naan dips with chicken curry the most. Had one whole big piece of naan. Kuishinbo na~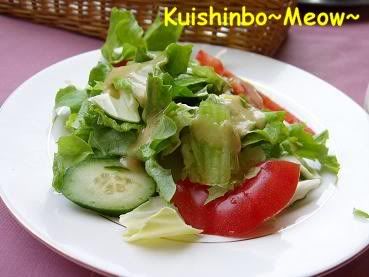 Besides that, other things that you can take as much as you want included salad... (which today not so nice, feel like soil taste inside).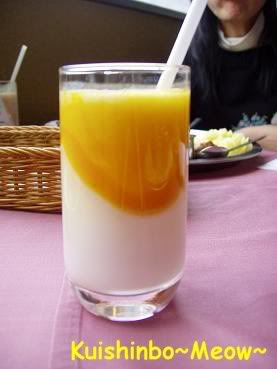 And mango juice and lassi... Normally, fish fish would mix the 2 to have my own mango lassi. I love this so much today that I had 3 glasses of it. :P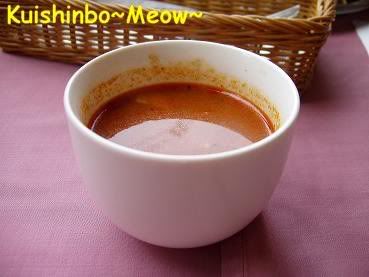 During the lunch, you can request for tomato soup... it is included in the buffet. Well, this tomato soup owez too sour for me... I just had 2 sips of it today.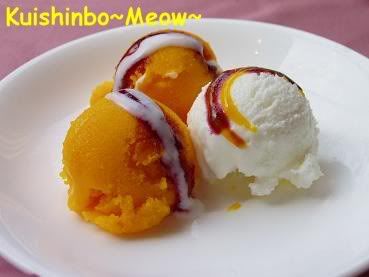 And to end your lunch, you can request for mango sorbet or coconut ice cream, for free too. We ordered one each, and exchanged our scoop. :P Yum Yum~~~ a good choice after a hot and spicy curry meal.
Aso... isn't she sweet? She will be in this lab for another 2 weeks the most, then would go for her future carrier oledi. I'm going to miss her a lot, as she is the closest Japanese gal with the foreigners gals in the lab. This was actually my first time date with her one to one. We had so much fun for the lunch and chit-chatting.
Maruzen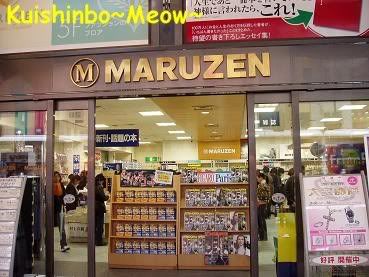 Then, we headed to
Maruzen
for some window shopping. I watched a special programme about
Leonardo da Vinci
in the TV yesterday... Must tell you all, I'm falling in love with him. Wanna know more bout him. Man~~~ why didn't he born in this period? Gonna borrow
The Da Vinci Code
from my fren... and if I like it, I think I'll buy a Japanese version to read too. :P Woohoo!! I'm truly excited now.
In Maruzen Kawaramachi bookstore, what I found interesting was these colourful shapes... Make a guess what are they?
.
.
.
.
.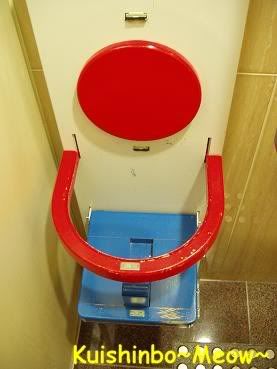 Dang Dang!! Baby chair inside the toilet... cute ler? ;)
However, when we came out from Maruzen... OMG!! Heavy snow was falling...
Yuki~~~
In the middle of March?? Snow in southern Kyoto?? What more a heavy one. For the 5th year I'm in Japan, I would say this was the 1st time I see snow falling in March.
Should I call it Miracle?... or... Weird?
I guess the
Tornado
praying was too strong. Wei~ hope you get to see one too yer~ ;)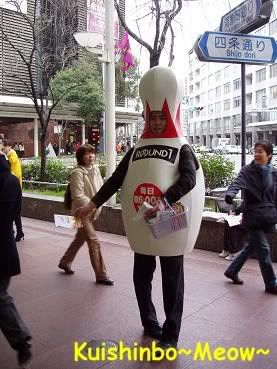 Before saying bye bye to Aso, we past thru a bowling pin man. Kekeke... he was distributing free tissue packs.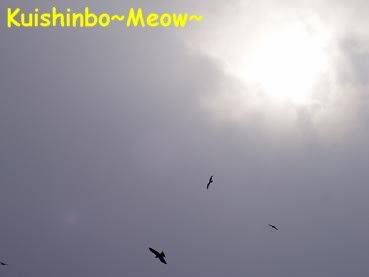 The weather has been very grey... hawks were flying high in the sky. It was only 3 degree celcius that time. Grrrrr.... samui!! (cold)
3 degree celcius not too bad... some of you might say. But it is a different case in Kyoto. Well, Kyoto topography is quite unique, like a wok. Which the Japanese call it Bonchi (盆地) (basin). So in winter, it is extremely cold whereas in summer, extremely hot. Even my frens from France and Germany, who have get used to minus 20 degree celcius... quoted Kyoto as 'cold'.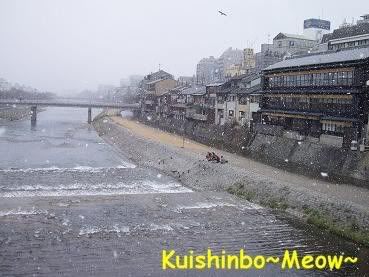 Kamogawa river looked quite attractive with the white powdery drops decorating it. See those boys near the river? Crazy dudes... got mood some more to feed wild pigeons in this cold weather while people walking hurriedly to avoid the cold and bad weather. Hello~ u guys think that is romantic is it? Kekeke...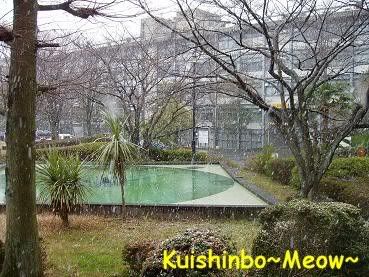 The snow have been suddenly heavy, suddenly stop. On my way to lab, heavy snow again. Snow and the school fountain and the look-so-bald sakura tree. Wait till April, you will see what kind of magic these trees can make. ;) Now I wonder, dun tell me sakura going to be more late this year.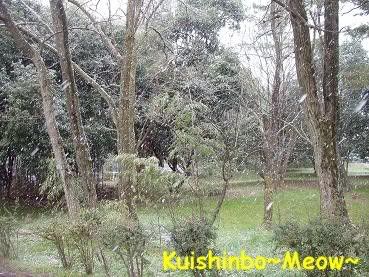 It was quite nice to enjoy thin white layer covering the trees and bush...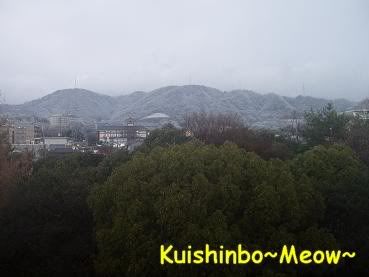 The hills view in front of my seat. :) Nice huh~
Muak~