Doma Doma 2 (Mac 20)
After having a nice lunch at
Ikemasa Tei
, the gals decided to burn some calories in karaoke for 2 hrs. (I know, the burning was pitifully little, but better than nothing mar~ :P)
We came out from the karaoke around 6pm. Was a bit too early for our nite plan. Oso too early for dinner, as our stomach not really hungry yet. Eventually, we decided to have an early dinner in order to match the time for Hanatoro (花灯路).
Chose
Doma Doma
in Kyoto, after an experience of having
one good dinner
last time with
Angel
and Kari in Kobe.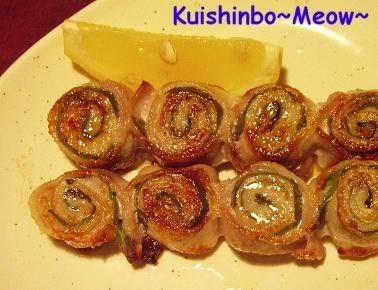 Miyuki wanted to try this Grilled pork rolled with perilla (豚しそ巻きの串焼き). One plate 320yen. This was a menu for the 2 gals. Fish Fish didn't eat. But according to them, this was a very good choice.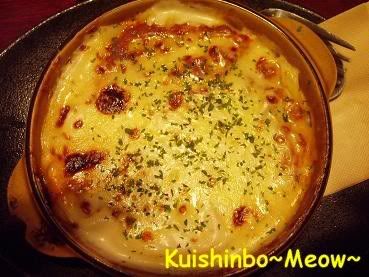 Heee... this one looks like a normal gratin to you? But wait, it was not a normal gratin.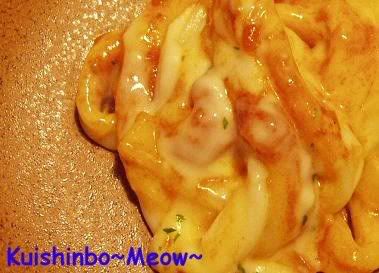 Dang Dang! This was a modified Japanese version of gratin. Made from Kishimen. However the name of this dish was Kishimen Lasagna (きしめんラザニア), which I dun think match the dish. It was for 490yen.
Delicious!! One of my favorite dish for that nite. One complain, the dish portion was too small for 3, hmm... next time must order 2 instead. One would finish by fish fish alone. Kyak kyak kyak!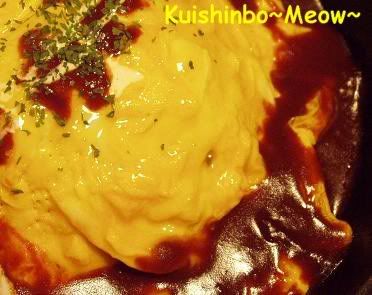 I felt like having soft omelette, so I suggested to order one of this Omelette Rice with Demiglass Sauce (dun know what the correct spelling, I translate it direct from Japanese). Well, the rice was just so so. But the egg was nice. The sauce was not my favorite too. I actually prefer to have white sauce or curry gravy. :P Same price as the Kishimen Lasagna.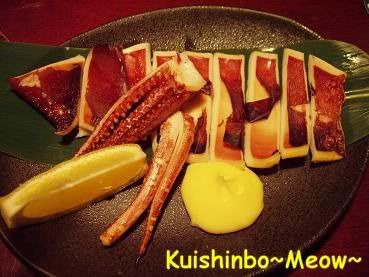 This was requested by Sylvia. She was craving for some squids. It was a big piece of Grilled Dried-overnight Cuttlefish (イカ一夜干し). Sylvia said it was soft and munchy, but a bit too big for the 2 gals. Heee... fish fish just responsible to take a pic for this dish. So no comment bout the taste from me. It was for 390yen.
Another favorite dish of fish fish that nite, it was called Avocado Steak. 390yen per dish. A seasonal dish only available in Spring. Frankly speaking, abit too salty. Apart from that, it was a brilliant dish. I know why it was salty now, just read through their website and realised the sauce was made from a combination of anchovy and cheese. No wonder. The melty kiss of the avocado inside my mouth was something irresistable. It just made my tongue wanna played with it (oops, sorry... a bit too 18sx here. :P)
Another nice dish that captured my heart that nite. A welldone piece of Tofu Steak (豆腐ステーキ). Only for 290yen. Definitely very cheap if compared to a Kobe Beef Steak. Kekeke...
You don't have to worry that overcook this steak would spoil the texture. Instead, the welldone crispiness outside and the softness inside, give a double-sensual pleasure to me. The Japanese sauce made a perfect taste decoration on this dry tofu. Ah~ I couldn't help but kept enjoying this.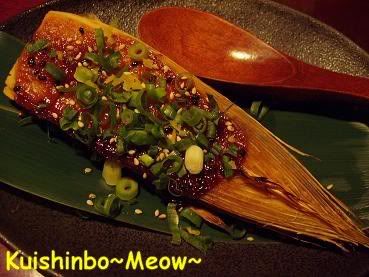 Another healthy Spring limited dish of the nite. Toasted Bamboo Shoot with Miso Paste (たけのこ炙り田楽). A half piece like this was for 390yen. Well, it looked better than its taste. Maybe because that time we were slowly getting full. So, the taste was not as good. :P I still think the best grilled bamboo shoot was the one I had in bamboo forest, after it was freshly dug.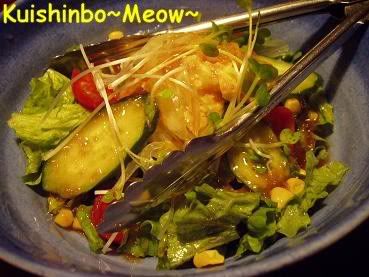 The dishes above were kind of lack of healthy dietary fiber. So, we order one big bowl of Doma Doma Style Salad (土間土間サラダ). Assorted colourful vege with creamy tofu in the middle. It was yummy. However, Sylvia was complaining the dish was quite salty, due to the overloaded Japanese salad dressing.
In fact, the complain that Sylvia made the most that evening was...
"Too salty"
. Well, I agreed with what she said regarding some dishes. Hmm... next time if I go, must remind
"Less salt please"
.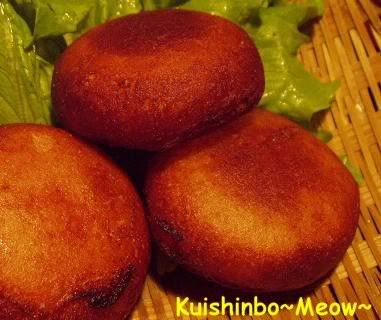 The last order to end up our very rich dinner. A fried rice cake with cheese (チーズもち), it came in 3 nice pieces for 390yen. Each of us had one. Another favorite of Sylvia. She had a good comment on this was, though she was oledi with a very full stomach. Basically, it was Camembert cheese sandwiched in a rice cake and deep-fried until golden brown. The biggest punch it gave to me was the 3-layer texture - the crunchy outer layer, the munchy middle layer and the melty inner layer. I didn't like Camembert, so the impression on the inner layer was kind of disappointing. If only they used mozzarella cheese, it would be perfect. :)
*burp*