Hanatoro (Mac 20)
With very bloated stomachs from DomaDoma, Sylvia, Miyuki and me decided to burn our calories by having some nice sightseeing in the
2005 Kyoto Hanatouro
(
京都花灯路
) event. It was on from March 11-21. My Japanese friend told me this has become an annual event in Kyoto. Basically, this event lit up lights in Higashiyama area from 1800-2130 every evening during that period.
They themed it
"The Elegant Kyoto Road in The Spring Evening"
.
Though we walked the whole route, I only took pictures in the Maruyama Park (円山公園). Didn't feel like taking pictures while walking with so many heads around during night time.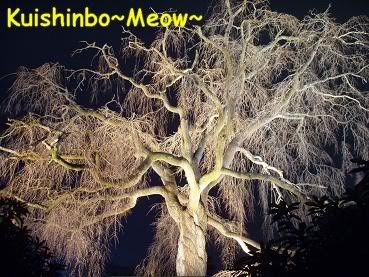 The most famous Sakura Tree in Maruyama Park. It was nicely fenced to avoid visitors from reaching it. Heee... looked a bit spooky during night time without any leaves or blossoms huh. *Woooo~~~*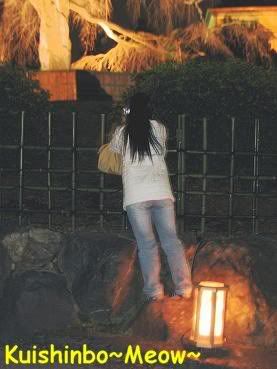 *iish* While I was so focused on it... Sylvia took a picture of me behind.
See my BIG butts and CARROT legs? Duh~ I know where the few kilograms increase of mine gone liao. Got so shock seeing this fact...
Evil Sylvia, when she was sending me this pic... Her email title was
"Your butt... hehehe!"
*bleh~* Anyway, thanks dear for sending the pic over.
And yes, now I'm working hard hopefully by summer, I can put on my tight jeans again. *bless me*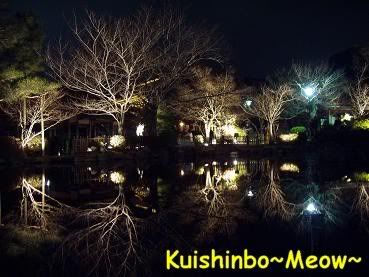 Opposite the tree, a still pond was very pretty with its heartthrobing reflection. Like a mirror~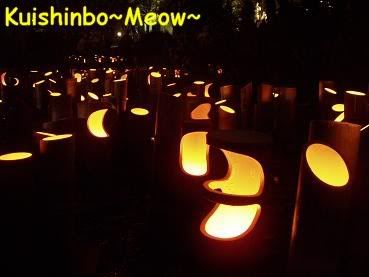 This was one of the reason I wanna go to the Hanatouro. I saw it inside the train, and I got attracted with the concept.
It gave me kind of a "ZEN" feeling.
Know what were these?
Cylinder by cylinder of cut bamboos with candles litting inside in the middle of a dried pond.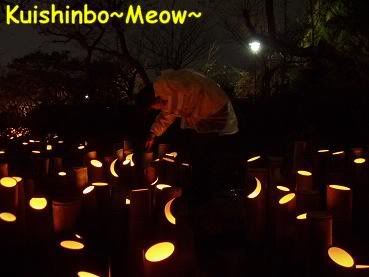 Once the air moved, many of the candles' light would be extinguished. For that, you could see a 2 staffs were very busy inside keep lighting back the blown out flames. Man~ what a job. Don't get backache later ar~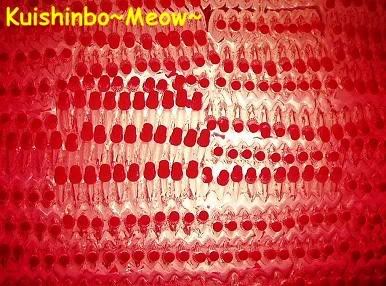 There were many artistic works from an Art School exhibiting there. Quite a few brilliant ideas. But think this was a splendid one. Know what were these?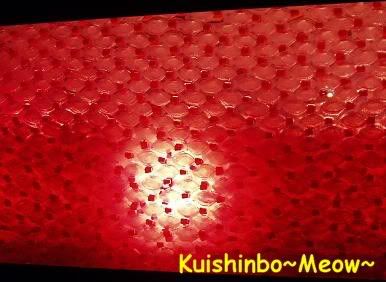 Dang Dang!! So many little fishes!!! Yap, these were actually a fish shape plastic tubes that commonly used for holding sushi's soy sauce. The people who created this actually thought of the idea of recycling these used tubes to make a unique aquarium. It was not that pretty, but I like their creativity and the conciousness on environment.
Heee... I would say, after munching
very expensive momoichigo
, an
authentic lunch
, nice karaoke and
heavy dinner
... and finally this Hanatouro... I spent a great day with Sylvia and Miyuki. Thanks dears. Muak!!