Ikemasa Tei (Mac 20)
After we bought
the very expensive ichigo
, we found another place in Nishiki Market (
錦市場
) to settle our lunch.
It is a shop specialized in Kyoto Vegetables (京野菜), which happens to offer Kyoto Vegetables lunch set. The shop is named Ikemasa Tei (
池政亭
). It is one of the very famous shop in Nishiki, referring to the number of TV programmes that have introduced about it. However, this was the first time fish fish realised the existance of this shop. Sylvia has heard about it quite some time ago.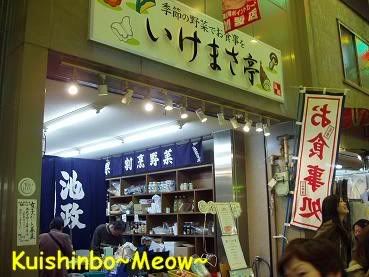 The front part of the shop was selling Kyoto Vegetable as any other normal vegetable stores.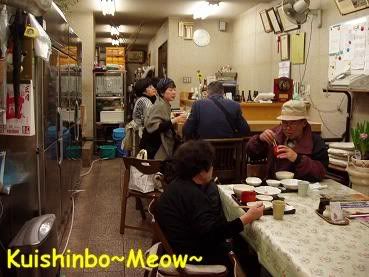 Once we past thru the blue noren (shop curtain), we noticed quite a number of customers were having their meals. There was no empty seat for us.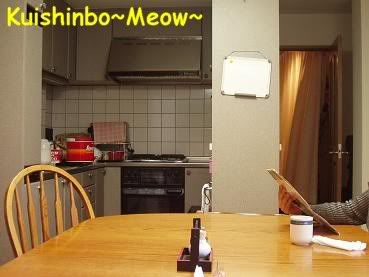 Surprisingly, we were led to the upstair and came to this very "homestyle" dining space. Man~ I felt like I was doing some kind of house visiting instead of going to have our lunch in an eating outlet.
There was only a lady sitting there when we reached. However, not for so long after that, the seats were filled up. Glad we came a few minutes earlier.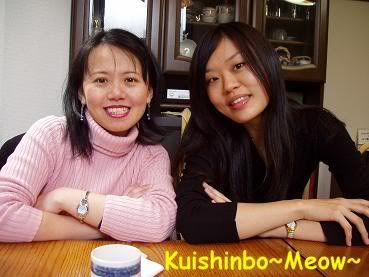 My lunch partner for the noon, Sylvia (pink) and Miyuki (black).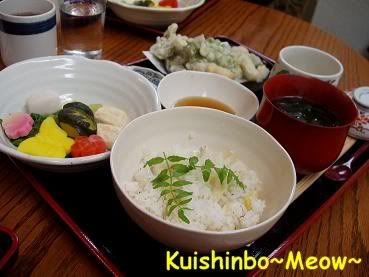 Our lunch set finally came after we waited for around 15 min. Let see in details what were they.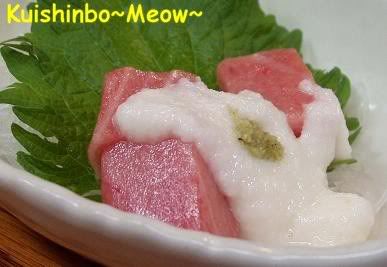 First, a very fresh plate of fatty raw maguro for Miyuki. Sylvia and me requested to substitute this fish with a vegetable meal. The owner agreed to do that for us.
So, it was replaced with a bowl of fresh yuba (the hardened layer that is formed on top of thick boiling soymilk). The seasoning was simple... soy sauce and a bit of wasabi.
Amazing!! I can tell you the yuba was one of the best I've eaten. It was so creamy yet light, that would make you suspect whether it is really a yuba. The soysauce and wasabi combination wisely brought out the gist flavour of this little small bowl. It was a small portion, but the impact was strong enough to make one hard to forget about it.
Heeee... Sylvia, you do agree with my review bout it rite? ;)
I would say... this, is an authentic Kyoto yuba.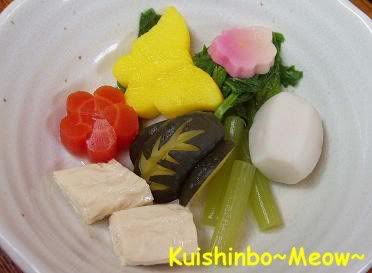 This was a plate of cooked food. No unnecessary additional seasoning to mask the original taste of the fresh veges. Everything was so natural with its true flavor.
On top of that, you get to enjoy the artistic element in this dish. Eating Kyoto dish was not simply about filling up your empty stomach, but at the same time to fulfill your soul with the beauties they possess.
Clockwise starting from the deep-orange rose : Golden Time Carrot (金時人参), Japanese Long Yam (長芋), Wheat Gluten (麩) with Rapeseed (菜の花) beneath it, Japanese Small Taro (里芋), Butterbur (蕗) and Yuba. In the middle, was the Kyoto Small Pumpkin.
Butterbur was not my favorite. So not much to say about it. The Kyoto Small Pumkin was the best for the cooked items. Impressively sweet!!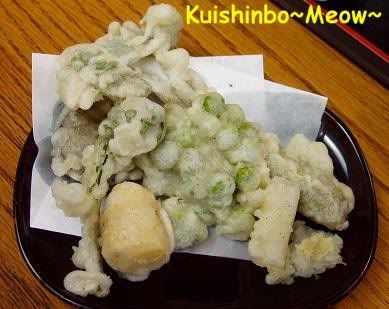 A typical Japanese set lunch would definitely attach with tempura. This was a great plate of assorted vege tempura. Especially love the Mini Bamboo Shoot. One of the best. The texture was so nice, and the taste, was definitely differ from the tropical bamboo shoot back to my hometown. Heee... remember I have told you guys before Japanese bamboo is a branded food? They don't declare that for no reason. ;)
Another ingredient that was used in the tempura that gave fish fish a good shock. Anyone of you recognize what is this trunk-like thing? This is actually a Giant Burdock (牛蒡). I've never seen such a big burdock. The lady was telling me this is a typical Kyoto vegetables. It made me realised how little I know about Kyoto vegetables.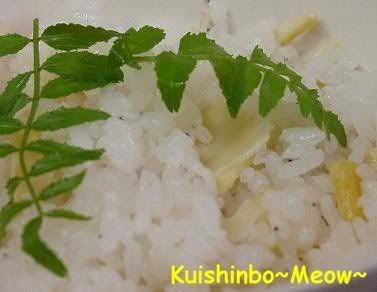 This was our nice bowl of rice. It was cooked with bamboo shoot and tiny fish. The taste of the rice was marvellous. The only thing was it took me a long time to finish this bowl of rice, as I have to pick out the tiny fish one by one. Man~ what a process. The rice was decorated with Pepper Leaf Buds (木の芽). It was the first time I had Pepper Leaf Buds, again, it matched so well with the rice. The unique taste of the Pepper Leaf Buds... was something hard to forget.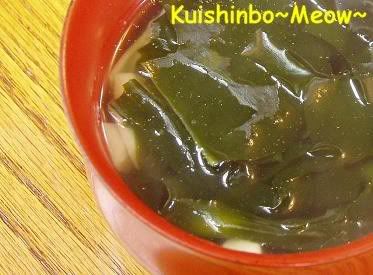 Finally, a very nice bowl of clear wakame soup. Very tasty and yet healthy. Simple and yet satisfying. The portion of the wakame given was indeed generous.
I was very glad with the lunch. Which only cost 1575yen per person. If you are looking something very Kyoto, this is definitely one of the must-consider-place for you. ;)