Last Day in Kuching (Feb 20)
Geee... some of you might even get very bored with my meow meow land talk liao. Anyway, today is the last one. Even if I want to tell you more bout Kuching, will have to wait until next year. I miss it... deeply.
Long post for today. :P
The last morning, decided to go to have breakfast with my family. Wanted to go for another bowl of
Kueh Chap
.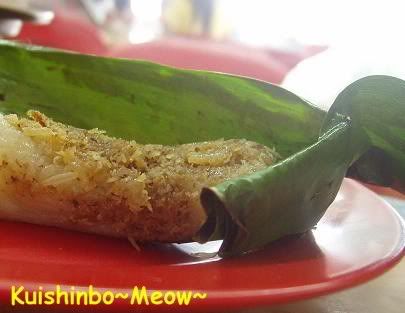 Stopped by in a kuih stall to buy one of my favorite kuih. Nasi panggang (grill rice). This is actually grilled glutinous rice with grated cococut filling that wrapped in banana leaf. Yum Yum~ I just love it.
Then, I had a big bowl of Kueh Chap. I'm going to miss this too.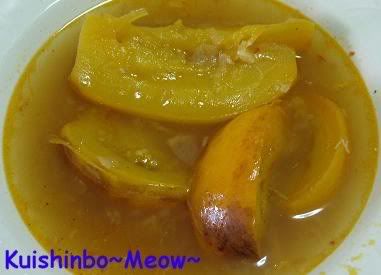 Mum bought some Terung Masam (Don't really know what it is called in English. Pleaseee... can someone give me the English name?). She cooked it with fish. I have a strong preference towards sour food, so this definitely one of my favorite. I had a big bowl of this as lunch.
The whole day, I didn't go out anymore. Busy with my packing. Kekeke... another bad habit of mine, only pack at the last minute.
*Check my things. Need - stuffed into my luggage. No need - fly aside.* *DONE!*
Bert Bert :
"Duh~ Jie Jie, I see you pack things, I want to pengsan."
Fish Fish :
"Then dun see, go out."
As simple as ABC.
I usually put my G-strings and transparent bras on the top. So that if the guard in the check out point wanna check my luggage, he will get his luck!! (Do you believe this is true? Figure out yourself. :P)
Eddie
came with
Ann
later to bid farewell to me. Surprised me to see auntie came with them too.
They went to an early dinner
. So even that time I wanna do something crazy, I didn't. Dun wanna shocked auntie too much later. Kekeke...
Anyway, thanks a lot Eddie and Ann. Had a nice hug with them. I didn't give auntie one. Coz I was not certain whether that would shock her or not. Hmm... maybe I should have give one to her too.
That evening, had a simple dinner with mum at home. Daddy went out. Called his hp oso couldn't be connected. So, he didn't know at all that I was leaving tonite. Heee... he was still angry with me, so I didn't get chance to tell him my time of leaving. So instead of daddy as usual, this time was mum sent me to the airport.
5 minutes before leaving house, Chun Lian came to my house. Was surprised to see her. And yet, happy to see her. Thanks dear. That was so sweet of you specially came to just say bye bye to me. I'll miss you a lot. I think that was the first time I gave her a muck. Hee... hope she didn't get shock with my western way.
Finally managed to get daddy thru hp.
"Wei~ Pa~ I'm in the airport."
I said.
"Airport?"
Daddy sound a bit panic.
"Yah~ gonna fly in 30 min."
I said.
"Why didn't tell me earlier? Now where got time to rush to the airport? U owez come and go like wind."
Daddy grumbled.
"Was trying to tell u much earlier ar, but u didn't give me chance mar~ Nevermindlar. Next time I come back, you fetch me lor."
Heeee... wicked fish, was trying to make her daddy feel guilty with his stubbornness.
"Ok lar~ u fly safe safe."
He finally said.
"I will. Miss you. Take care ar~ Muak!!"
I gave him a loud virtual kiss on the phone.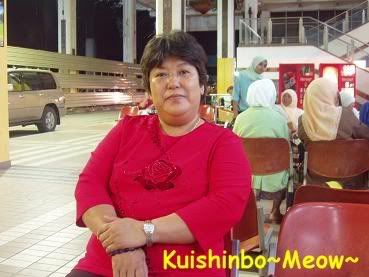 After hang up, mummy was giggling.
"Heee... you stubborn daddy would think twice next time, whether he wants to say bye bye to his daughter thru hp only again. Serve his right."
Mum got the point. But then, quite sayang oso didn't give daddy a real hug before I fly.
"Still got anyone you wanna call? U called SK oledi?"
Out of no where, mum asked me this funny question.
"No. Why should I?"
I stared at my mum, unbelievable with what I've just heard.
"Err... nothing ar~ He's you old fren, you should say bye bye to him too mar~"
Mum's answer even very suspicious.
"Yah yah... Jie Jie, call him mar~"
Another voice interrupted. Who else?
"Key poh Bert~ shut up."
I looked sharply at him. But he responded with a funny look. Geram!!
"Nope mummy. I only call him when I back to Kuching. Dun see any necessity I need to call him."
Hee... she's my mum. I know exactly what she is thinking.
"But mummy, I got a person to call."
Took her hp, and went a distance away.
"Moshi mosh~"
With my husky voice.
"Flying soon ar?""Ya lor, very soon. Just to say bye bye.""Bye bye. Dun cry ar~""I won't. Dun worry.""It's a pleasure to meet you.""It's a pleasure to know you too. Thanks."
:)
Then I hang up. The announcement for last call was in the air.
Gave back the phone to my mum.
Grabbed my backpack.
Gave Bert Bert his first hug.
Gave mum a deep hug and kiss on her cheek.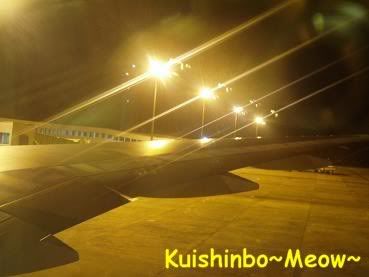 The next minute, I had to say bye bye to this meow meow land. My very beloved land, I'll come back again.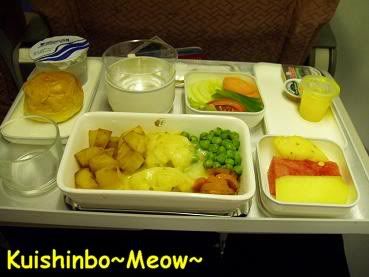 The meal from Kuching to KL was ok. Not bad, not good. It was Boeing 777, as the flight was an international flight that would continue fly to Frankfurt.
Like half of the other passengers, I got down in
Kuala Lumpur International Airport
(KLIA). Unlike the common flight from Kuching to KL, it stopped in the international wings.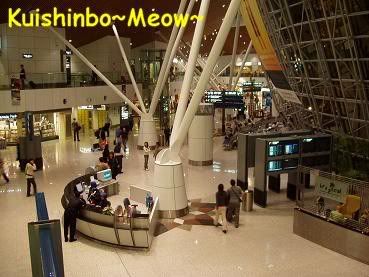 Nearby this information counter, I bumped into one of SMKBL-cum-UKM senior. Hee... we stared at each other for seconds, before we confirmed that we know each other. Had been years I didn't see her.
"OMG! You slim down a lot."
Was her first reaction. :P I was 72kg that time, so not a hard change to notice.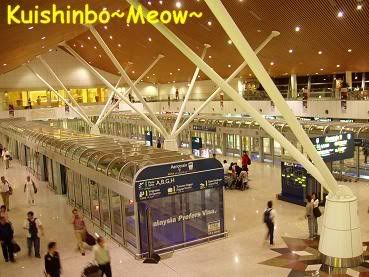 She got panic. As she didn't know that she was in the international area. She wanted to get her luggage. So I led her to the aerotrain, tell her how to go to the domestic place to check out. Good luck! :)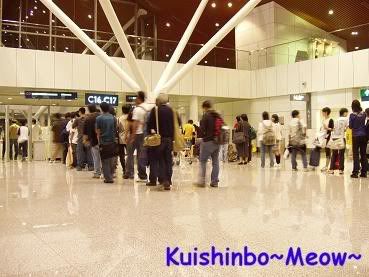 Then, me forwarded to my gate of departure. Many Japanese high school kids that time. Seem like there was some kind of school tour from Japan, that happened to take the same flight as mine.
I waited until the line almost finish, then I did my check in.
"Same group? Your student?"
One of the male staff ask a teacher that stood beside him when I past thru the gate.
The teacher shook his head.
"Pasupoto please."
That staff continue to speak his broken Japanese with me.
In mute mode, I pulled out my passport. The moment he saw my passport, he stared at me with disbelief. Then, somehow he smiled to me with a strange way.
"Ni Hao Ma?" Phew!! Out of no way, he shocked me again with his broken Mandarin now this time.
"Wo Hen Hao. Xie Xie." I replied him, after I managed to recover from my seconds shock.
Blah blah blah... he asked me another few questions. Totally forgot bout what now. But anyway, he finally let me go.
Thank goodness. I was in a lazy mode to talk more that time. Gave him a smile, and tata~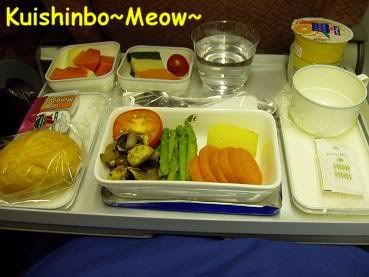 On the flight, urrgghhh~~~ had one of the worst inflight meal. Yark!! They gave me "Vegan" version, instead of "Western Vegetarian". I thought I requested clearly before I want "Western" vegetarian. Anyway, I was not hungry that time, so I didn't get fussy for a change. Except for the fruit and the boiled tomato, I didn't take the other. >_<
NOTE
: Please, dun ask for VEGAN in MAS, I've experienced a few times, the taste were terrible. So, if you can take egg and milk, strongly advise you to request for "Western Vegetarian".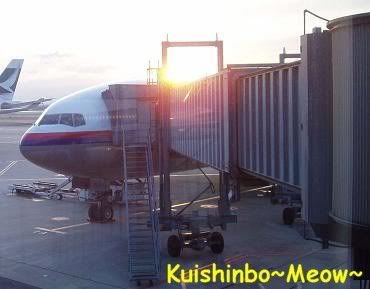 The flight back to Japan was nothing. Even the movie was not exciting.
Flight from Osaka to KK
was much better. And yes, I've to get back to the normal study life in Japan once again when I reach Kansai Airport. :(