A Letter of No-Return
Dear daddy,

Thank you for helping to do shopping for this week. Next week, you will be able to have a good rest. Please, before you go out to work this morning, do greet me. :)
Dear little brother,

I've prepared the breakfast for you. Must eat it, ok? Remember to be a good boy. I promise you I'll bring as much souvenir back for you. :)

This... was a simple note from a 20's young lady to her family before she left her house for her first time travelling away from Japan. Her mother has past away long time ago, and she, has been replacing her mother in taking care of her family. The overseas travelling, has been something she has been dreaming of.
Little did she know, it was indeed a journey of no return. She took the JR Fukuchiyama line that derailed on 25 April, 9.18am on way to the airport. She was one of the the many victims that sacrificed in the accident. The worst train accident in the history of Japan.
I couldn't help myself but feel a strong sadness inside me. She was not the only one... there were many gone with her. It is really hard to imagine how big shock it is for those who involved.
This morning, the news in the TV reported the number has been increased to 91 victims, with another 450++ passengers injured. They believed the victims will rise up to more than 100 people.
Mum even called me yesterday night to ask about the incident. Surprisingly to know this morning, the incident was very near to the station to
Yuriko
's house, the Itami station. I've been there a few times by using this line.
Wordless to see the incident. Here is a
series of detailed reports in Japanese
. For English report,
please click here
.
Below are a few pictures that I
took from here
.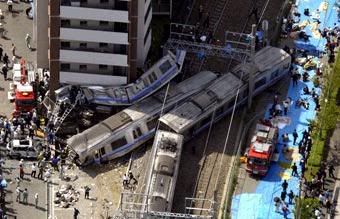 A picture after the derailment. Taken at 25 April, 10.05am Japan time.
The driver of this train was a 23 yo young man, who was reported had been on the job for only 11 months, overshot a station stop in June last year by 100 meters.
On Monday, JR West initially announced that at Itami Station, the train's last stop before crashing, the driver overran the stop mark by about 8 meters and had to back up before the passengers could be let off. But the company corrected that figure Tuesday and said he overshot the mark by 40 meters.
The driver, who previously has received 2 penalties for his duty's mitakes, has asked the train's conductor, to under-report the overrun distance.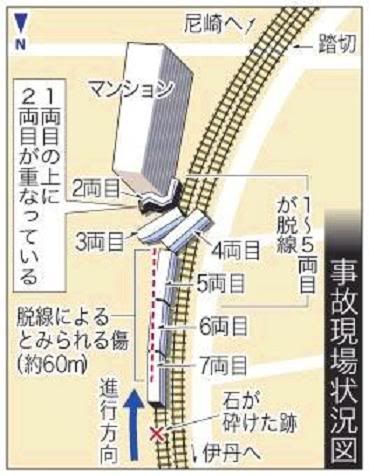 This shows a drawing of the incident.
There were 7 cars for the train. 5 cars were derailed, carrying 580 passengers at that moment.
The first two cars plowed into the first-floor parking garage of a nine-story apartment building. 1st car couldn't be seen in this figure as it was under the 2nd car inside the building parking compartment.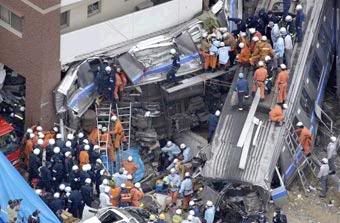 A large group of rescue team has been formed immediately to act as fast. However, the rescue work has been a hard task, as no burner is allowed due to worry of explosion that may caused by leaking car gasoline.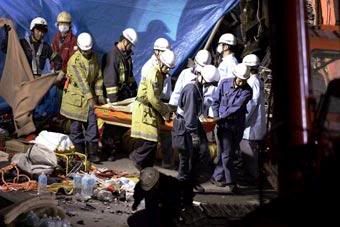 Rescue work has been operated non-stop even until middle of night. Picture was taken at 4.00am, 26 April 2005.
I send my deepest sympathy to the families of the victims. It was a hard-to-believe incident for me, especially in a country like Japan.