Uncle's Home-cooked Meal (Feb 19)
Updated Note: *
Duh~ my dear readers, the 2 guinea pigs are not for eating yer. They are for my cousin's biology experiment. So pleaseeeee... never think that my uncle cooks them, ok? No time for proper update today, see you all tomorrow. ;)
*
During
CNY 1st day
, when my father side 4th uncle whole family came to our house...
fish fish :
"Suk, I want to eat your famous yam dish ler~"
Suk is a Hakka way to greet uncle.
Uncle :
"Ai yar~ you didn't say earlier. I've just made one 2 days ago. But the yam no good, I just bought one, so finished fast."
fish fish :
"Iish! Then me no chance to eat lor~"
:(
Uncle :
"I can owez cook again one mar~ You wait till I can find good quality yam. I'll call you over for lunch."
fish fish :
"Yah hoo! Nah~ you say one ar~ Promise is a promise."
I put out my little finger to hook his little finger as a promise signature. ;)
So, here I ended up for lunch in my uncle's place for my 2nd last day in Kuching.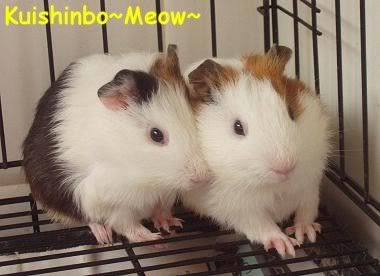 While waiting for the meal to be ready, I went to play with these 2 cuties. There were 4 previously, 2 got dissected already. And soon, these 2 are going to have the same destiny. >_< src="http://img.photobucket.com/albums/v320/kuishinbo_meow/Feb%202005/14-19sweetyampork.jpg">
Dang Dang!!! Finally a very big pot of nice and yummy Sweet Deep-fried Yam with Pork was ready-to-eat.
Even mum can't make one that taste as good as uncle. Auntie never prepare this dish. This was actually Xing On Hakka dish. For Xing On sect, quite a few of the dishes taste sweet. I didn't like this when I was a young kid. Coz grandma would make this dish at least once per week.
However, after we moved out from the house, this dish disappeared on dining table for quite some years. Only under special request, then mum would make one.
The yam on that day different from the one I used to have. It was actually a new try from my uncle. He cut the yam stick into 1/3 of the usual thickness for this dish. And he deep-fried until golden crispy. However, he got scolded by auntie for over-frying them. So, the 2nd batch of frying was with a milder degree, the inner part of the yam still remain powdery instead of crispy.
Indeed, I was impressed with the new attempt. The yam really tasted good with the thickness. And I prefered the golden crispy type. It was like even after the yam stick has absorbed the sauce, the crispiness was still remained. The milder version turned into quite soggy. The taste was good, but the texture too soft.
"Suk, GOOD!! Suk Mu, you shouldn't forbid Suk from make it golden crispy ler~ They are really good!!"
I told auntie. (Suk Mu means uncle's wife).
"See... I told you it will be good. Hmm! Dun believe me. "
Ha!! Uncle heard my comment, and he said it out loud to his wife. :P
*bad fish* Got a nice lunch, still complain here and there. :P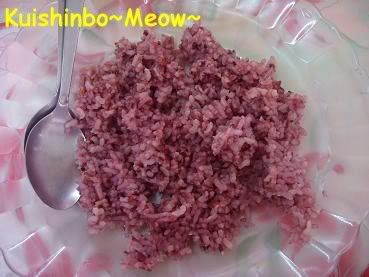 We had black rice that noon. Argh~ I haven't had this for ages. Really miss it.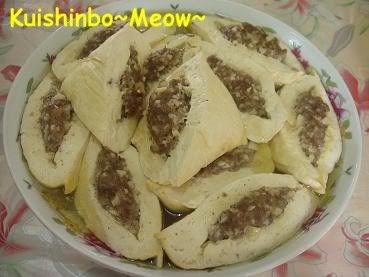 Uncle not only made the yam dish for me. He oso prepared my favorite Hakka style stuffed tofu, uncle likes to use salted fish to mix into the mince. I like steamed version one. Healthy. Exactly what I need for my sorethroat time. I dig the meat cube out, and had 2 of this. Yum Yum~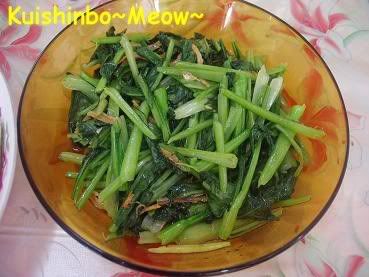 His friend gave him a nice big bunch of Chai Xin (菜心). So sweet and succulent. I love it. Stir fry with dried young sardines are my family usual way of preparing stir-fry vege.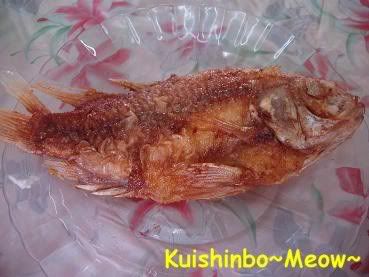 This was deep-fried Fu Gui fish (富貴魚). I didn't eat this. But according to uncle, he bought this fresh from the market in Ministry of Agricultural building.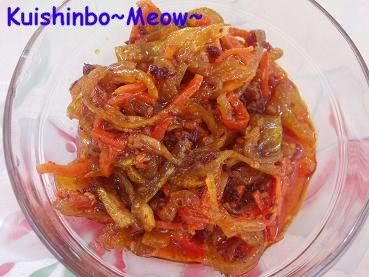 Heee... this was an instant additional dish. Acar - pickled vege. Uncle added it because he felt the amount of the dish for the lunch not enough. Really touched. I was happy enough with the yam dish, all the other additional dishes were indeed a nice surprise for fish fish.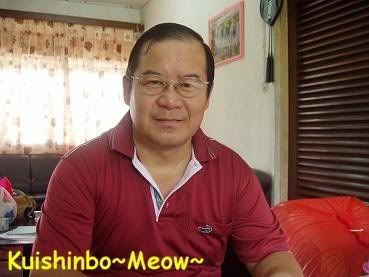 Meet my dear uncle. The great cook for the day. ;)
My Kakak came to fetch me home. Heee... she had a lot of the yam dish too, before we went off. But her focus was more on the 3-layer meat in the dish. She loves 3-layer meat very much.
Meeting Blogger
Later noon,
Eddie
came to fetch me to meet another blogger. Hmmm... after a few arrangement with this VIP, we finally made to meet him.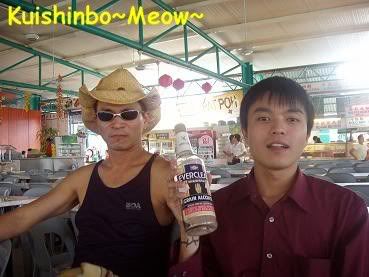 Meet our VIP, Pooh Huai Bin from
sixthseal.com
. Man~he was really a busy guy. So glad Eddie finally made the arrangement with him to meet us for a short time that day. Oso, mum wasn't feeling happy of me going out again. So, basically, it was really a short time meet. Hmm... hopefully next time has a longer time for chit chat. Thanks for the arrangement, Eddie. :)
He gave me quite a cultural shock with his way of
gulping down his "candies"
. o_O Geee... if I didn't see that with my own eyes for that day, I wouldn't believe someone would be able to do that without any water. -_-" Imagine, 14 of them without any water. What shocked me more... 14 in one go.
Eddie (left) and Huai Bin (right) with a bottle Everclear, gift from Eddie to Huai Bin. :)
Btw, it's his bd today. Hmm... he posted
"something"
again on his blog. Hmm...