Welcome Party 2005 (Apr 27)
Yesterday evening, our lab had a welcome party for new comers into our lab starting the 2005 Fiscal Year.
The new comers were for free. But the old staffs including students, had to pay quite an amount of money. Students were required to pay 3000yen per person.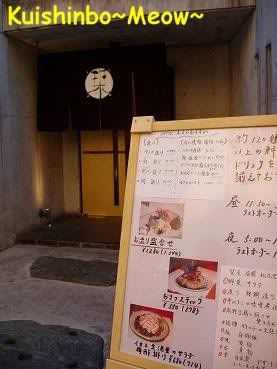 This was the izakaya (居酒屋) that we went, called
Shioriya (栞屋)
.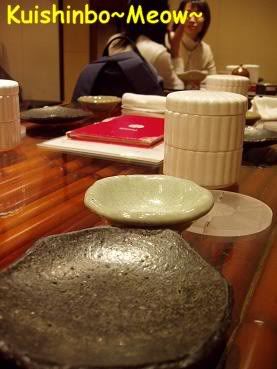 It is a norm for Japanese izakaya to prepare a few small plates for each person, which usually are ceramics. The white double decker container were filled with 2 types of appetizer.
Before starting to eat, it is a must to have a Kanpai (乾杯) (session, which is always followed after a shorrt speech by my professor.
I had a glass of non-alcoholic cocktail, named as Cinderella. Kekeke... good name for a drink that actually a mixture of orange juice, pineapple juice and a wedged lemon.
I was so starved by the time we started our real eating time. The appertizer turned to be cold Harusame (春雨,bean-starch vermicelli) that mixed with vinegar and other seasoning. Yap, a good starter to increase my appetite. As for the Kamo (鴨, wild duck), I gave to my junior that was seating opposite me.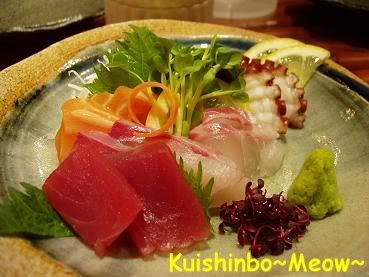 The 1st plate of the main dishes are a plated of sashimi of assorted seafoods. Not my type of food. I was seating in between 2 sensei (am I lucky or what?). One sensei on my right keep attempting me to try the sashimi, he said they were very good. But he will never understand, as a vegetarian, those raw things will never be able to evoke my single urge to try them.
Kekeke... in the end, he gave up.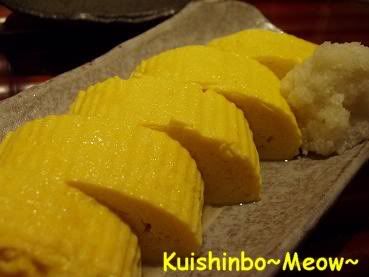 Ah~ but this, was something very irresistible for fish fish. I just love this egg cake. It was very good, quite thick until I need to open my mouth big big to put them in. The texture was very fluffy, juicy and the taste was not salty. Heee... sensei didn't eat this, he offered his portion to me.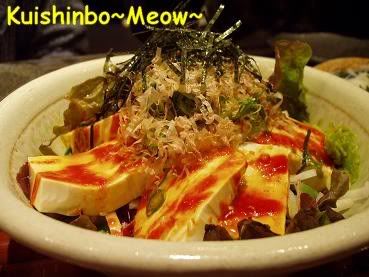 This was a bowl of tofu vege salad with korean spicy sauce as dressing. However, the sauce was not spicy at all, sweet I should call it. One thing I don't like bout the salad in this izekaya, they love to used raw white radish stripes and white radish sprouts, which never been my interest.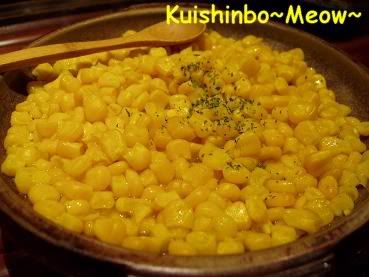 Luckily, the next dish was something I am fond of. Sweet corn. As the name, SWEET~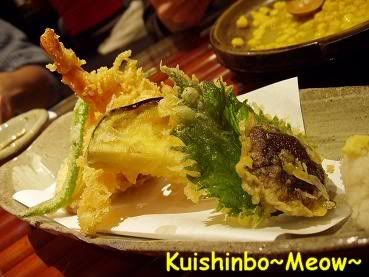 A very small plate of tempura for 4 people. Heee... except the prawn and sweet potato, the other three let me had all the others on this plate, cause half of the dishes of the night, were "inedible" by me. :P
Hmm... the tempura in this shop was just so so, nothing to brat about. Too oily indeed.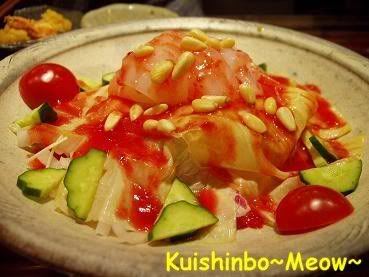 A quite unique dish for the nite. It was a plate of yuba (foo chuk) and raw squid salad with plum sauce dressing. >_< src="http://img.photobucket.com/albums/v320/kuishinbo_meow/Apr%202005/Shiori11resizeovocadoprawn.jpg">
One of my favorite dish. Avocado and prawn salad, which has blended with mayonaise sauce. Very nicely done. The avocado was very melty in my mouth. Heee... a very high calories food, but who cares for once a long while. (But I did regret the next day. Ah~ I've been putting on weight this month. Dou shiyo~ -_-")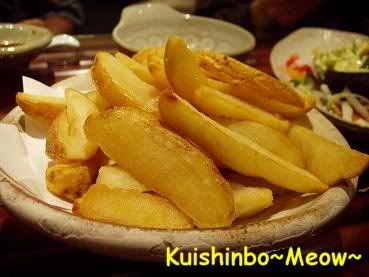 Duh~ another plate of caloric killer. But couldn't be resisted by fish fish. Fried potato wedges. It looked like normal potato wedges, but once bite one it, the taste told me all the differences. The out layer was fried until a very crispy soft coating, with powdery sweet texture being wrapped inside. Sensei and me just couldn't control ourselves, put keep picking them up.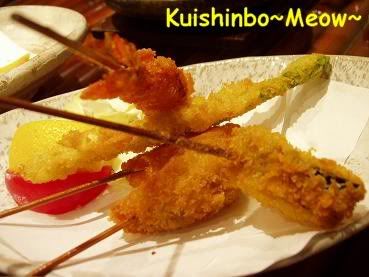 Kushiage (串揚げ, deep fried sticks) plate 1. A combination of 5 stick of vege and meat. I ate the egg plant and asparagus. Taste ok only.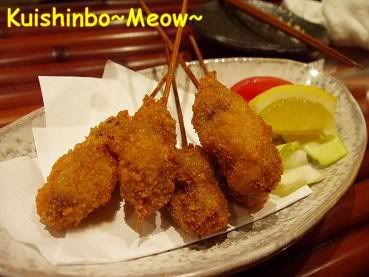 Kushiage plate 2. 5 sticks of meat. Yap, Japanese love to have kushiage when go to an izakaya, cause it is like a good tit-bit for them to go with the cold and !"yummy" beer.
Frequently, you will see scene like this :
A big jug of beer, with a plate of freshly fried kushiage. A guy is doing a big sip on his beer, then one go gulp the kushiage stick.
"Ah~~~ Bi-ru saikou!! Kore, umai~"
Then, tilts his head a little.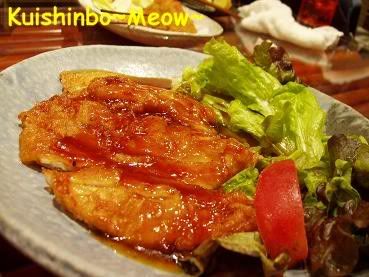 It was almost to the end of the food lining up. This plate of sweet and sour chicken...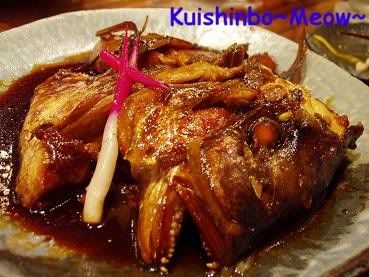 ...came as the same time with this Tai's (鯛, sea-bream) head cooked with soysauce. Once again, sensei was persuading me to try the fish. I don't want, but to make him feel a bit satisfy, I try to dip a bit of the sauce into my tongue. Gosh~~ so regret I did that. The fishy taste of the sauce nearly made me vomit. Heee... but then, that somehow did make my sensei guilty too, for keep pushing me to do something impossible.
Well, he was complaining the fish was over-cooked. Too salty.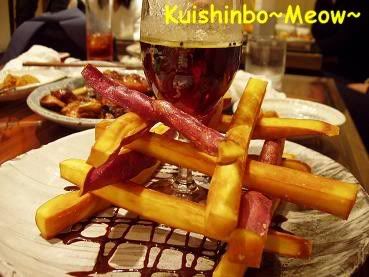 It was supposed to be the end of the menu. But I specially requested this Deep Fried Sweet Potato Stick with honey butter sauce for dipping. Heee... it was a special menu for me, considering many things one that nite I couldn't eat.
This was truly good, as usual... that I had 3 big sticks of them. I am not a fan of sweet potato, but I would say, this is an exception.
Heee... sensei asked me why I don't take tempura sweet potato, and yet love this. I told him because the way the food is prepared is different. And therefore, the texture and the taste of the foods, even from same basic ingredient, will be having a big gap within them.
As a conclusion, my sensei say,
"You willful gal, hmm... only eat the best.""No ler~ sensei, I only eat things that suit my tastebud. ;) "
Oh, I am bloated. And a light entertainment would definitely something very welcome at that moment.
Heee... the junior seating opposite me decided to show a little magic trick.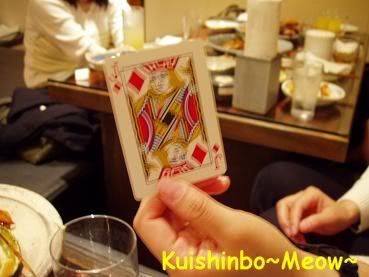 First, he asked a lady sensei to pick a card from mixed pile of cards which he didn't know at all.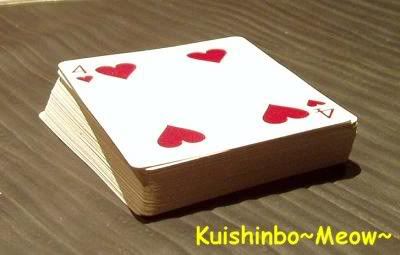 Then, after jumbled up the cards, he showed this Heart 4 to be the card that sensei chose.
"Ha!! You are wrong"
We said, thinking that his magic trick has failed.
"Oh~ not this one?"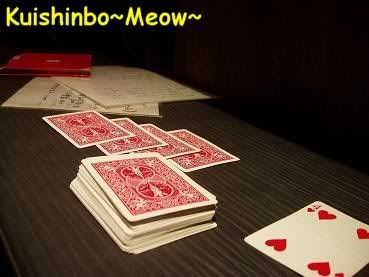 Then he continued,
"It is number 4, so why not we go to card number 4 from the top of the pile then?"
So, the number 4 card was laid out on top like in the picture.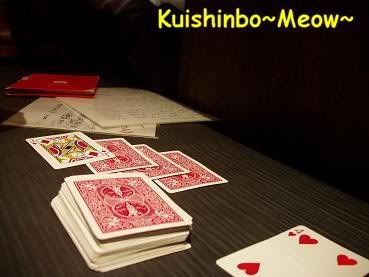 "Now sensei, I believe this is the right card? Please open..."
He gave an instruction to sensei.
Wow~ indeed, it turned up to be a Diamond J.
Cool huh~ I just love magic. ^_^