A Went Nowhere Sunday (Apr 24)
It was a very quiet Sunday for fish fish. I looked into my freezer, thinking of making a nice food for myself.
Got some Thai rice from the
Ghana Cooking Class
. Ah ha!! Why not making a simple yet yummy Malaysian fried rice?
In Japan, I can't get any long bean, so I replaced that with some long bean-like vege, which I forgot the name. Anyone got any idea which vege I'm talking about? :P
I also used Japanese bamboo shoot and egg. After the rice and everything have been stir fried until a golden brown colour with spicy sauce, I add in some fried shallot and garlic chips that brought from Malaysia.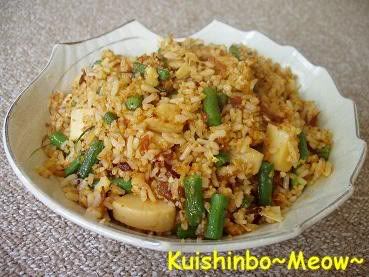 Oo la la~ My fish fish brand Fried Rice. It was sooo good that I finished it so fast. Regardless of minima oil volume that I used, the spicy sauce oil gave a very good degree of the oiliness to the rice.
I'm loving it!
I decided to be a good gal at my lab. I actually like to work on Saturday and Sunday, quiet and spacious. Weekdays are sometimes to noisy... and not enough space to do my research when a few people doing work at the same time.
Nobody to Pak Toh with, so go to work lor~ :P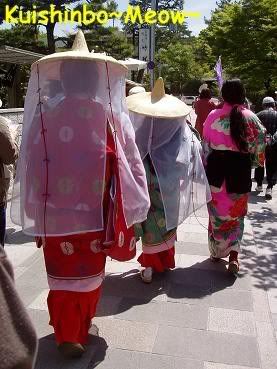 On the way, there were some strange costume young ladies walking over in front of me. Hmm... seem like they were having somekind of praying event.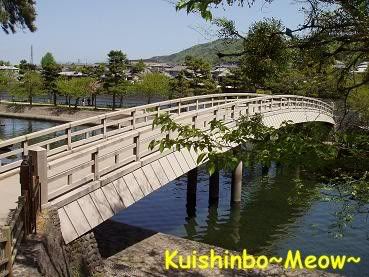 Instead of using my normal tea shops routine to the school, I chose to strolled along the Uji river. All the sakura blossoms has gone.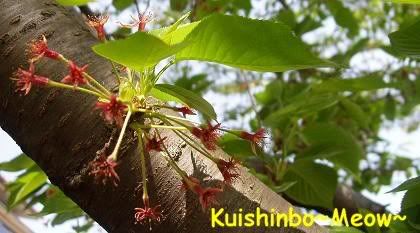 All you can see is very nice fresh green leaves with naked reddish flower stems. In another couple of months, small sour cherries will fruit on these trees.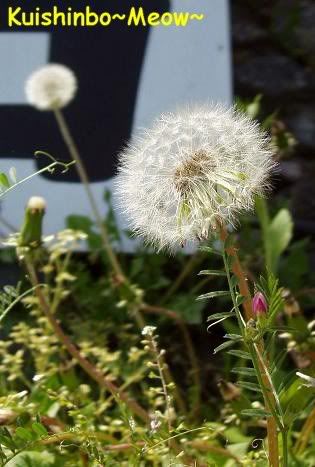 Hohoho!!! My tanpopo is showing beautiful white cotton balls of fluffy seeds here and there. A pleasure sight with their yellow flowers.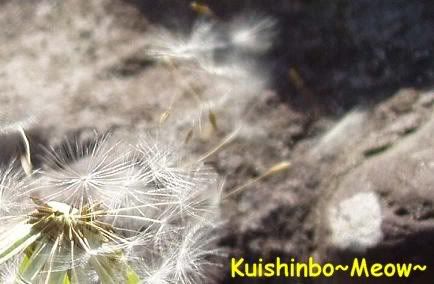 Once the wind blows, these small feathery white angels will fly like a skillful parachuter before they decided to land on the ground to 落地生根. And the life cycle will go on and on again... As simple as that for them.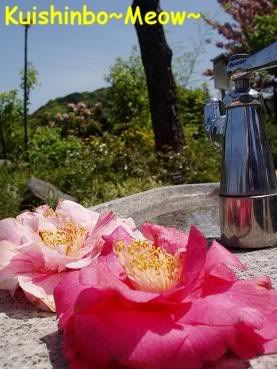 I was attracted by this scene. Some sentimental soul put tsubaki beside a drinking tap. Heee... nice though~
But the next day when I past thru it again, the flowers were gone. Ah well~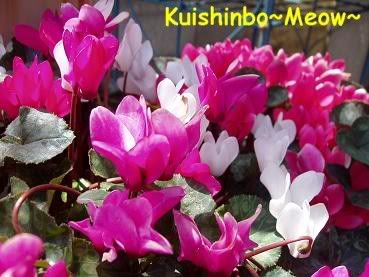 This is called
cyclamen
. Whenever I see this flower, it reminded me of a Japanese guy I've met few years ago. Well, I don't even remember his look nor his name... what made me keep remembering him is because this flower.
Kekeke... he was a PhD student specialized in doing research about cyclamen. I met him in a Foreigner Students Welcome Party. Somehow we talked. Then it reached the part where I started asking him about his field...
OMG!!! I triggered the wrong bullet. Cause that made him started to talk like a long life machine gun bout this flower for not less than 1hr. -_-" My Japanese was terrible that time... but I wouldn't think it is a good idea to splash cold water on him when he was in such excited condition. What did I do? Listened lor~ Good gal huh~ But I think I learnt 2 things, this flower is called cyclamen because of the shape of the petal and the flower is said to be poisonous in some way.
That's all I remembered about his teaching. :P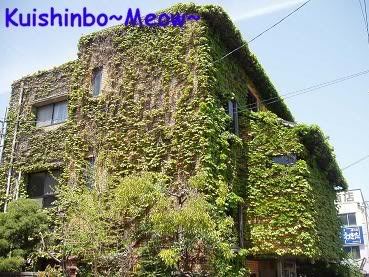 I pass through this spooky buidling everyday. See all the climbing plants all around the house? If you think this is scary enough, wait till you see when autumn comes. The leaves turned 3 times of the size now, with crimson scariness... Now, that is spoooooky~~~
Btw, what the hell is this building?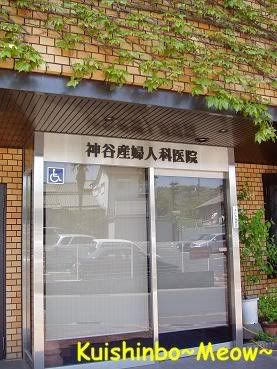 Ha!!! It's a gynecology clinic!!! >_<