Xin Xin Rong Cafe (Feb 19)
When I woke up that morning, I suddenly realised this was going to be the 2nd last day for me in Kuching. Hmmm... I felt down.
Anyway, as I've promised my mum, I'd be a good good gal, no more cave nor hill. :P
That morning, Auntie Kim Lan came to fetch mummy and me to go for breakfast.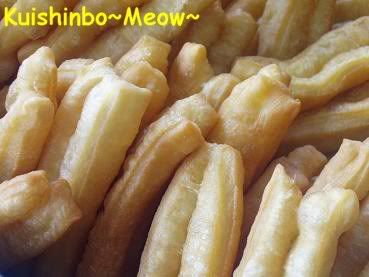 We stopped by in Sekama for these nice You Char Kuey. It was cheap and yummy. The outer part was nicely fried until a nice crispness. It was a very crunchy layer. While inner part, the dough was kneaded with good viscoelasticity. So, it gave a pleasure munch when I chewed it. I enjoyed this so much, that I had 2 even with my getting worse throat condition. Heeee... eat first, then die (a favorite phrase by
doc
).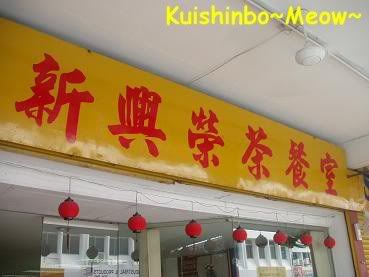 Then we went to this Xin Xing Rong Cafe (新興栄茶室) in Pending to meet my uncle whole family for breakfast. It is one of my favorite cafe for nice and cheap food. It was like a practice for fish fish to come to this place for once everytime I go back Kuching.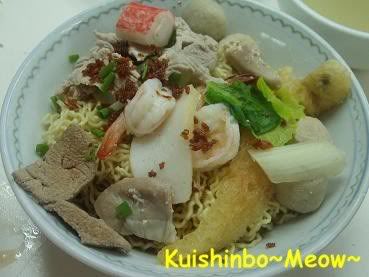 Auntie ordered a bowl of kolok mee with fresh ingredients for the kids. I tried some of the noodle, it was good. The noodle has a very good elastic bite.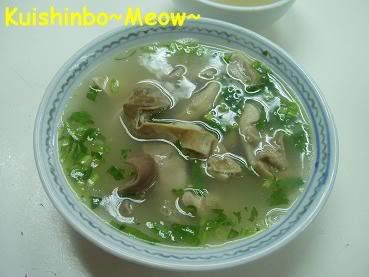 This is Auntie Kim Lan's favorite. The pig stomach pepper soup. She said one of the best she has ever had in Kuching. She never miss this out whenever she comes. One bowl of this was for only RM3.40. See the amount of the pig stomach? It was generous huh~
Pig stomach pepper soup is a troublesome-to-prepare Chinese dish. It takes hours for cleaning the stomach until this soup is nicely ready-to-eat. So, for those in meow meow land that love this soup, you know where to get a nice instant one now. ;)
Only RM5.90 were paid for the kolok mee and the stomach soup. Hmmm.... I would say that's really cheap.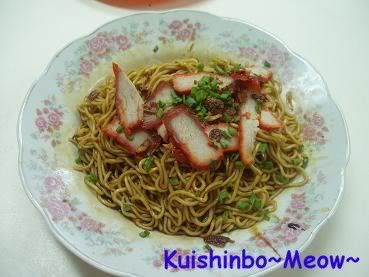 Another type of noodle for the kids. This is called Kan Pua (乾盘), a Foochow delicacy. There are actually a few versions of Foochow Kan Pua in Kuching. This one the noodle was thinner, with black sauce mixing it. The red char siew topping it is a very common char siew version that can be seen everywhere in Kuching. Well, I'm not a fan of Kan Pua, so I didn't try this.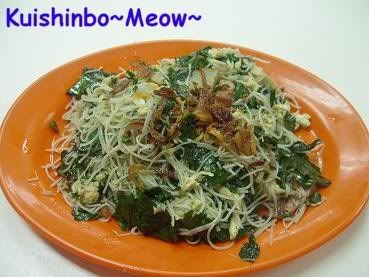 Tra la la laaaaa.... The purpose why I visit this cafe.
The Cangkuk Manis Fried Beehoon. I love this!!
The sweetness of the cangkuk manis give a very nice combination to the fried beehoon. Kind of different with the common Bean Sprout Fried Beehoon. For a beehoon lover like me, I get hooked to it first time I tried it. They oso have Cangkuk Manis Fried Mian Xian, but not recommended by fish fish cause too salty.
Cangkuk manis is a kind of sweet veggie which its original plant look like a tree as below.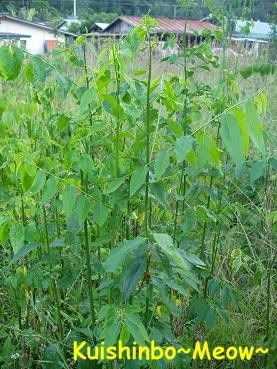 It is called Shu Chai (樹菜) in Mandarin, aptly named. This veggie can actually grow until very high like a small tree if you dun eat it. But, it would not suitable to be eaten anymore. It is the young Shu Chai that we usually eat. And mum told me Shu Chai that pick in the early morning taste the best. However, due to its high sugar content, it is said that this veggie is a taboo for diabetes patients.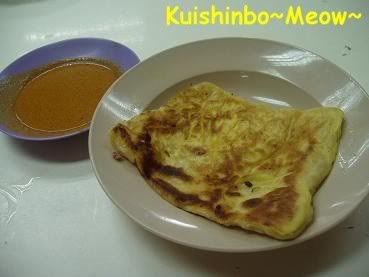 Roti canai. This version is roti canai with onion and egg. I dun really like the texture as the outer layer not done in a nice crispiness. A bit soggy. The taste not bad though. Still, not one that would impress fish fish.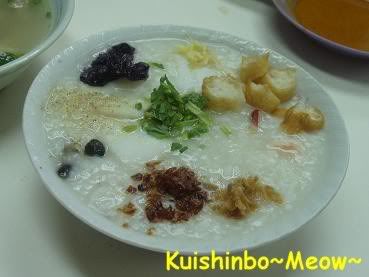 Heee... uncle ordered this porridge.
"Kiu Kiu, I want to take photo. Never see porridge toppings arrange in this way."
I was attrated by the arrangement.
"No! Meaningless... porridge is porridge, I dun see any necessary to take it."
Uncle was trying to play fun of me.
*bad uncle* Auntie saw my "wanna cry" face...
"Ai yor~ why you play fun with her. Give to her now!"
Hohoho!!! My auntie gave her command. Oh~ I love you, aunt!
And... uncle be a good good husband... Ha!!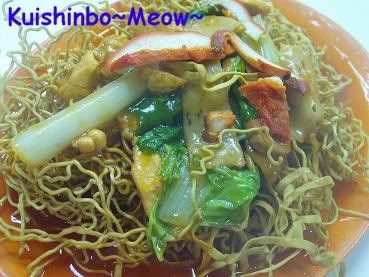 Auntie asked this Tomato Mee for herself. I didn't tried this, as I was very full that time oledi, after I had the fried beehoon. But the outlook was a good one. *drooling*
Full stomach always lead me to some kind of meaningless action. Time to catch my little cousins interesting actions.
Isabelle, having a good fun with her plastic plate. Isn't she has a sweet smile?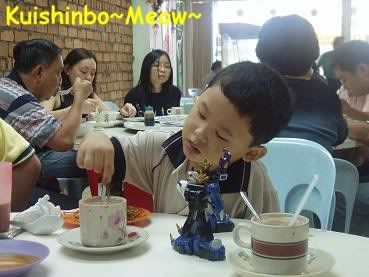 Damon was so focused on his Milo. Stir~ stir~ stir~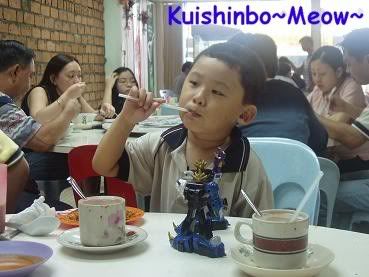 Then he used a straw to suck some of the Milo, and put it into his mouth.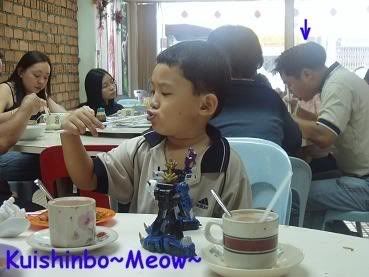 Mmmm~~~ the Milo so good that he didn't even willing to let the straw out from his mouth until the last moment. Kekeke...
We bumped into a friend, as shown in blue arrow. My ex-piano teacher's brother. Heard he got married, was the first time I saw his wife. Errr~ what can I say? A very fair lady, but fierce looking. :P With big big round stomach... Later, I told my Kakak bout this. And my Kakak was telling me his wife might get a baby gal from the shape of her stomach. *iish* I always salute my Kakak in term on these knowledge... she knows a lot.
Next, Danny was having fun with his straw. First, he used 2 straws to drink his Milo.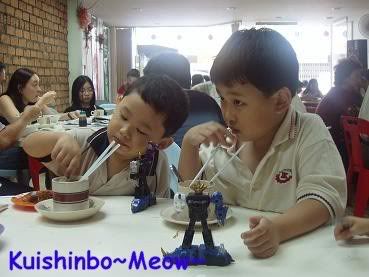 But then, he changed it into one.
He was getting bored with conventional one-straw drinking way, so he connect the 2 straws into a longer one. Now, he seem to enjoy drinking his Milo more. Damon saw it, and wanted Danny to did the same to his straws... The 2 of them was making more and more actions with the straws...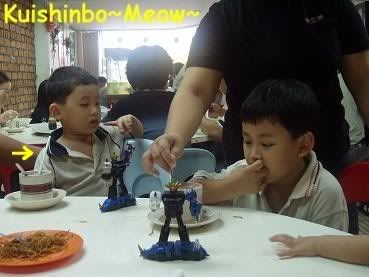 *Barp!!* A huge hand suddenly *slup* *slup* And gone Danny's straw. Hahahaha!! Uncle saw his sons silly act, and destroyed everything in seconds. See how disappointed poor Danny? See the yellow arrow? Even Damon's straw was taken away one.
"Drink your drink properly." Heeee... it was uncle's chance to give his command to his sons. Cheh! I wonder was that a reflex action after my aunt command. Kekeke...
Later, mum followed uncle to go home. While Auntie Kim Lan brought me to do some last minute shopping for my vegetarian dry food and CDs. :P
"Ai yor~ My dear Miss Yong, how come you always only get anxious to buy your stuffs in the last minute one ar?"
Auntie Kim Lan has get used to this bad habit of mine.
*:P* I showed her this funny face as my answer.
Btw, I'm not the only one with this bad habit.
See here for proof
. *Ihik*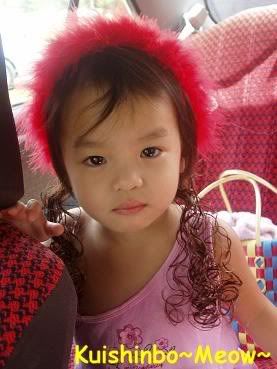 We went to fetch Shu Ling, auntie Kim Lan's sweetie after the shopping. See her new hair accessory? Her mum bought it for her when I was buying CDs. Such a sweet darling.
Auntie Kim Lan then sent me to my uncle's place for lunch. Before saying bye bye...
"Sweetie, give Jie Jie a kiss..."
I said to Shu Ling.
Suddenly, Shu Ling came very near to my face. Her beautiful sparkling eyes made me stunt. Then, while her eyes looking into my eyes, a soft tiny lips touched my lips. OMG!! I didn't expect that she would give me such a kiss. Wow!! She was so good at it.
"Oh~ That's so sweet of you."
I kissed her back.
Then I turned to Aunite Kim Lan... "Hey, make sure your sweetie dun give such a kiss to boys yer~ Rugi!" Kekeke...
Anyway, thanks Auntie Kim Lan. For the great accompaniment. I'll see you again next time. ;)