Zhi Lian Kuang in Action (Feb 18)
Heeee... ok, first of all,
Eddie
,
Ann
and Bert Bert, dun get mad with me of the title ar~ I just think that if dun share these good photos with my readers, will be such a waste. :P
And no, this is NOT an april fool's post. ;)
However, if you wanna a really nice april fool's stuff, please go to
Kennysia
's place.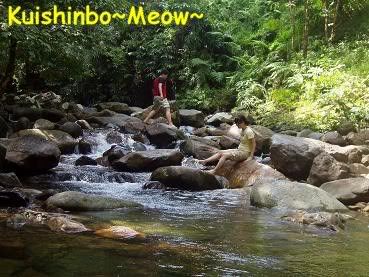 Ok, a very normal 1st pic, taken by fish fish to start the photo for today. Inside the pic was Ann and Bert Bert in normal action.
Rite... next...
Following photos all not taken by fish fish. I'm very lousy in capturing human expressions. Needless to say snapshot a great pose in right time.
So, I become a little robber fish today. Try to steal some good human in actions from Ann's files.
Zhi Lian Kuang number 1
(photos taken by Ann)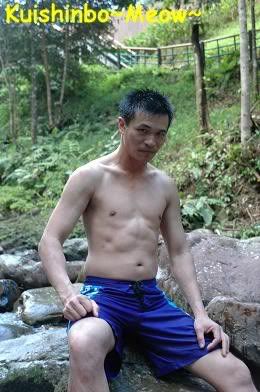 See Eddie's serious looking face? Eddie was feeling very 'hot' that day. Soaking inside the cold water didn't make much effect in cooling him down. So... he decided to reveal his 2 tetek... to let the wind blown thru them...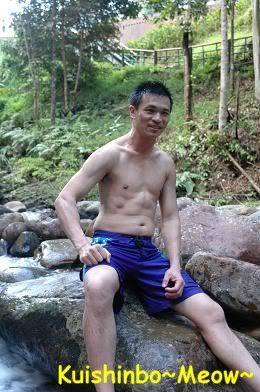 And now... the cooling effect started.
"Ar~~~ Liang Liang~ Shu Fook Sai~"
Hey, dun you all think when he's smiling, he looks very nice too? So, Eddie Kor Kor, you must smile more ler~
For an almost 40 yo man, heeee... I do think he has a nice figure.
Any gal is nose bleeding for the 1st one? :P
Zhi Lian Kuang number 2
(photos taken by Ann)
He is my little cousin, Bert Bert, that I've been mentioning a lot in my posts lately.
He and Ann was like having somekind of photographing session in the river.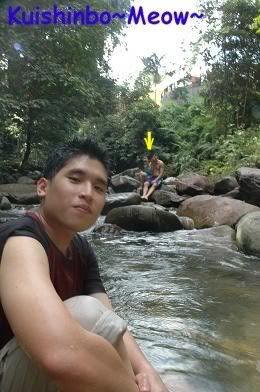 Starting to pose in action.
See the yellow pointing to the 2 evils at the back.
"OMG!! Fish Fish, look at your little cousin."
Eddie noticed that to me.
"*iish* That's not my cousin now, rite?"
Fish Fish quite shock when looked to the direction.
"OMG!! He's so gay in action now. OMG!! Mo ngan tai anymore!!"
Eddie couldn't stand anymore, and he just used his hand to cover his eyes.
"Muahahahhahahahahha!!!"
Hearing what Eddie said, I couldn't help but too laugh and laugh... And... you should see how much effort he put for doing pose for his camera gal. OMG!!
I was thinking of shouting to him,
"Bert! Quit it!"
.
But before I could do that...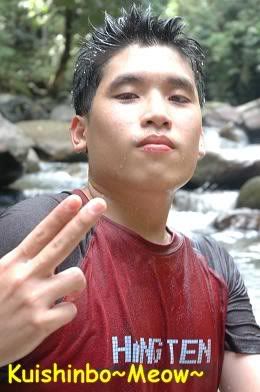 It turned up he made more pose... Like this one.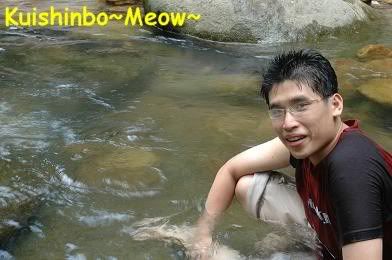 And this one.
Bert, Jie Jie personally think you are not pro in posing ler~
Think he sensed that too. Coz after that, the model and the camera gal changed position.
And here is our...
Zhi Lian Kuang number 3
(photos taken by Bert Bert)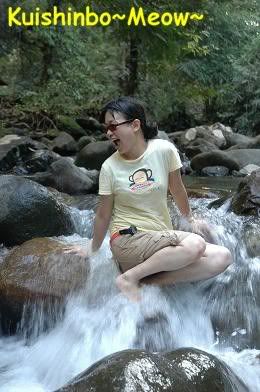 Who else but Ann with all sort of great idea in posing. Her posing was so natural.
Bert Bert became his camera boy. I was amazed Bert Bert captured the actions in very good timing. Considering that he is only 19 yo.
Know how much photos of Ann alone that Bert Bert taken at the river photographinh session? 64 photos!! Amazing!! I can't show all here. Only picked out a few that I especially like.
The photos below, I imagine it into somekind of hair washing advertisement. :P The very sexy version of Ann. Ok guys, if you wanna nose bleeding, make sure you get your tissues.
Gals do not have to be naked at all to make your imagination runs wild. ;) I think you will agree with me seeing the series of photos.
This is the correct way of washing you hair.
First, soak you hair inside a natural soft water, with a lot of mineral to penetrate into every silky hair of your.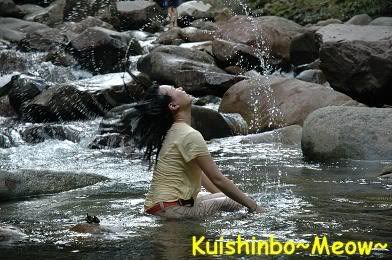 After a good rinse... just move your hair vigorously for a natural dry up by wind.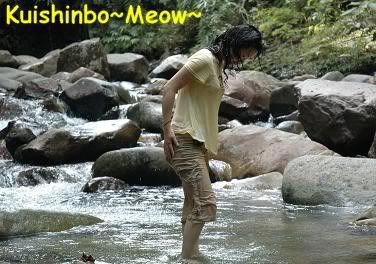 Finally, remember to get rid of extra water from you cloth. Get ready for a full dry up, before you ready to go to a party.
After seeing the pictures, I realised Bert Bert have a great talent in taking human pose. He should polish on this more. Ganbatte ne~ Bert~
The only problem that day... just wonder how but nose blood Bert Bert has swallowed into his throat. Heeee... Ann was extremely sexy with her transparent cloth after wet by the water. From the eyes of fish fish, I can tell you, that was a great seduction. >_<
So guys, use your own imagination!
:P Ciao~