Wai Wai's Family in Kansai (May 29, Pt 2)
Took half a day off today to accompany my buddy and her family. Oops... she went back to Tokyo liao. Miss her.
I told her, "Am going to start my real life in study tomorrow. Not much time left for me to be blur blur liao~" -_-"
Just now, I spent hours in
Jeff Ooi's blog
today, reading a few of his posts with all the comments. What can I say? I guess I can see the reason clearer and clearer why are my thinking of not going back to Malaysia for the time being is getting stronger.
This beloved land of mine, what have gone wrong?
...
Ok, forget about that. Back to this happy meow meow land of mine. :)
Tamiya Radio Control Car Race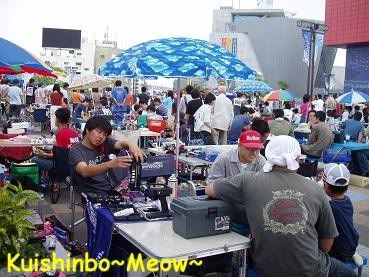 While we past through a public square on the way to Kaiyukan, there was a big crowd of people...
In curiosity, we decided to peep our head in...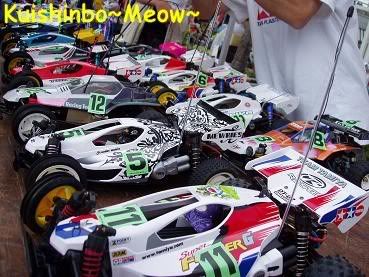 Woohoo~ Cool!! Car racing!!
Ok, toy car racing... but still "cars". :P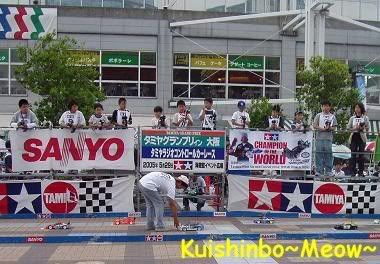 See those kiddies? They are the controller for the "sport car". Man~ these warriors couldn't wait to let go their "horses" as soon as possible already. I don't know how many were participating that day, but had uncounted cars there. Each group there were 12 "racers".
Hmm~ one more thing, why all boys one? Too bad, I'm too old to qualify... kihkihkih...
Vroom! VROOM!!
VROOOOM!!!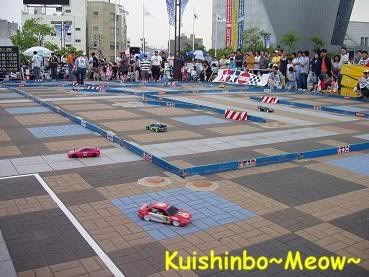 Duh~ it was a "small racing circuit" in the eyes of fish fish...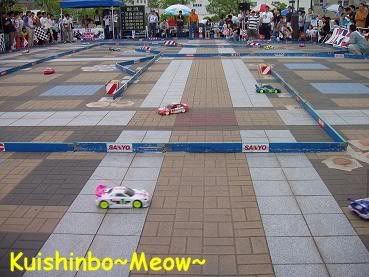 But definitely a "big" enough circuit for these "chibikko cars". (Chibikko is a slang in Japanese to call small kids).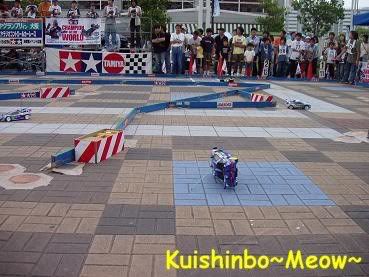 Hey! Guess what? It was much more exciting that I could express in these pictures. The cars kept bumping into each other... ran out of lane... fly out of the circuit... and even did a feel beautiful turns in the air before able to get back to the ground again.
Ha!! See the blue car in the pic? When it did the steep turn, lost its balance and move in vertical.
But somehow, when I think about what if the cars bring "real driver" inside? Sure die kiao kiao... *shudder*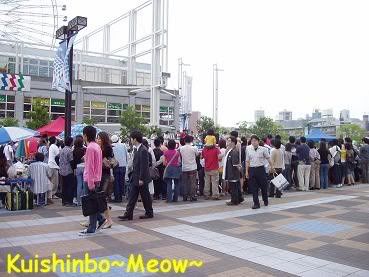 The audiences...
Well, it would be a very long time racing event then, so we decided to get away and heading to our Kaiyukan.
Tata~