~Angel~ in Uji (May 3, Pt 1)
Duh~ Black Friday!! Things are not smooth for me today. Decided not to take risk to do important work. Even my minor lab work seem to have strange happenings today. Wise choice I made. *yah~ yah~ fish fish is superstitious. So what?*
~Angel~ in Uji
~Angel~
came to Uji for the 1st time during Golden Week. I went to fecth her at the station then we went to Itohkyuemon (
伊藤久右衛門
) to have a morning tea time. ^_^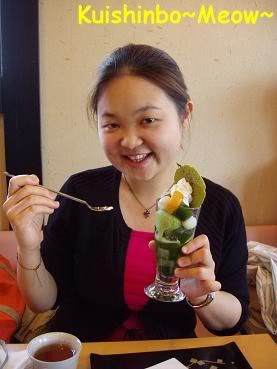 Angel ordered the famous maccha parfait. It was for 630yen.
See how sweet her smile with that nice cup of yum yum? Ok gal, I know I need to give all the pictures to you. Please be patient, will give you in 2 weeks time. Gomenne~
She didn't like white dango, and gave it to me. Haha!! Nice nice.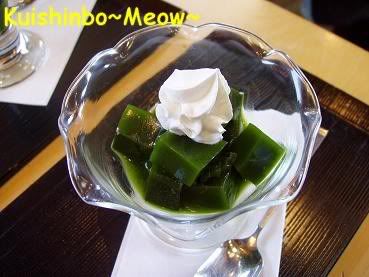 As for me, I had a glass of deep green maccha jelly. 350yen. I love jelly... and maccha jelly in this shop is just something I want for that time. The texture so purun purun... like a dancing jelly when you move the glass. :P
Then, we went back to my aparment to put down her luggage, before we went to walk around the Uji river.
It was the season for Fuji no Hana (藤の花). Here is a
nice Japanese album
for this beautiful flower.
Uji is a famous place for seeing Fuji no Hana in Japan. Coincidence with the Golden Week, Uji was extremely jammed with visitors - both Japanese and foreigners.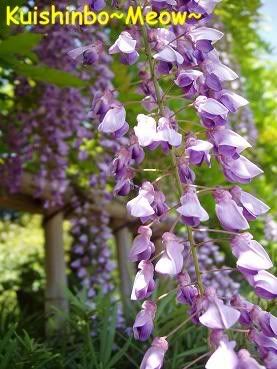 The weather was extremely nice. Too nice and bright that it was difficult to take beautiful flower pictures. The picture above is a close up at the full bloom blossoms. Like bunches of grapes from far.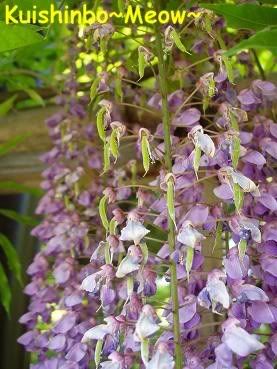 Some of the early blossoms even started to wither and disclose the beany-like seed.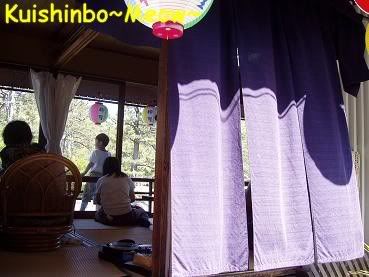 The open tea house were full with people enjoying there meal and appreciating the beautiful scenery near the river.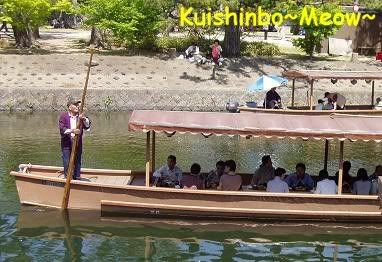 Some even decided to pay a good amount of money for a river cruising with bentou attached. Hmm... I wonder how much would that cost.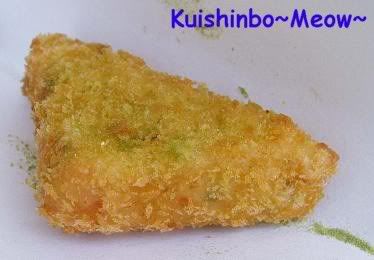 We past through a souvenir shop. People were lining up for this - tofu croquette. One for 100yen. My 1st time encountered with this type of croquette. The taste was splendid. Crunchy outside, and very soft inside. A sprinkle of maccha salt perfectly accentuated the nice taste. Both the gals were melted~ Geee... all these while, what a good thing I have missed that just a few minutes walk from my house. -_-"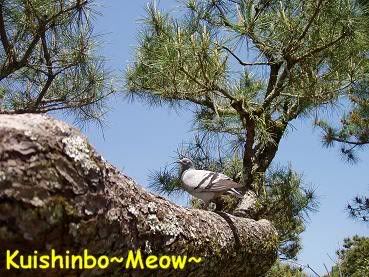 Not only the people enjoyed this good sunny day, even pigeons were taking good advantage for getting near to the crowd for some nice feast.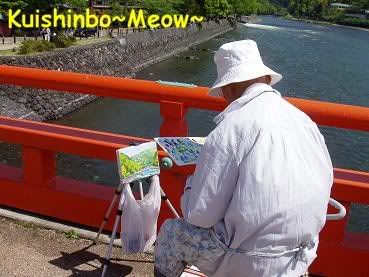 This is also definitely a good place for a sketching.
We then headed to Hakodate Ichiba (
函館市場
) for a late lunch, my common place near my house when I wanna have good taste sushi.
Though it has past 2pm, still a big crowd waiting for their turn. Argh~
I asked the staff how long would it take for our turn, the answer was around 1hr. Eventually, we decided to take the risk, assuming that the time would be much shorter than expected. While waiting, I brought Angel to walk around the area some more. After 20 minutes, we went back to check. Voila!! We were exactly in the right timing, in fact we were led to our seats after a short while. Lucky lucky~ 2 lucky girls. ;)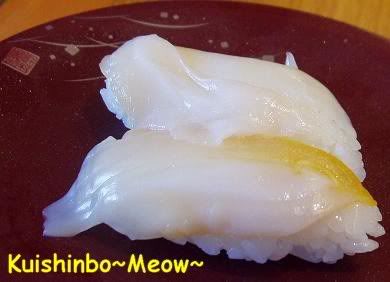 Angel has a fetish on "shellfish". Half of the sushi plates she took was "shellfish". :P
She likes the texture of shellfish. I've never had any raw shellfish, so I definitely don't have any idea what kind of texture are they.
No thank you, I'm not curious to try. :P
According to Angel, the above shellfish is called Tsubu Kai. She loved it.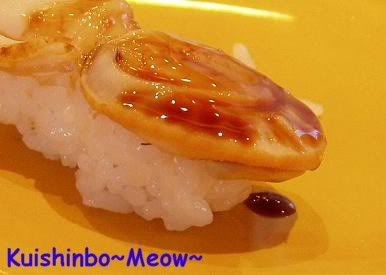 Next, is the baby abalone. She loves this too.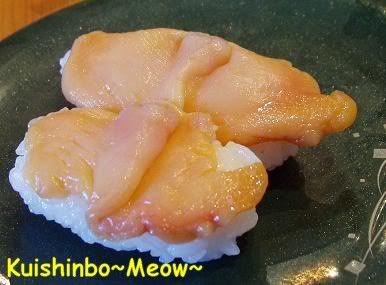 This was a final plate of Kai that she ordered. Akakai (red shellfish). Oh yes~ she loved this too.
In conclusion, she loved all the Kai. :P
Next time I know where to bring you makan in Kuching liao. Have you ever tried bamboo clam?? Wanna try? ;)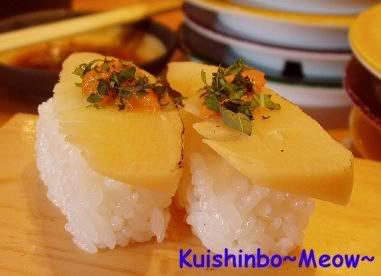 As for fish fish, besides some of the normal dishes that I will normally order (yeah, my choices are limited in sushi restaurant), I decided to try this seasonal thing.
I saw this bamboo shoot, immediately I took it. But little did I notice the orange thing that topping it.
Guess what? It was actually sea urchin roe (Uni). Yah right, it was "egg". I pondered for quite some while before I decided to try it.
Finally, I close my eyes and put it into my mouth.
*Wuek!!* The taste was "weird". Difficult for me to explain. I never expected Uni to taste like this. This expensive food, now I know what kind of taste it is. It reminded me of a reading I had before... "Pudding and Soysauce = Sea Urchin Roe". I think the description might be somewhat true. So guys, curious? Put soysauce onto ur pudding then. There you are - the Uni.
Well, it was a great meal with Angel. In fact, I enjoyed the accompaniment of hers. With bloated stomach, we went to Kyoto Station to meet the other 2 for doing an "important thing". :P
The answer will be revealed tomorrow. ;)