Hectic Day...
Duh~ LELAH!!
If last month was my many-unexpected-troubles happening month...
Then, this month will be my non-stop-super-busy month.
I am very exhausted now. Argh~ I just hope all the many-procedures thing be settled soon. Feel like my head wanna explore liao~
I need to destress...
Right, I didn't cook at all for today.
Morning, a cup of instant Noodle.
Lunch

Noon, went to my favorite
Cafe Peace
to have a very nice vegan set lunch. That indeed, gave me a very good recharge emotionally.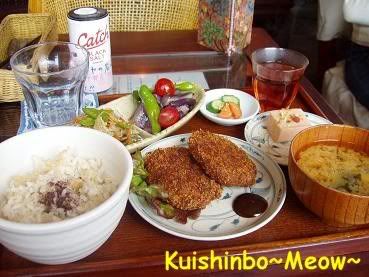 The middle dish, what the top of my favorite. Soy meat croquette. Brilliant!!
Then, I went to travel agency to deal with something for 4 hrs... GOSH! I never have to sit still in a travel agency for such long. What a record. Butt became numb.
Dinner
Tried call Patrick to see if he was free to eat dinner with me. He ate, and he was still at school.
So, didn't know exactly what to eat... Eventually I ended up in a coveyor belt sushi shop called Musashi. All the sushi plate are for 126yen each. This shop is just opposite Kappasushi (
かっぱ寿司
), though all the sushi in Kappasushi only 100yen per plate... I would strongly advise you to pay 21yen more each for a much better quality sushi. The sushi in Kappasushi is... *wuek*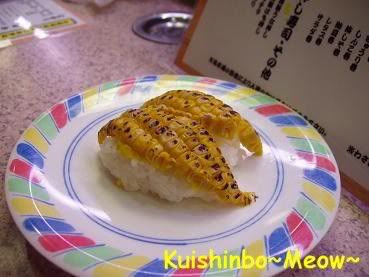 A new product there. A corn sashimi sushi. It was a splendid idea to cut the corn look like a real sushi. Well, the sweetness was so so... but a super healthy choice. ;)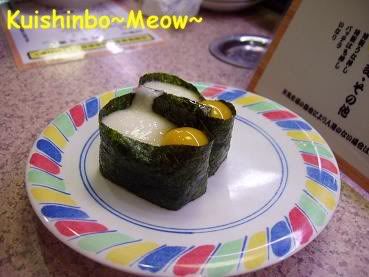 My all time favorite. I still think Hakodate Ichiba one taste better. Well, this is good enough too. Mmm~~~ I'm fully addicted to this sticky creamy thing when it melts in my mouth. (-_-" I think I am addicted to some very Japanese food already).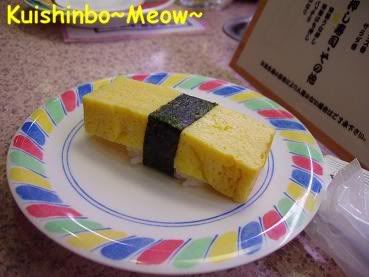 Egg cake sushi. This shop has a super thick fried egg cake. It was delicious. I like to eat it with sweet sauce and pickled ginger. Sound weird? :P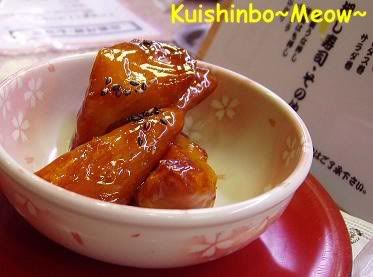 Lastly, a bowl that can hardly be resisted by sweet tooth. This is called Daigaku Imo (大学いも). Literally means University Potato. Totally no idea why it is called so. Basically, it is a deep fried sweet potato that coated with caramelized sugar.
Very sweet... usually I don't eat this. But whenever I come to this shop, I just like being hypnotized... It was one of the best Daigaku Imo that I've eaten in Japan. The outer coating was the gist to the whole thing.
Won't you want a try??
Last Nite
Mum was calling my hp last nite.
"How are you my dear?" Mum asked...
It was very nice to hear her voice. But it was very weird to listen to her too polite way of greeting. Kekeke...
Yah, she missed me so much... cause I didn't call home for quite some time already. Hasn't got any suitable time lately.
"Your big sis was asking me - Mum, how come your second daughter no sound lately?"
Ha!! If I don't call home for a week, I know they are going to wonder what have happened to me... Don't worry mum... I'm ok.
"Thanks for calling, and sorry for being silent lately. I love you all. Muak!!"