UTAGE 2005 in Osaka (May 1, Pt 1)
Tiring weekends, but had a lot of fun. In fact in Japan, starting from the
Greenery Day
on 29 April until 8 May this year, that including Constitution Memorial Day (憲法記念日, 3 May) , Bank Holiday (国民の休日, 4 May) and
Kodomo no Hi
(子供の日, Children's Day, 5 May), most of the people will take a 10-day holidays. In Japan, they call this as
Golden Week
(GW).
Regardless of the flight tickets for overseas travelling will be 3 folds than normal price, this year has 600,000 people going out from Japan on the 1st day of the GW for spending this precious long holidays of them.
For other countries, a 10-day holidays might sound normal, but for Japanese, this is something very luxurious. Don't be suprised if you suddenly see many Japanese walking on the street, holding map looking for direction, with their very easily spotted attire - A big hat, colourful shirt and a camera hanging in front. Kekeke...
Well, fish fish kind of broke lately, and I would definitely not spend those unnecessary money for a jammed holidays like this. Heee... I got my own way of spending the holidays.
My first event was spent at
UTAGE 2005
in Osaka, on 1 May. By the way, 1 May is not a public holiday in Japan like in Malaysia. Their Labour Day fall on different date.
We reached the place at 9.30am in the morning, and we stayed until the closing time (6.00pm). There were many people earlier than us. One phrase to express, "People Mountain People Sea". We paid 1800yen (RM65) per person for the entrance ticket.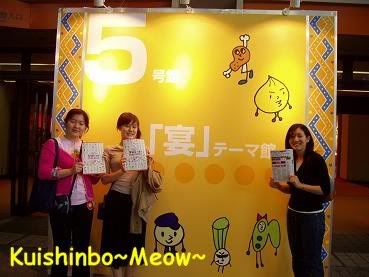 I went with another 3 gals. From left to right : Mirian, Risa and Aso. There were 6 pavilions with different theme.
Today, I'll talk about Pavilion 1 - the NANTA Theathre. The other 5 pavilions will be posted in the coming 2 posts.
Pavilion 1 - NANTA
NANTA
, is a very famous on-stage live performance in Korea. The word "Nanta" (乱打) literally means reckless punching or wild striking.
As describe by
its homepage
,
"Our 'NANTA' is a non-verbal performance of reckless rhythms that dramatize customary Korean percussion in a strikingly comedic stage show. Integrating uniquely Korean traditional tempos with a western performance style, NANTA storms on stage into a huge kitchen where four capricious cooks are preparing a wedding banquet. While COOKIN', they turn all kinds of kitchen items - pots, pans, dishes, knives, chopping board, water bottles, even brooms and each other- into percussion instruments."
Usually, for a normal 90-minute performance in Korea, it will cost one at least 40000won (RM152).
However, in commemoration of the 40th anniversary of the normalization of Japan-South Korea relations Korean and in a feature event of UTAGE 2005, NANTA is performed without extra charge in this food expo.
Even so, there is a limitation for the number of audiences allowed to enter the theatre for each show that will be lasted for 30 min. There are only 3 shows per day. We decided to take the last show for the day.
The show was on 3.30pm. But the tickets distribution started 1 hr earlier before the show. We went to line-up at 1.30pm.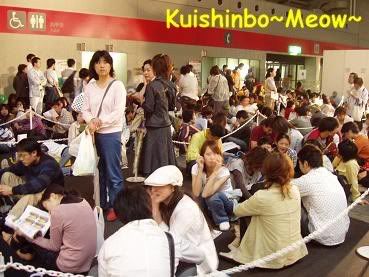 See these people? They were the early birds that reached earlier than us. In fact, some has started to line up even before 1pm. Four of us were too tired after a long day walk. :P We just sit down on the cement ground like most of the people did.
15 minutes later, the amount of people line-up for the distribution has double up. -_-" Glad we reached there earlier. After a long wait, we finally get our tickets when the distribution started at 2.30pm.
But then, we didn't have any free time to stroll around before the performance was started. We went to line up immediately for getting good seats, as it was a free seats system.
The gate opened at 3.00pm, eventhough the staffs keep shouting "Please don't run!", nobody seem to hear it. In less than 30 seconds, all the good seats have been occupied.
Ha!!! You think Singaporeans and Malaysians' kiasu spirits are scary enough? Wait till you come to Japan. When the situation is forced, even Ah Ma (grandma) can run and grab things faster than you.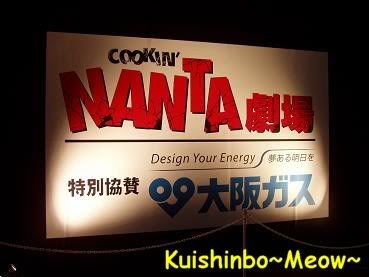 A big signboard in front of the seats that stated the performance is sponsored by
Osaka Gas
.
We were not allowed to take any picture or video during the performance was on, so I just get some
pictures from here
to show in this post.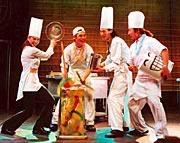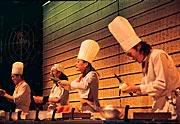 The show was GREAT!!! All the waiting really worth it. Not much conversations, in fact rarely any... but the performance said everything by those beautiful and powerful rhythm. When they played with the knives and other kitchen's untensils with amazingly fast movement, I enjoyed the performance as much as I released out cold sweat, worrying that they might miss their steps.
Those body movements, those rhythm... no suitable word can really describe the nice "shock".
See it for yourself if you get any chance, you will know what I mean.
The UTAGE 2005 will be on until 8 May. For those in Japan, especially in Kansai, if you are interested to go, you are still in time. :)
My holidays will start tomorrow. Yippie!!