Yubi Itai Itai
Hi guys, I'm back from my holidays. It was a great one, except one thing.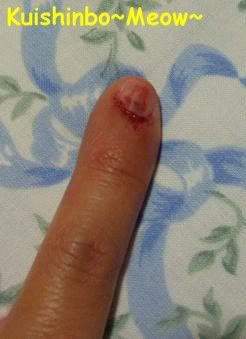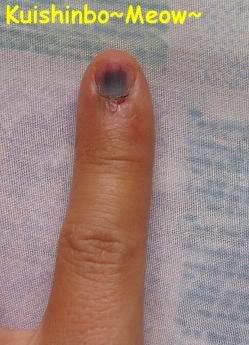 The pictures tell you everything. I hurted my finger. It was caught in a car's door. The top was the day it was injured, after I cleaned the blood.
The bottom one was a day after the incident.
How did it happen? Because of a bunch of key. It was not the pain that made me upset. But it was the incident that led to the happen of this. It was an accident that can actually be avoided from the very beginning. The more I think bout it, the more my blood getting hotter. So, better dun think too much.
I was very unhappy bout it. Mum was very angry after she heard it. Ha!!! She even get hotter than me. Cool down mum~ what happened have happened.
However, if you were me that time, I bet some of you will scream out the profanities. Oh well, a good lesson for me.
I shall rest for a couple of days for my finger to fully recover before I blog again. So, see you all in a few days time.
Ciao~