Agata Matsuri (Jun 5, Pt 1)
It was a sunny Sunday morning. As usual, I had my brunch and was heading to school to do my work. The moment I cycled down the slope near my house... the unusual noisiness in my neighbourhood suddenly reminded me it was a special day. It was the day for one of the biggest event in Uji, known as Agata Matsuri (
県祭
).
Agata Matsuri was a praying event that is held in dark, it is well known as Strange Festival of Darkness (暗闇の奇祭). The name of the "god" that being prayed is Konohana Sakuya Hime No Mikoto (木花開耶姫命). I've seen the full ceremony of it 3 years ago during the midnight. I would say it was one of the most astonishing ceremony in Japan that I've ever seen. I never know staying in Uji can have such a fun sight.
The peak of the event supposed to be around midnight, but people starting to do the celebration from noon.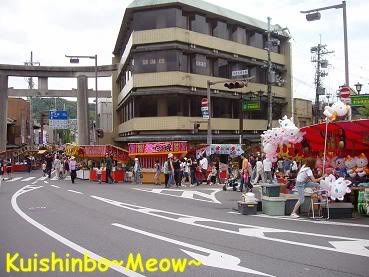 Most of the yatai (Japenese style hawker stalls) were just on the process of setting up for business. But small crowd started to look around at the yatai already.
It was a main road for cars in usual days...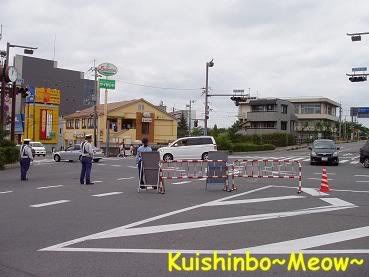 However, the road was totally blocked for the whole day, so that the event could go smooth.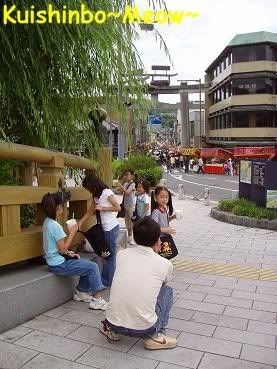 An early bird papa started to bring his 5 birdies to look for foods. (5 kids in a family is quite a unique scene in Japan, for most family, usually they have 1-3 kids only.)
Hello papa~~~ why you squat like that ar? :P
I told myself gonna go back early tonite for joining the celebration. However, I ended up finish my work later than 1 hr as earlier scheduled. *sigh*
Rushed back...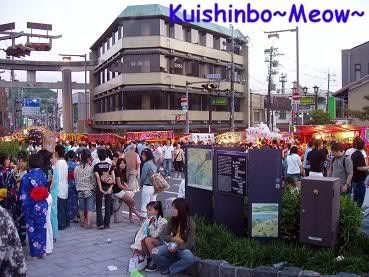 The day was still bright regardless it was almost 7pm.
See the crowds? Such a big diffferent from the noon. All the young girls were dress in every fancy way... It is a norm in Japan for same group of friends dress in similar fashion, so call the feeling of belonging to the same community.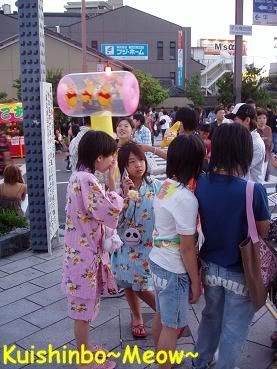 The getting more popular
Jinbe
-style
Yukata
for girls. Instead of walking in a very difficult way to the cute but tiring yukata... this girl's Jinbe definitely makes the girl feel much more comfortable enjoying themselves in the crowded and narrow streets.
I rushed home put down my stuff, then rushed to take some pictures before the day turned dark. Unluckily, I found out I have only got 250yen in my wallet. *iish* Totally forgot to withdraw money... Ah~ will have top try my luck to see if I can get something to eat with this little amount of coins.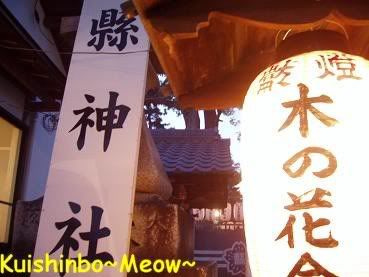 Meet the Agata Shrine (Agata Jinja,
県神社
). It is just a 2-min walk from my apartment.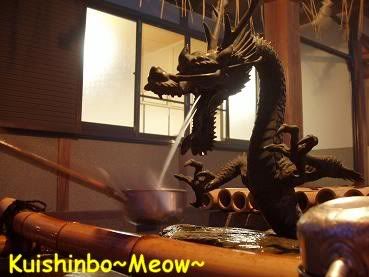 Before you start to do any praying inside a Japanese shrine, you need to clean your hands with "shrine's water". There is a rule in how you wash your hand, which I will try to demonstrate next time.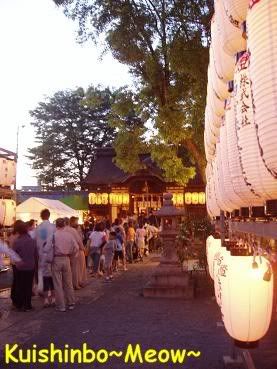 The always empty Agata Shrine was very packed with people lining up...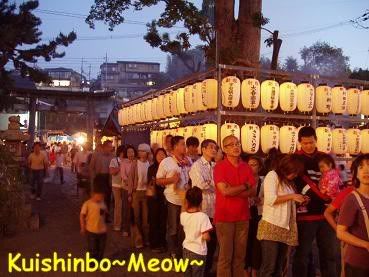 Young and old... queued patiently for their turns to pray. This was still consider a short line. When the night turned darker, the line formed longer.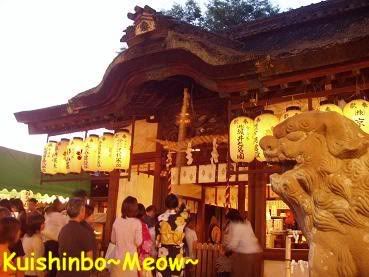 Generally, for a proper way praying in a Japanese shrine : throw the money into the box, ring the bells, clap 2 times and pray. Then end with clap again. (However, clapping, praying and bowing process is different from shrine to shrine. Why they are different? I don't know.)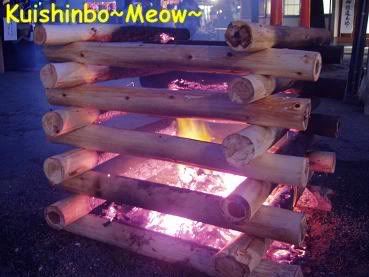 Some kind of burning ceremony was also held there.
By the way, have you ever seen an exposed toilet in a shrine?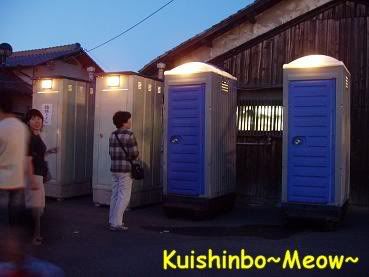 Kihkihkih... may I present you the temporary "plastic" toilets. I have used a few times this kind of toilet, all I can say is if possible, I will try to avoid as much. I have to be extremely cautious of not letting myself fall inside the toilet hole. *touch wood* -_-"
The midnight ceremony is going to be held in a parade style...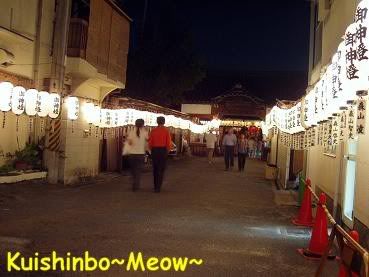 It started from another Shrine... from here, the parade line will walk for 2 km for more than 1 hr slowly to reach the Agata Shrine. Well, I didn't join to watch the parade this year, as it was too late. I need to wake up very early the next day for my seminar. So, sorry, no picture from fish fish one the parade itself.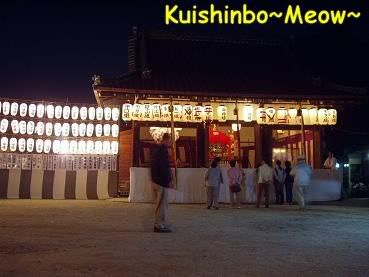 A hall of the shrine was a tiny one. There were still very few people, as everyone was busy merrying in the Yatai streets.
The main role for the night was actually a Layered Paper White Ball (梵天) which represent the God.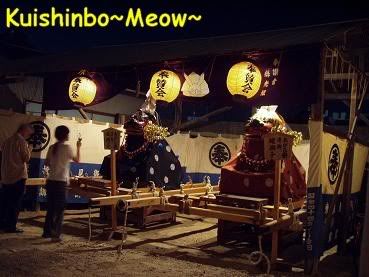 During the Parade, the white ball will be accompanied by these two Male and Female Lions that will be carried by human energy to finish the 2km route.
Under the ball, there was actually a human standing still, non-moving for the whole parade. It is not a normal parade, the white ball with the human as well as the two lions in different 3 wooden BIG cars, will be shook right and left, front and back, up and down, spin and spin and spin... with a super fast speed and strong energy. It required more than 20 adult men to do the job for one car. All the guys are required to be fit with nice muscle...
Don't believe me??
Here is the proof.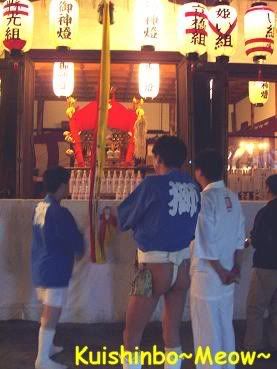 Kihkihkih... I still remember my first time cultural shock when I saw this "butt". Man~ didn't expect to see it again that night. Should I call that "lucky"? -_-"
To be cont...