fish fish's Camera
Oolala~~~
mmulibra
challenged me with the latest comment of his like this :
"What camera you own aa? Must be something small.. so handy to bring around.. even took pictures in toilet ;)

A challenge for u.. take photo of your camera and put in the blog.. hahaha"
Ok, fish fish except the challenge. Now, I want my omiyage. Present mali mali~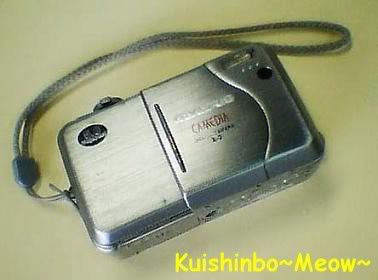 This is my darling's front look. An
Olympus Camedia X-2
. I bought this 2 years ago. Since then, it has been with me going around travelling, eating all kinds of foods, meeting different cultures and people, experiencing unforgettable moments.
Just as what Bert Bert had said to me before,
"Jie Jie, you know, I am so jealous at your camera, thinking all the foods it has tasted."
Oops! What a quote. -_-"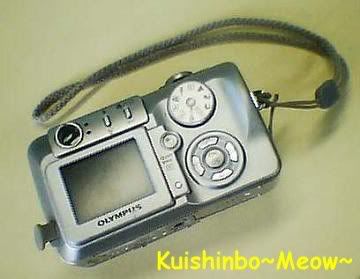 This is the back of my camera. It looks like a normal one... but in fact it is quite "old" already, due to its terrible owner.
Some of the part have terrible cuts, and the flash has turned malfunction. But still I love it as much as before. Thinking of changing to a new one... but then, it still can operate, and I got no money now... Till further future lar~
Well, the size is slightly smaller than an iPOD 40GB, but double the thickness of the iPOD and slightly heavier.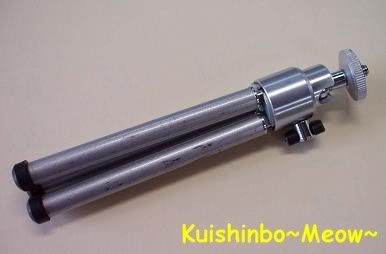 Everywhere I go, I'll definitely brings it together with this mini tripod. It is a very convenient and useful tool especially at night time as well as taking pictures in dimly lighten places.
Ai yar~ another item with a lot of scar...
Proof how much I have been using them.
I took this tripod picture with my camera.
Ok, how about the 2 pictures of my camera then???
The answer is
.
.
.
.
.
.
.
.
.
.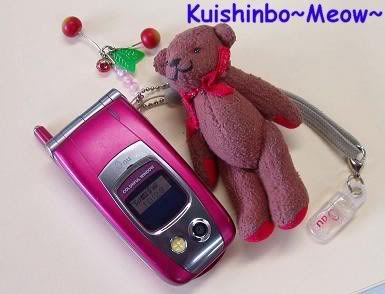 My mobile phone with its little bear bear. I don't want it to be too lonely, so I found the bear bear as its companion.
They are soooo compatible ler? ;) And the 2 little sakuranbo (cherry) was bought together with Wai Wai when we went to Tohoku to travel 2 years ago.
"Oh~ fish fish, we thought your hp will be a GREEN one~"
(Some of you must have been thinking so.
Kihkihkih, it fact, it was supposed to be. But during the special offer time, that apple green was out of stock... so I just get this Maroon one lor~ But after that, the more I see this Maroon of mine, the more I like it. Muakkkkk....
But then hor~ a part of it broken liao~ so Heart Pain. *sob sob*
The presentation is over. Thank you. ^_^