Kare vs Kari
Last week, I was into the mood for curry. So, I made 2 versions of fish fish's brand curry. Here they are...
A bowl of Malaysian style coconut milk vege curry with Japanese udon. The curry very good. I used curry powder and coconut milk powder that I brought from hometown. Ah~ a very nostalgic kind of taste. The only point for deduction, the udon was overcook, not munchy enough.
Ah well~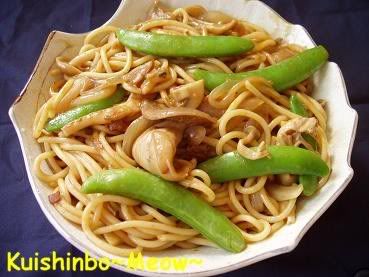 A couple days later, I decided to use an instant pack of retort Japanese curry to make a nice bowl of Japanese style mushroom curry with Italian spaghetti.
Yum~~~ this was such a good attempt. The sweetness of the caramelized onion brought out the nice savoury taste of the whole bowl.
Hohohoh... I am not a pro in cooking. But I think I am a good amateur in playing with my foods. What do you say? Kihkihkih...
Ok, Malaysian Japanese Udon Kari versus Japanese Italian Spaghetti Kare... which one would you choose? ;)