Bite The Gold
Corn in Japan usually are very expensive. Even if you buy one from the supermarket, it usually will cost around RM5. Compare to 5 corns I can buy with RM2 back in Kuching... I usually endure the urge to crave for it.
Lately, the corns in the shelf has been cheaper. I was so happy to find one with RM3 per corn. Woohoo!! What more it was written clearly....
"SWEET CORN"
Argh~ I could't resist the temptation anymore... and so, I got one for myself.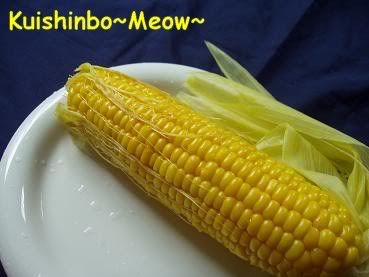 After boiling it for 25 min... Muahahahhah!!! A very beautiful golden corn was explored once I took off its "shirt". Such a nice naked gold.
I couldn't wait longer for it to cool down...
So, I just started eating it with my fingers keep screaming for "Ouch! Ouch! Hot! Hot!"...
Sooner... my fingers were numbed with the heat...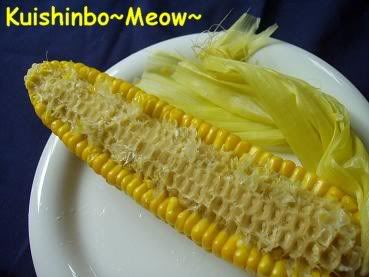 Hohoho!! See how pretty fish fish's love bite on this corn? Yeah... that's my favorite way of eating corn. Row by row...
It is aptly named. SWEET!! Super SWEET!!! It didn't matter how the hull would slit in between my teeth... Eat first, dig later.
Yum Yum~~~
Now, have you ever noticed how you like to eat your corn? ;)