I am back in Kyoto!! ^_^
Ohayo!! Everyone~
I am still alive. The moment I reached my room at 10pm last night, I gave a long sigh. I am so glad I can see my home sweet small room again.
Finally, I don't have to rush up and down like a fly without head anymore. I must say this is one of the most bizarre trip fish fish has ever had. You will agree with me after hearing my story then.
Meanwhile, I'll just keep this post end short and simple. I have jet lag now... slept at 12am, but woke up at 4.30am. Very awake now.
Ok, first incident that happened to me...
Started with a 2 hrs delay of my flight from Osaka to Detroit... which I saw some very weird things, that I will be telling you all tomorrow.
One thing that made bme sad the most... this stupid clumsy fish broke her glass in that flight.
And her whole trip??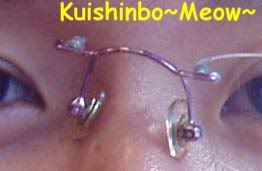 She looks something like this. *iish*
Till tomorrow~ *muak*