下田插秧啦~ (June 18, Pt 2)
After the
paddy planting
, it was time for the picnic session.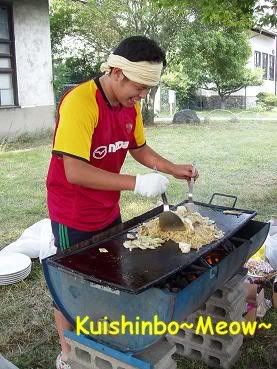 Some guys were preparing outdoor yakisoba on the spot for the picnic. He got very nervous and he saw I took his picture. :P Relax guy, I won't eat you. (This was before the picnic...you will know why later.)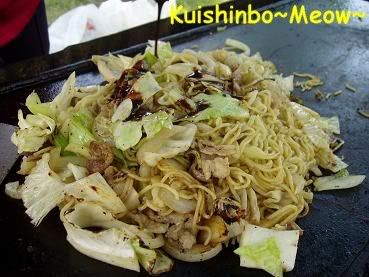 The moment he added the sauce into the noodle... my stomach was really hungry already. Can't wait until we could really eat. Felt like the time past extremely slow that time.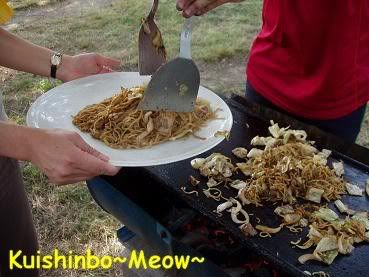 Man~ really happy to see the first batch of cooked yakisoba was ready. But it was not for ours. It was for the other table.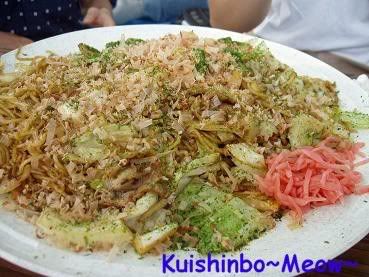 Eventually, ours came. However, we couldn't eat first...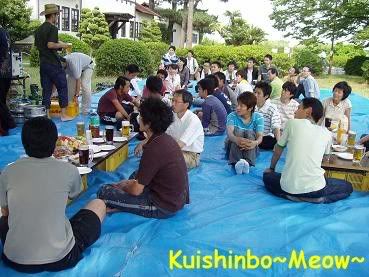 We must wait for the big crowd to all turned up. Also, listen to those boring speech...
My sensei was the head of the year for this society... I always love his speech cause he finish everything he wanted to say within 5 min. Never too long winded...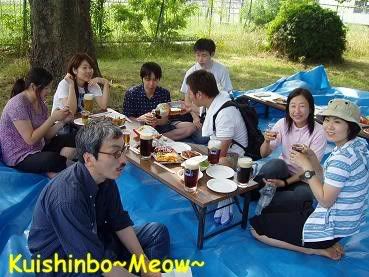 That's my sensei, the guy with the blue shirt. The picture showing 1/2 of the members that turned up on that day. The other half took longer time to arrive.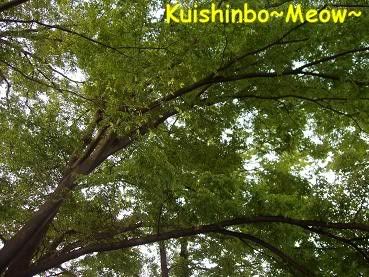 Though it was a very sunny day... the nice shade given by this big tree above our head was something very pleasant.
Finally... we could start our eating session...
However... this was the part that make me felt very frustrated.
Guess what? I was surprised the plate of yakisoba which was supposed to be in one table only, was share among 2 tables. In very short time, the plate was all emptied. I think I had 2 sips only.
This is only part of it... it continued with...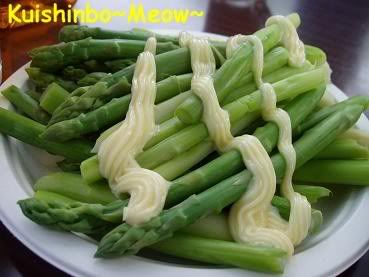 Do you see this nice big bowl of asparagus with mayonnaise? This was not ours... it belongs to the other table. Guess what, our table amount was only 1/3 of this amount. Imagine, more than 10 of us have to share a very small plate of asparagus...
It was one of the most delicious asparagus I have even eaten... So sweet, and so fresh and young. And I only had 1/2 stick. Which make me getting more pissed off whenever I think of the unfair distribution of those people in charge. What more my sensei is the head of this year, really too don't give face to him. (Ok, I only swallow this mad gas into my own stomach only).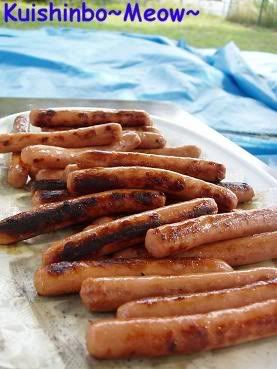 This was another unfair treatment. This load of sausage was for other table. Ours? Also only 1/3. I don't understand why the other table when the amount of people almost same as ours... they have so much foods than ours... I hate unfair treatment. (Though I don't eat this, it still heated up my temper.)
Even Mirian after I showed her the pictures, she was so shock to see the different of the portion of the food. I don't tell Yapunis, meaningless...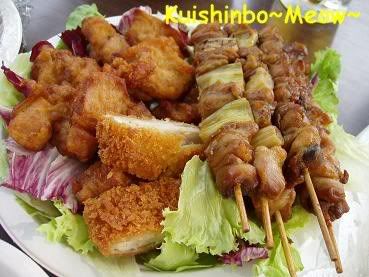 The only quite fair distribution was this plate of assorted fried and grilled plate. Nah~ I don't take any of this, all meat.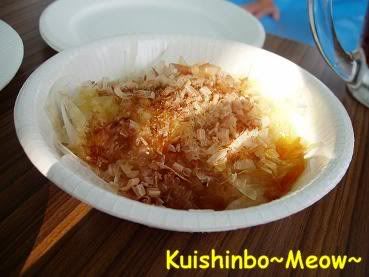 We also have a very small ball of raw slice onion with soysauce. The onion was very sweet... too bad, the portion was too stingy. Ah well~~~ as expected.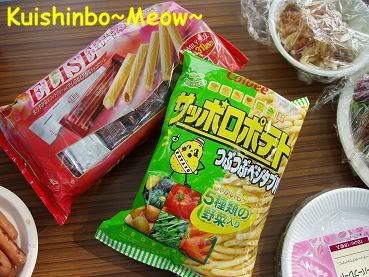 Each table have 2 packs of junk food. This was in another table. Didn't take a picture on my table one. But I can tell you, our table snack was finished in very fast time. Food amount too little, if not finish in short minutes that would be strange.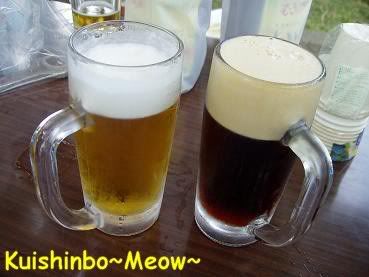 I was really hungry. All the food didn't help at all. Our table food clear off the fastest. I had to drink 1.5 mug of this black beer to cure my hunger. Which made me kind of dizzy because of taking alcohol with empty stomach.
No one in my table seem to compain about that at all. So, without a single word, I went to the yakisoba place, asked for more noodle.
In a hint,
"Could I have more yakisoba please. It was strange... how come the 2 tables in our place have only one plate of noodle."
I think they know my meaning behind it, they said ok. Only after waited for 30 min... the noodle finally done for us. *terrible!!!* They gave the noodle to the other group first before that. If not because of my sensei... I think I would give them a good punch already. This was the 1st time I wanna give people a good punch because of food.
So, I stared at them *in a fierce way*... Which they sensed that. And came over to say sorry... and asked me to bring our plate over. Guess what? The noodle given was only 1/3 plate full. Better than zero. I was even too hungry for a fight already.
The moment I put the noodle on the table... everyone quickly get their chopsticks to scoop the noodle. FUNNY!! When I didn't bring the noodle, everyone seem to be so ladies and gentlemen... In fact, deep inside they were damn hungry. I just don't understand was it sooooooooo difficult to voice out??? I am really tired of this attitude of Yapunis sometimes. Need to think deep twice if I really wanna stay here for more.
Ah~ I'll just look for food in other place then. Get mad on this "weird head" people would only make my life span shorter.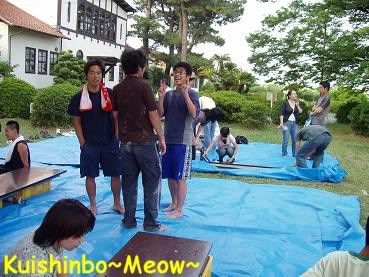 Really glad the event finally over.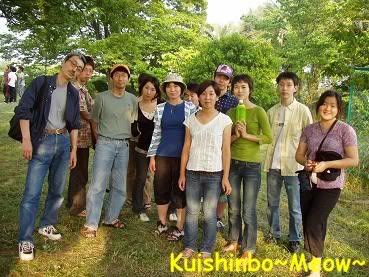 My group members.
Well, apart from the food. It was actually quite a nice event. But I would rate it as the worst food experience I ever had.
I think you guys never really see me with such a piss off post on food like this huh.
Ah~~~ now you see.
Heee... fish fish can be extremely fierce when someone step on her fish tail.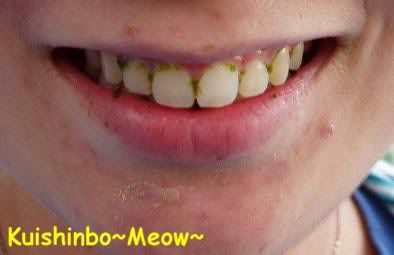 Now, do you think this is my smile? *myak*