Fish Fish in USA (Pt 14)
My final dinner in USA... was recommended by my Korean friend, an ex-post doc in my lab. Coincidently, she is working in one of the lab I was visiting. So, she asked me to go for a dinner that evening with her hubby, who also came to Korea to stay a month with her. ^_^
House of Teriyaki, one of the Korean/Japanese restaurant in
Amherst
, Massachusetts. The moment I knew I was going to have "rice" for that evening... I couldn't help but to show those smile that one will show when you know you gonna have something really nice that you have been missing.
Yes, days of pasta, bakery, cheese and oily stuff kind of making me scare of foods. Can imagine how serious was it when fish fish actually claim that she is "scare of foods"??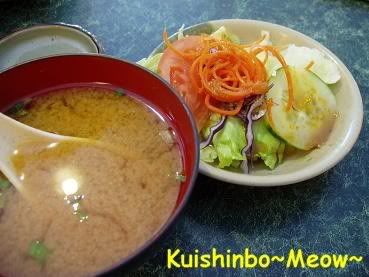 We were served a bowl of salad and miso soup as appetizer. Mmm... the moment the miso soup touched by taste bud... it was like awaken every one of them...
My taste buds was like saying,
"Oh~~~ gimme some more!! I want!! I want!!!"
That small bowl of simple salad was just like one back in Japan. Sometimes, the simplest is the best.
Geee... I saw menu for sushi. I decided to try this "Crispy Tofu Sushi". Interesting... this was one of the sushi I've never encountered in Japan. I was curious to try.
Mmm~~~ lovely!! The topping sauce of it just some what sweet, an important element in Japanese food. However, what I really enjoyed was the pickled ginger at the side of the plate. I always crave for quite an amount of this pickled ginger whenever I visit a sushi shop.
Ok, this crispy tofu sushi was great. It is a very interesting combination of the very "crispy" tofu, creamy avocado with the sticky Japanese rice. Chomp it down with a mixture of soysauce and wasabi. Ah~~~ truely appetizing.
Then, my main dish order came. It is a Korean style spicy tofu pot with rice. Even have the kimchi attached.
I was not sure was it because I was too "homesick" on Asian food or what... But this was definitely one of the best spicy tofu pot I have ever tried. The spicy yet savoury soup of this hot tofu claypot make one of the best combination with the rice. And the tofu itself... so silky smooth... went into my throat like some naughty little kids playing a sliding board downhill.
Piece by piece they went...
The kimchi... I finished all of it with the rice. It was too sour for other... But for me, it was just right. The couple was so astonished to see how I ate those kimchi...
"Wow!! You sure can stand these very sour things."
Tee hee hee...
They prefer fresh made kimchi by the wife, as the taste will be much milder.
Ah~ I was really full when I have finished 3/4 of them. However, I decided not to waste every bit of it. So... in a very slow pace... Phew!! All of them were perfectly cleaned by fish fish.
You should have seen how "shiawase" fish fish face was that time. Indeed... the food taste the same as one I always eat back in Japan. I would say it is kind of authentic taste, though some of the combinations are unusual in Japan.
Then, the owner of the restaurant came to chat with us.
Fish Fish was in a naughty mode... So, after the couple introduce me to him...
"Annyon Haseyo~"
I smiled at him.
"Oh~ Korean?"
He was looking at me.
Tee hee hee... little did he know my knowledge on Korean word was only limited to
"annyonhaseyo"
,
"saranheyo"
and
"kamshahamida"
. -_-"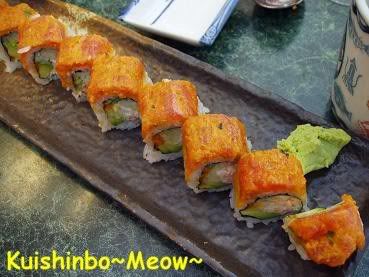 The owner where then gave this plate of sushi as "servive" for us.
How lovely!! Too bad... we were all too full to gulp in anymore. However, I had a piece of it just to as a courtesy. It tasted good... Just that I had to get rid of the salmon on the top.
The couple then packaway this plate with the leftover HUGE Pibinba of them.
"You gonna eat this as your breakfast tomorrow."
She was teasing her hubby... with a very loving way. Ai yar~ no eyes see...
An ending of this post. The loving birds.
It turned up to be a treat from them. Now... am I a lucky fish or what?
Gochisosamadeshita. ^_^