Corn Butter Miso Ramen
I went to Kyoto Station to buy bus tickets last week. Decided to eat my lunch there.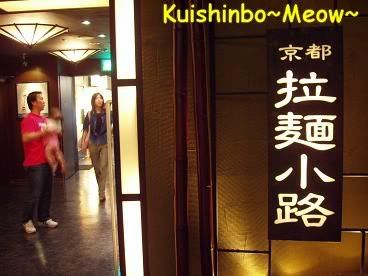 Ramen Koji
on the 10th floor of Isetan in Kyoto Station. That was the place where I settled my lunch. In fact, I've been passing through this place a few times... but never have time or my stomach condition was ready for me to have a try on the ramen around this area.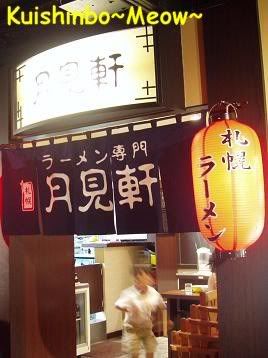 Tsukimiken
... a branch from Hokkaido. I decided to make it my first shop to try in this small ramen park.
Actually, I was attracted by its Corn Butter Miso Ramen. As its name is, the miso ramen was topped with sweet corn and flavourful butter.
My first time to try this variety of ramen. A specialty from Hokkaido. I have seen it uncountered times in TV programme. The drooling attraction in the shows was a great torture to me, but I never have the gut to try.
One word~~~ the BUTTER!! It just sound too much for me.
But that day, I decided to forget all the calories in that one bowl of ramen. I decided to challenge it.
Walked into the shop, immediately after sat down, I handed over the ticket that I bought from a vending machine.
Then, I patiently waited for my ramen to come. Exactly sitting opposite to me... was a young guy having tne same ramen as mine. Oh man~~~ the nice smell from his bowl sure have excite my hungry stomach to drum louder...
Wait... wait... and wait...
The less than 10 min wait seemed like a never moving moment for me... Time suddenly turned still.
Then, it finally came in front of me...
It was like seeing a big bottle of tasty sky juice in front of you after you haven't dripped a single liquid into your throat for a whole hot summer day.
I finished my photo session in less than 30 second, didn't even care to take a 2nd snapshot on it...
I had a first sip on the soup before letting the butter melt. The miso soup was very nice. An irresistible savoury taste spreaded into my mouth.
Then, I let the butter totally melted into the soup. Ignoring a thin layer of oil phase formed on top of the soup... I had my second sip.
Geee... the taste of the miso soup was now enhanced by the buttery feel in my mouth. Though a bit too oily, but I couldn't deny the magic butter made on this soup. Yes, if only I cut the butter amount into 1/3 of the original cube... Slurping down this big bowl of ramen would be another magic moment for fish fish.
The noodle... thick and yellow type ramen noodle. It was good... I gave more credit to the texture of the noodle. The cooking time was just right to remain the bounciness of the noodle, giving a great mouthfeel pleasure when you chew and chew on it.
Yes, I finished the whole bowl... until I can see the bottom of the bowl... except one thick Char Siew was laid beside it.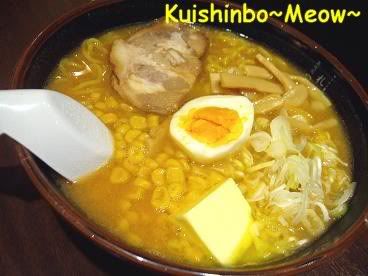 See what I mean? It does look attractive even from the picture huh~
;) BURP!!