Bamyan Restaurant
-_-" I noticed myself haven't been doing a proper food review for quite some time. I wonder if my readers miss my food posts. I miss my own food posts. It seems like I didn't feed this darling kuishinbo meow of mine for quite a long time. Life have been too busy with my study, it has to come to priority these 2 months.
However, I heard my darling meow meow crying,
"Fish Fish, move your butt to feed me! I'm starving!!!"
Oops... *muak muak* I'm doing it now. :P
Before we started our Shikoku trip in September, I went to fetch my trip's gangs one by one.
mmulibra
and Yuko only reached Uji later that night.
I met up
Nightraveller
in Kyoto station and picked up Choo from there too, then we headed for a dinner, which by the time we finally decided where to eat and reached the restaurant, we were extremely hungry.
Bamiyan
, a totally unexpected choice for the night, a chained Chinese restaurant. It just some how we past through it during driving, and so we just went it. I had Bamyan one 2 years ago with Yuko. I remembered the taste was not bad, so here was my 2nd try.
We ordered 4 dishes and 2 desserts, with drink viking ( it was for only 157yen per person).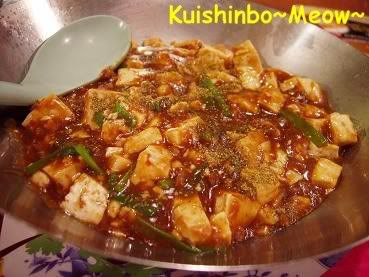 1st dish, quoted as "Spicy Sze Chuan Mabo Tofu" (504yen).
"Oh! Spicy huh~ I want!"
Ah~ cheated. Shouldn't believe the standard of spiciness quoted my a restaurant in Japan in common. Not even when I am in a Chinese restaurant.
It tasted ok. The least delicious dish of the night. Would go very nice with hot rice, but we didn't order.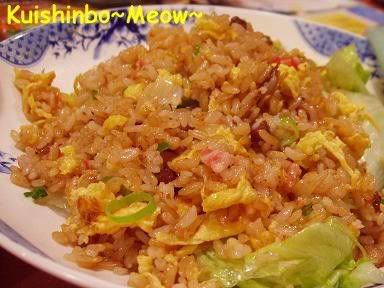 Next, the very typical Chinese food in Japan. It is just like Chinese food = Chahan.
Yap, a plate of Chinese style fried rice (504yen). This one was nice. Taste like the fried rice back home. We finished it with a very fast speed.
I like the texture of the lettecce with the fried rice. The crunchy lettuce matched very well with the fragant rice.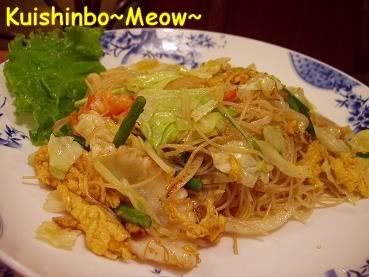 The 3rd menu of the night, Seefood Fried Beehoon (714yen).
This one was my top favorite of the night. I am a big fan on beehoon and kuey tiaw. Unluckily, in Japan it is not easily to get these 2 items, especially kuey tiaw.
Ah~ this beehoon did heal my sickness on missing Malaysian yum yum. Somehow, it made me wanted a nice plate of Siam beehoon so much that time. Ah well, can't ask too much.
I like the degree of hardness of this beehoon. Not too soft, just right to enjoy munching it in my mouth. The only dissatisfaction... the portion too stingy. I can finish it by myself with a portion 3 times more than it actually.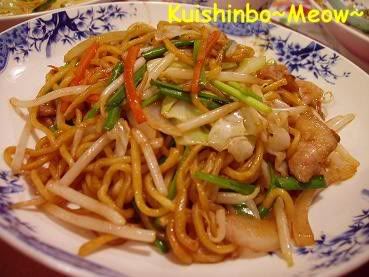 The last dish of the night, a nice plate of special sauce fried noodle. 609yen. Nice too, though not as attractive as beehoon for me.
Anyway, the three of us hentam the 4 plates in quite a short time. Heee... you can see 3 out of fours were carbohydrate dish. Well, to fill up our stomach, we kind of craving for carbohydrate. :P
We were quite full by then. But we decided to try some dessert.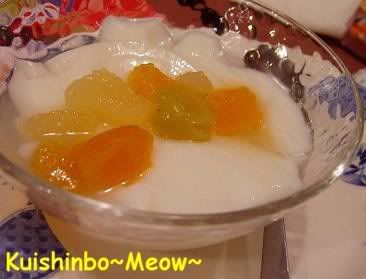 A very common Chinese dessert in Japan... Annin Tofu (189yen).
Mmm... very melty texture. The taste was normal but I kind of enjoyed the texture of the annin tofu slipped down into my esophagus.
The surprise of the night, a bowl of Ogyochi (189yen). Three of us didn't have any idea what kind of dessert was this. It was our 1st encounter.
It has a very unique texture - hard to describe. The thing itself quite tasteless... but by mixing with lime, it turned into a very refreshing taste. Good to wash your stomach after oily Chinese meal.
Hmmm... Ogyochi, I'm curious to know what was the ingredient that made this "jelly". Anybody have any idea? All I know was... "Very famous in Taiwan, amazing mouthfeel healthy dessert".
In fact, this quote lead us to try it. Indeed, a good choice I would say.
Before we left, I gulped down 3 cup of hot cocoa.
Wah~ nice dinner.
In die die hungry, out full full bursting.
*Burp!!*