Bird's Nest Congee
I was looking for an empty container to fill my foodstuff. When I opened one of them, oops... I found something that I forgot. Something that I have been laid inside there for 2 years. :P
Guess what it is.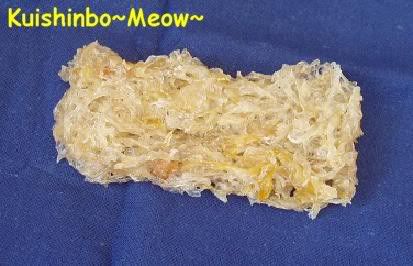 Oops!! A few pieces of bird's nest, that my mum insisted me to bring over here, regardless I told her most likely I wouldn't cook them.
Ok, if I bring this back to Kuching when I leave Japan... I am sure mum will scold me until dog blood splash head.
*shudder* Better don't take the risk.
So, I've been thinking what should I do to these pieces.
Mmm... why don't try making different dish with it. New cooking way that I have never tried before.
I decided to try on one piece. Soaked it for overnight.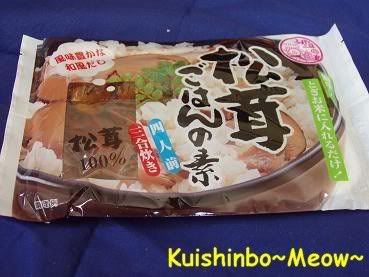 Then I went to supermarket to look for a pack of instant matsutake mushroom seasoning for rice.
Here was how I prepared the dish.
1. Wash the rice a few times.
2. Add some water on it.
3. Put in cube bamboo shoot, rehydrated sliced dry Shitake mushroom, fresh white button mushroom, crispy Tanba Shimeji mushroom and sliced deep fried tofu.
4. Add in the rehydrated bird's nest.
5. Add in a pack of the Matsutake seasoning for rice.
6. Add in a few drops of
Nigari
and 2 table spoons of rice wine.
7. Add in instant fried shallots.
8. Press cook button.
9. Wait for it to cook.
I wanted a thick congee, so my water amount was less than usual that I would use for plain porridge.
This morning, all I have to do is unlid the rice cooker...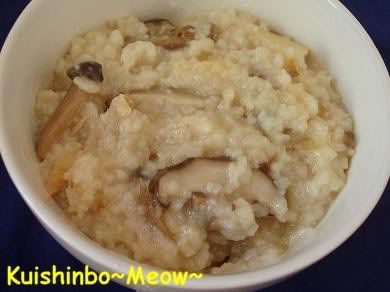 Tralala!!! My very first bowl of Bird's Nest Congee. Soooo nice. The bird's nest itself has a plain taste as usual. But as it is not the usual way mum cook with rock sugar with a double boil slow cooker, the texture was more chunky.
Chomp chomp chomp!!! *burp*
Ah~ a nice breakfast for starting the week. ^_^
Gee... mum will be happy to know she doesn't have to use a forcing way to make me gulp down it. :P