Instant Yakisoba
When you are very busy, usually how do you settle your hunger?
As for fish fish, the easiest way is to stock up a lot of instant cup noodles, and finish them one by one, meal by meal.
It was such a lovely sunny Sunday, and I am stucked in lab to do my work.
In between my work... the only thing I did is to eat my lunch (tea time?) and my dinner (supper?).
Hmm... just had another instant cup noodle... again. *feel sick*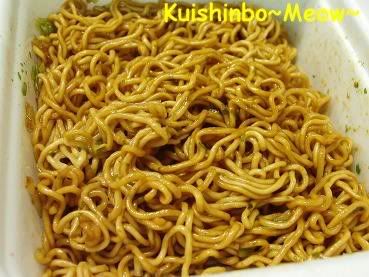 Just pour hot water, let it soak for 3 min. Mix with the seasonings. Done.
This is Japanese style yakisoba. With soy sauce, mustard mayonnaise and seaweed.
I finished it in 5 min. Well, can't say it is delicious, but at least my stomach is not grumbling now.
I miss nice balance hot meal soooo much. I miss home-cooking.
Urgh!