Ginza Lion
I was meeting a friend, ST that I didn't see for a few months. We decided to have dinner at an Izakaya.
We chose
Ginza Lion
, one of its
branch in Kyoto
. A new place that I've never tried, though I've seen this Izakaya in some where else.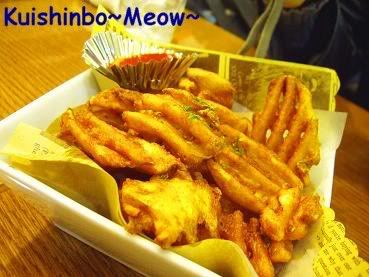 I am a great fan on spicy fried potato. The picture in the menu looked good, so I ordered one to try. My disappointment, it didn't reach my expectation. Not the spiciness and crispiness that I was looking for. I would still vote the one in Hub as the best one. As you could see in my
1st post
,
2nd post
and
3rd post
on Hub... I never skipped its spicy fried potato. :P Don't believe it, can ask
Obachan
, she tried it before with me. ;) But for 480yen with such a big bucket, I would say it was not a bad choice.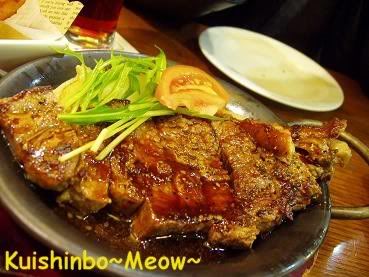 Next, was an order by ST. Beef steak with stewed Chinese cabbage, too bad it was not an authentic Japanese beef, should be a product from Australia, as American beef is not allowed to be imported into Japan yet. I didn't try the steak, so no comment on it. ST said it was good, finished it all. As for me, I tried the nicely stewed Chinese cabbage. I like it, very soft. Once swallow, it has already melted in my mouth.
The green vege that decorating the steak is called Mizuna, a typical Kyoto vegetable in Japan. It is not easily to find good Mizuna outside Kyoto. This vege is always served as Japanese style salad, with Japanese style salad dressing.
This plate was for 1100yen.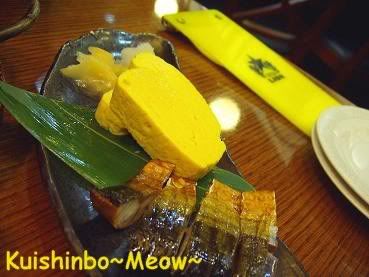 The next dish was Smoked Mackerel (it is called Saba in Japanese) with Rolled Thick Egg. ST said the smoked mackerel was good. Well, I've never encountered with smoked salmon in Japan before. 1st time hearing smoked mackerel instead of the very typical smoked salmon.
The egg was ok. Not much special about it. A very good Rolled Thick Egg should be more fluffy and have the volume that giving your tongue a very soft yet juicy touch. This one was a bit more on the dry side and the texture was harder than I expected. Forgot the price.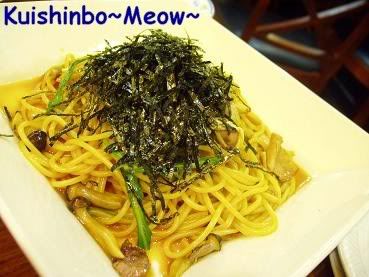 4th dish was a modification from Italian cuisine. Japanese style mushroom and mizuna spaghetti, 880yen. It has been quite a while I didn't eat Japanese style spaghetti, and I was glad I ordered it. The spaghetti was not too soft nor hard, just right for me. I like spaghetti cooked in Japanese style, more healthy. But I wouldn't resist a good creamy spaghetti as well. :P
ST comment on this dish was
"Like eating noodle"
.
Haha!! Hello my dear, of course it is noodle. That's why it is called Italian noodle. Right? ;)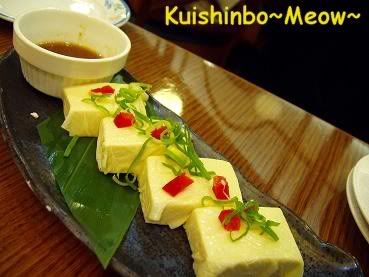 We were already full with the 4th dish, but my eyes was attempted by this final dish. So, I decided to order one as after meal "dessert".
Yap, a non-sweet dessert.
It is silky tofu with fresh yuba wrapping. Interesting way of presenting it. We dipped in Japanese style citrus sauce and swallowed the whole thing. It was fun to eat one piece in one bite. My mouth is small, so the whole thing was bulking in my mouth before I able to swallow them.
It was good with the sauce. The tofu inside was not bad, but the Yuba was not as good as I expected. I suspected it was rehydrated Yuba instead of fresh Yuba. The texture was too much different. Ah well... 4 small pieces like this was for 600yen. Yap, yuba is an expensive dish in Japan. Especially in Kyoto, it is classified as branded food.
Well, a very enjoyable dinner. Ginza Lion is not a bad place for gathering. It was nice to meet up with you again ST. Hope to see you again soon.