Aka Tonbo Spaghetti
Went to lunch with Yuriko few days ago. We decided to try a spaghetti shop called Aka Tonbo (Red Dragonfly). We were attracted by their very creative menu on a single type of pasta.
Each of us ordered a set lunch.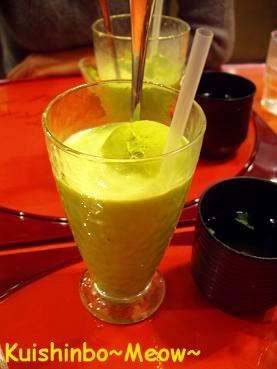 It was attached with a drink, which both of us decided to have this Maccha Float.
It was mild, not too sweet. Which is a good drink to go with creamy pasta to rinse the mouth.
Also, we were give a bowl of Japanese soup and a bowl of salad. Yuriko one was with Japanese style dressing while mine was sesame dressing. Very fresh salad, both of the dressing were good. A healthy choice of the dressing, I would say.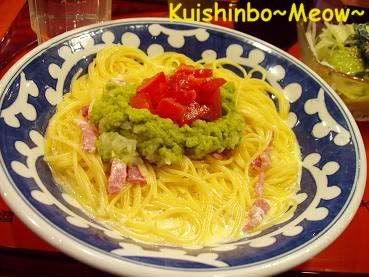 Finally my main order came. It was creamy spaghetti with avocado paste and fresh dice tomato. Well, the look was fantastic, but the taste was alright. The cream was lack the kick that gave me a nice surprise. However, avocado sauce in pasta was something new for me. At least it would inspire me to try to make my own home edition next time.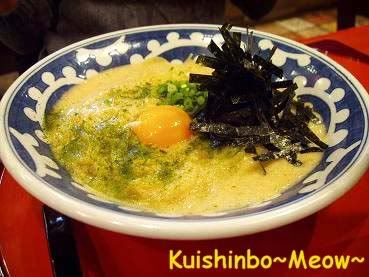 Yuriko's tsukimi tororo spaghetti.
This, I have to give 2 thumbs up. It was a brilliant combination. Very creative. Imagine the very typical Japanese slimy grated yam matched with the Western style hot spaghetti. When everything mixed to a balance, the air was capture into this spaghetti, making the whole thing was full of fluffy feeling. So, one in the mouth, you actually could feel how the air was trying to release from the whipped tsukimi tororo sauce.
This, definitely will be one of the most interesting spaghetti I've ever tasted. Strongly recommended.
Hoho... I thought I know enough of spaghetti... seem like a food world is just to wide for you to explore all of them.
;)