Are we pretty?
I went to buy something in a departmental store on the 2nd last day of last year.
So many things that are specially for Japanese New Year celebration were on the shelves.
I walked and walked and walked...
Then... suddenly, these beauties caught my eyes... SO MUCH.
I looked at them... again and again...
Finally I decided I want them to be mine.
Yah~ must admit they were a bit to expensive...
But... once in a life time I know I must have them.
So, I felt into the trap...
.
.
.
.
.
.
.
.
.
.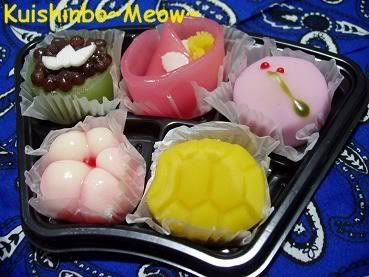 Tralala!!!! Tell me, how could a glutton like fish fish will be able to resist such a pretty temptation.
They were art pieces.
They were yummilicious.
But they ended up into an incinerator of a fish.
Even when I bite on them... I could feel their beauties melted into my heart.
Muak~~~!!
My 1st post for the year, hope you like it. ;)