Eat me? But you might kiao kiao wor~
Until this evening, I was busy rushing for my thesis in proper binding. I did the 3 books by myself, was really happy when everything have done yesterday late night.
Submitted it in the noon just now. Now, I have to wait for it to be returned to me, before I send it for a nice binding, which is damn expensive. *gulp*
Hooooooooohhhhh.... *big sigh*
Ok, next, time to write a paper. Hope to finish it by this Friday. :P People say no good to let unfinish thing leave till a "new year".
Yah~ I remember it is gonna be Chinese New Year very soon. Really envy those who back home busy for the celebration while I'm alone here. *sob sob*
Miss mum's cooking a lot... She always cook like 16-18 dishes in CNY Eve. My super mummy. *gulp*
Ok, today, what "meat" shall I introduce?
What else would be a better one as this?
Anyone guess the correct answer from my title for today? ;)
.
.
.
.
.
.
.
.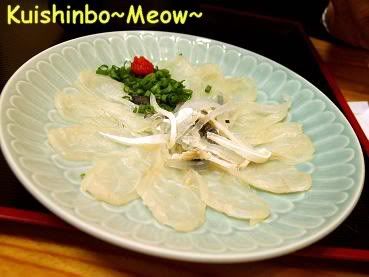 Tralala~~~ Fugu Sashimi.
Yap, fugu... or what you all are more familiar with the word "Blowfish".
The very poisonous yet expensive fish in Japan.
It was my first time trying it, owing to the curiosity of
another kuishinbo
. Heeee... BAD influence. Geee... luckily I didn't die kiao kiao after that. *Choiii!! Da Ji Li Shi*
Hmmm... I've heard about it from many people, about the taste and texture...
But to try it by my ownself... I must say I was kinda disappointed.
Imagine like chewing a piece of flexible thick plastic. Something like chewing a piece of chewing gum, only that it was not sticky.
Tasteless. It was plain. I tried to tell myself it was sweet, but I couldn't lie to my own palate.
Then, there was a family came in to eat Fugu as well. Another kuishinbo urged me to ask them if the real Fugu tasted like this.
Ah~~~ *try to hide away my red face* *Eh hem!!* *Deep breath*
"Er~ excuse me. I'm sorry to disturb your meal now. But I got a weird question to ask."
Tried to show my smile as sweet as possible.
"Of course. What would you like to know?"
The lovely young mother sat next to me asked with her gentle voice, though she was surprised by my sudden interruption. Her husband also looked at me.
-_-""" ...
"This is our 1st time having Fugu. Is Fugu normally taste like this?"
Mission done.
"Yes. This is the normal Fugu taste."
She replied.
"Thank you so much."
Another kuishinbo was satisfied with the answer, while fish fish still recovering from over anxious asking such a question. Hehe...
It was a cultivated Fugu. We saw a wild version... was about 5 times the price of cultivated one. A whole wild Fugu price is enough for me to buy a two-way ticket to go home for CNY.
*sigh* Maybe someday, when I can afford it, I might try to kill myself with the wild version. ;)
Till then, I better stick to my tofu. :P