I started it again... after 11 years
Don't be surprised with this post. It is a totally new revolution for fish fish.
Those who read regularly will know I was a vegetarian.
Wait...
Did I use the word "was"?
Yes, you read it right.
After a long 11 years of not feeling want to eat any meat, I started to eat them 2 weeks ago.
Nope, it's not that I am hunger for them.
In fact, it is more of a curiosity that drove me to do it.
For 5 years in Japan, I attended uncounted times of very good feast, with all those divine looking meat. Neither of them ever successfully seduced me.
But lately, when I know my time in Japan is getting shorter and shorter...
When I know some of these foods will never be able to get outside Japan.
Even can be obtained outside Japan, the quality would be somewhat doubtful...
And what if I suddenly just disappear in this world, and realised how much things I've never tried...
I decided to pick up the chopstick and took the challenge.
It was more like a sensory evaluation for me.
Well, I'm glad I did it... at least I can taste it for myself some of the special foods that are driving Japanese crazy, which I've seen many times in real life or on TV.
And making another kuishinbo having his uncountered orgasms on dining tables. :P
So, you will see some non-vegetarians food post from me... from now on. When I think it is very special and worth a try on it.
If you ask me, "fish fish, how do you like the meat?"
"Some are really brilliant. But still, I am much more to a vege person." In fact, I remembered one night I tried to many types of them that I was feeling terrible and almost vomit after that.
It's been such a long time that I started having meat again, that for the 1st day of it, with only 2 pieces of sashimi sized meat, I had a terrible diarrhea.
But it was ok now.
So, most of my time, I'll still stick to my full vegetarian diet. But once a while I'll challenge on something unique.
What have I been trying so much these past 2 weeks...
I'll tell you one by one then.
This is the 1st post...
Horse Sashimi
.
.
.
.
.
.
.
.
.
.
It is a special food. Only eaten in occasion in Japan. The famous one is from Kumamoto in Kyushu.
I tried two types, in different days.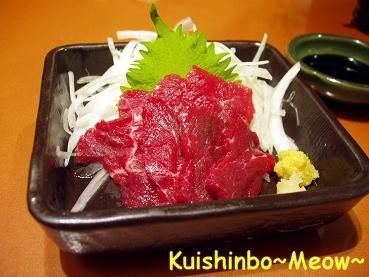 This one was ordered in a chained izakaya called
Watami
.
Yes, izakaya is a typical Japanese food place that one must not miss when come to Japan for a visit.
This plate of Horse Sashimi is more of a meat from frequently exercised part, I think it was from the muscle part. It was 480yen per plate.
It looks so red, compare to other type of meat. Should be due to the high hemoglobin content inside?
Then, I tried to bite on it.
CHEWY!!! No matter how many times you chew, the strongly link meat was still able to give you a chewy texture.
The taste I kinda too raw for me.
A very good experience on the texture, but not enjoying so much with the taste.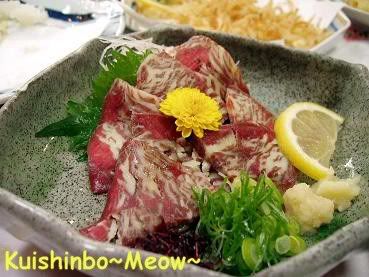 2nd time trying Horse sashimi, was in a family oriented izakaya.
Curious to know how this version would be different from the earlier one since in the menu, it was written 1000yen per plate.
Sure it was a surprise when this plate of marbled meat presented in front of me.
So, I tried to scoop it up by using chopsticks.
It was so soft then even a slight destruction from the chopsticks made the meat fall apart.
Once put in the mouth, before I realised it, the meat have melted into my throat.
It was like eating BUTTER!!
No bloody taste.
This cold Horse sashimi just melted in my mouth like a M & M chocolate.
This was a very unforgettable experience for me.
I was curious to know the quality of the marble inside...so I put my finger on the meat. The fat in between the red meat started to melt a bit. This is very good quality oil, and the melting point of the meat are low compare to normal meat.
Hmmm... horse sashimi, I know you finally.