Mos Burger vs McDonald's
So, what did fish fish do on 1st day of Chinese New Year?
:P You wouldn't believe it, but I did it.
I ate 2 prosperity burgers as my Chinese New Year meal!!! 1st time in my life.
Yes, I started to eat fast food burger after didn't touch any of them for 12 years. Geee... that means I stop eating burger from earlier dog year (12 years ago) until this year dog year. Whoops!!
Now, you all might be wondering, why do I have to choose burgers for a Chinese New Year?
Blame it on
Huai Bin
and
Dr. Chen
. One had a
prosperity beef burger in Penang
and another had a
prosperity lamb burger in KLIA
. Both reminded me for how long I didn't touch this thing that is called "Burger".
Hehe... doesn't matter if it really gonna bring me a prosperous year... I went for 2 "prosperity burger". Yes, TWO!! One for lunch, one for dinner. -_-"""
Here is my review. See... fish fish also know how to eat hamburger. :P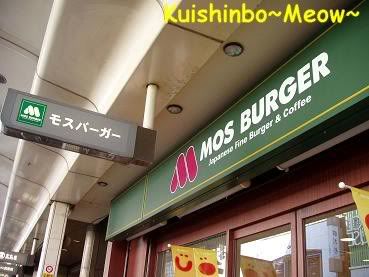 The 1st one I had was in
Mos Burger
, a chained Japanese Fast Food restaurant that started in 1972. It was interesting to read
its history
, realising that in year 2000, it already has more than 1500 stores in Japan.
The motto of this Mos Burger is
"Making People Happy Through Food"
.
Mos Burger is well-known in Japan as the most expensive western fast food. It is also well-known as the most delicious among its rivals.
Hehe... I sound so silly while making my order, but managed to get what I want. Well you see, I've no idea with those creative name, so I have to ask which burger is what meat. I decided to order a more conventional
Spicy Mos Cheese Burger
instead of a rice burger which I planned to have earlier. Well, I wanna know what is the common taste of Mos Burger, so I thought normal hamburger would be a better 1st debut for me.
I paid 680yen for a Spicy Mos Cheese Burger set with a cup of minestrone and a pack of fried potato and onion ring. If you only order the burger alone, it would cost 360yen. So, I decided to go for a more value set choice.
The
minestrone
was good. Tasted nice. Very healthy. I love it. It was only 50kcal.
But the
onipote
(fried potato and onion ring) was nothing to brat about. Two onion rings and thick potato fries. It was so so. 195kcal.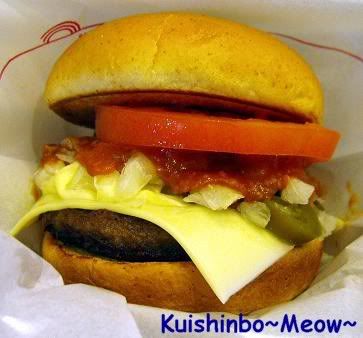 After waited for 10 min, finally my Spicy Mos Cheese Burger was brought to my desk. Man~~~ it was tall. Hehe...
With generous portion of ingredients. Top and bottom were embryo bud added buns. In between them there were 8 layers of ingredients. From top till bottom : A thick slice of tomato, meat sauce, onion, Jalapeno, mayonnaise, cheese, hamburger patty, mustard. 440kcal with this single consumption. *gulp*
It was a good presentation. Kinda arousing your appetite with that high stack of combination.
I had to press it shorter in order to put into my mouth.
Chomp!!!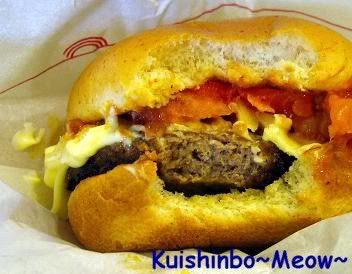 After my 1st bite. See how thick the patty was?
It was very soft, beef taste. Not bad in taste, but somehow I don't know why, I don't enjoy a hamburger as much as I did when I was a growing teenager.
Until this point, I still haven't make up my mind that it was a good burger. Still, I love the spicy sauce. It was good. Also, the buns, was another thing to give good credit. You could tell it is a good bun when you munched on it.
Well, definitely tasted very different from
Kobe Beef
. Hehe... (Hmm... I wonder how would a Kobe Beef Burger would taste like? :P )
So, I decided to do a comparison with another burger later that day.
I went to
McDonald's
. The service was good too.
Paid 100yen only and already got a Cheese Burger.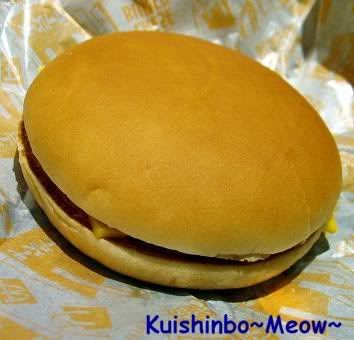 This was what I got, in less than 1 min.
The presentation and outlook was definitely incompatible with what I had at lunch.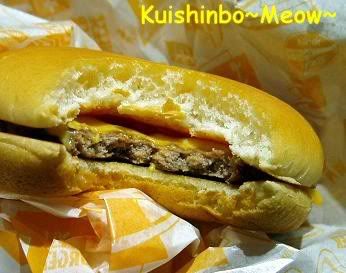 This, was my after 1st bite look.
The buns was disappointing. The patty was tasteless and very thin.
Yes, in Japan, what you pay would mean what you get.
It is counted as price wise with the 100yen. However, in term of taste, I don't think I enjoyed it at all. I was forcing myself to finish the whole thing.
This, made me realised the one in Mos Burger was indeed a good one.
Well, I decided will try more from Mos Burger menu next time.
I've made up my mind on this one...
Takumi Judan Burger
(Pro 10 layers burger). Man~ it is gonna be 1000yen for one. And it's only offering 30 portions per day in each Mos Burger that has this menu. 730kcal for each portion!! But who knows it is gonna be really good. So, I think it will worth my try. Wait for my review then. ;)
It seemed like I had too much meat on that day. I had terrible diarrhea again that night. *iish*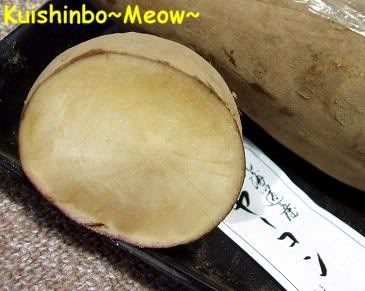 I have to cure my stomach by munching this big portion of yacon.
Mmm~~~
yacon
is really good. Texture like a watercress and sweetness like a pear. Ah~ only thinking about it now making me salivating. I'm craving for it now. I think I am falling in love with it. ^_^