Osechi (1st Jan)
I spent my New Year Eve and New Year with Yuriko. Thanks to her invitation, I got away from celebrating these 2 days alone. Instead, I spent this precious moment with her whole family.
Thank you so much my dear. This will be one of the nicest New Year I had in Japan.
On the 1st day of New Year in Japan, it is their tradition to eat New Year Feast which they called Osechi.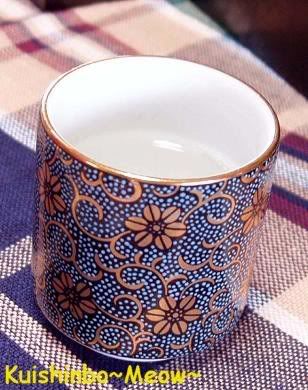 First, we had a sip of Japanese sake as an opening.
"Kanpai!!"
We shouted.
Then, we started to enjoy the food one by one with a pair of New Year chopsticks.
There were 5 huge trays of Osechi laid on the table.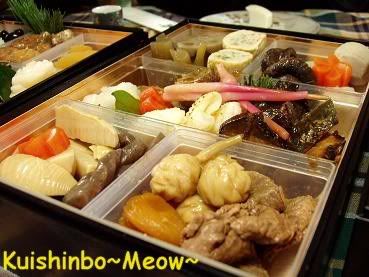 Tray 1...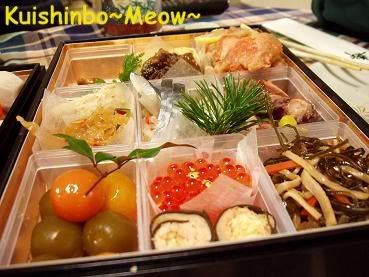 Tray 2...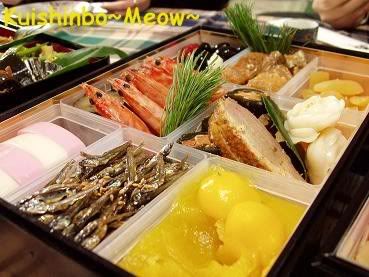 and Tray 3.
These 1st 3 trays were ordered from a shop. I counted the number of dishes inside.
More than 40!!!
Yuriko's family also made their own Osechi, which is showed in Tray 4 and Tray 5.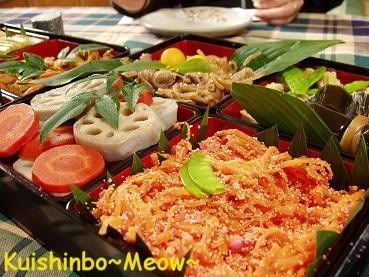 Tray 4.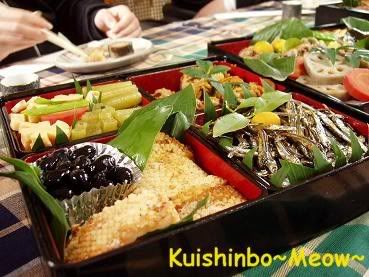 Tray 5.
Each of this dish has its own meaning.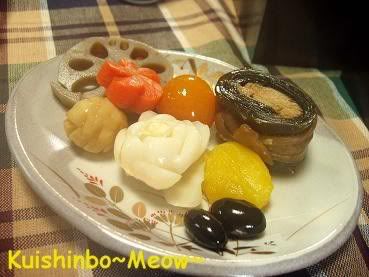 This was my 1st plate.
I only know meaning of the few foods. Among the 1st choices of mine... some of the meanings are as below.
Black bean - Be faithful
Lotus root - A good future
Yellow chestnut - Gold
Konbu - Happiness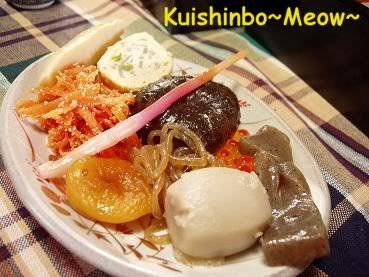 Then this was my 2nd plate.
Can you see the glittering salmon roe in one of the corner? This was one of the best salmon roe I had ever eaten. Instead of the soy sauce taste that always make the roe kinda fishy... this salmon roe was brilliant. There was a hint of alcoholic taste inside. I guess it was soaked in some kind of sake instead of the normal soy sauce. In fact, it was the hit food for the days. Everyone just loved it.
The foods were great!! I had Osechi a few years back, but the one I had were mostly too sweet for me. Only in this New Year I realised eating Osechi can be so entertaining. Especially with a warm family like Yuriko's.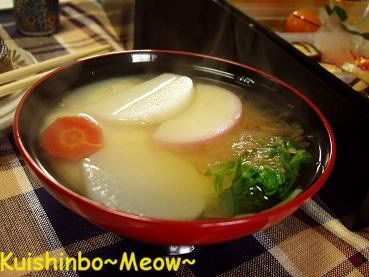 Lastly, but not the least...
A bowl of Zoni. It was another typical New Year food that must be eaten in the 1st day of Japanese New Year. Basically, it is rice cake (mochi) boiled with vegetable soup.
Yuriko's mum insisted each of us must have 2 rice cakes...
"Good things always come in double. So the proper way is to eat 2 mochis. "
She explained.
So, fish fish good good ate the whole thing. Yum Yum~~~
I am a lucky girl to have such a good chance for tasting this Osechi.
Arigatou ne~ Une no minasan.
Gochisosamadeshita.
Hoho... I am really eager to let Yuriko to try the Chinese New Year feast now. Hmmm... I wonder when will the chance come.