Buri no Kama Yaki
Everytime I went to the sushi shop nearby my house, I discovered another new delicacy.
One of them, if THIS.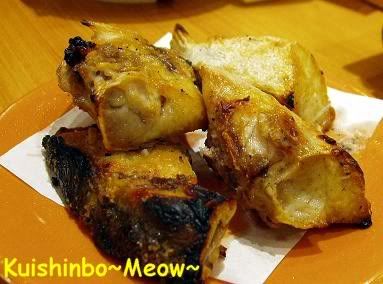 Grilled collarbone of yellowtail.
Absolutely nothing extra except a light sprinkle of salt to enhance the umami of this dish.
GOSH!!! I never know grilled fish collar bone can be this addictive.
The flesh around the freshly grilled collarbone, could still one's heart away easily.
Soft, sweet, melty...
Especially the part that nearest to the collar bone.
No wonder there is a saying that the wise gulps the collarbone part of a fish first (Hehe, mum always telling me this).
Geeee... I am craving for one now.
Starving. Time to go home for dinner.
Tata~