Ebi Sushi
I think my eating style is straying lately. I tend to have the urge to evaluate food, rather than purely appreciating them.
Yesterday, a snowy morning and a rainy night cold cold day, this kinda emotion of me kicked in again.
I wanted to evaluate ebi sashimi (prawn sashimi).
So, I went into the Sushi Shop that I always go (almost 2-3 times per month), with the familiar faces warmly greeted me.
After looking at the menu...
I looked at the chef and made my order.
"Botan ebi satu, Kuruma ebi satu."

Hehe... you should see his expression. How come I ordered 2 kinds of prawn sashimi in one go. But customer is always right, so after a very short while, my ebi were served.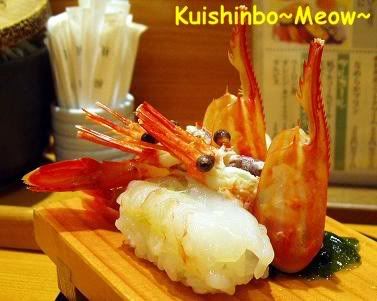 Botan ebi sushi. 420yen for this plate.
This is really good. Definitely worth a 2 thumbs up. It is melty like cream, but still have the texture for you to chew slowly while letting the umami of the prawn flesh seducing your tongue taste buds wave after wave.
The taste even turned better when you added some more wasabi and Hokkaido soy sauce. No doubt if you ask me what sashimi I like the most, I would tell you is ebi. ;)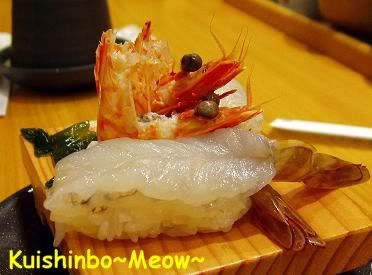 The second ebi of my dinner was this Kuruma ebi sushi. 420yen per plate too.
Now, this is something more like a tiger prawn in Malaysia. Well, it didn't has the creamy texture like Botan ebi. The flesh are much firmer, more to a prawn sushi that I have imagined. It has the sweetness of prawn, but it was different from Botan ebi.
I would say I like this one so so.
After this, I look at the menu again.
Then I looked at the chef again. He noticed I was looking at him, and quickly asked me what would I want.
I gave him a wicked smile and said,
"Ama ebi satu, nama ebi satu."
*Huh???* Hehe, he must have thought I was nut to order ebi sushi again.
But he said,
"Kashikomarimashita."
Then he came back, with only one sushi plate, nama ebi.
"Ama ebi?"
I asked him.
"Ah~ Ama ebi. Ok, I'll change it for you."
He thought he heard my order wrong.
"No no. Nama ebi also want. "
Ah~ Now he got my ordered correctly.
My ama ebi was also served.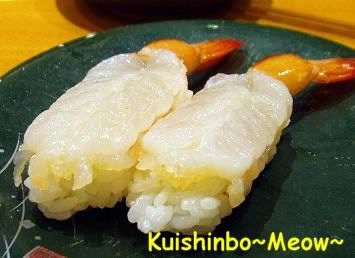 The 3rd ebi, Nama ebi sushi. 231 yen per dish.
Now, this normal raw prawn sashimi has a texture like Kuruma ebi, but harder than Kuruma ebi. Not as sweet as Kuruma ebi. This plate of ebi sushi didn't impress fish fish.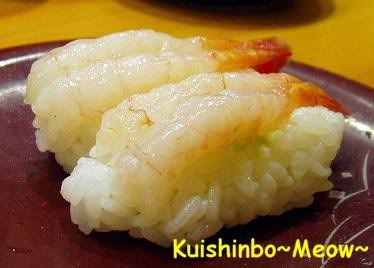 The final dish, Ama ebi. The cheapest among all, 168yen per plate.
Now, don't be cheated by its cheap price. This is really a good ebi. I believed those who have tasted fresh ama ebi will agree with what I've said.
This ama ebi is aptly name. It is called ama (sweet) because it is sweet. Yes, the sweetest among the 4. The texture was something that could make you high. It was so creamy, that you don't really feel like you are eating prawn.
All the other three ebi, it is better to eat with more wasabi and soy sauce to enhance the taste. However, for ama ebi, I advise you to eat without soy sauce. Yes, this prawn original umami is best tasted without any seasoning.
Now, here is my rank for my ebi sushi evaluation for the night...
1. Botan Ebi = Ama Ebi
2. Kuruma Ebi
3. Nama Ebi
I don't think I'm interested to have another serving of nama ebi.
Oh... btw, I've fixed to challenge the next ebi...
What?
Issei Ebi (Lobster). :P Have anyone tried lobster sashimi? Is it good? Please tell me.