Golden Snow on Choco Land
A few weeks ago, I was walking along a high class shopping street in Tokyo. Then I spotted one nicely decorated cake shop.
So I walked in and fall in love at 1st sight with this.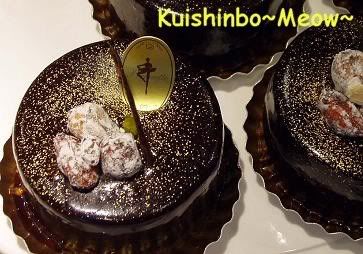 A choco mousse with golden leaf snow.
The glittering choco coat was seducing me.
I tookaway one and planning to eat it in a nice park. I couldn't find any nice park that I could even sit down.
Guess where I ended up??
I ate it while sitting on a waiting chair of a local train station. -_-"""
Train came train went~ People looked at me like I was some kind of nut eating in such a place in a cold shivering day.
Urgh! Tokyo, I know why I can't fall in love with it.
How unromantic way to indulge this piece of gem (Thanks wena, for noticing this. LOL).
*iish*