Hanakaren
Regardless a really heavy rain in Kyoto yesterday, I decided to go downtown to get rid of my low mood. Glad I did that. I have fixed my mind not to attend the class. If they really wanna stop my license, then be it. Just that I felt guilty and sorry for my mum and aunt as I will have to cancel the fun programme that I promised to give them through a car trip.
*sigh* Have to rearrange the schedule again, for days. Oh well... will try to get a good new schedule for them then. Just hope they will have a great time to enjoy as much as they can then. That's my main aim now. Really sorry mum.
Went to buy a few cute
Trane
model trains. Gosh, guys... you gonna love these little trains if you are into this kind of thing. Even a know-nothing fish fish also tend to like them more and more. ;)
I found another good restaurant to bring my mum to try.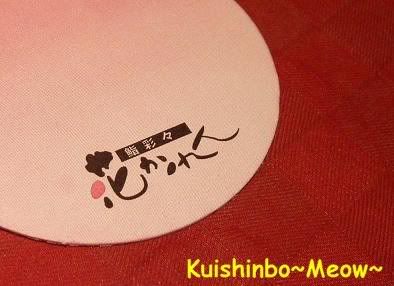 HANAKAREN
. Went to its
main restaurant in Kyoto
.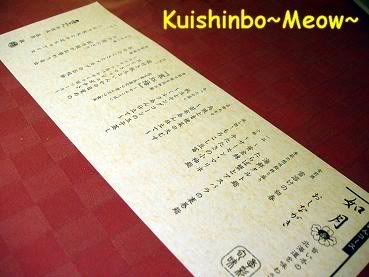 I ordered a Karen course, which is changed every month.
Luckily it was around 3.00pm, so I was allowed to enter the shop with no problem. It is strongly advise to book for the place before going, to avoid a full house situation.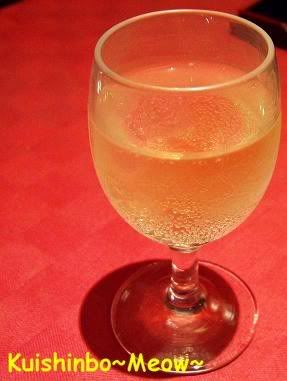 I was served a small glass of aperitif. It was a fruit wine.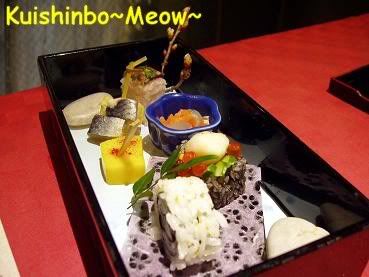 Then, 6 types of seasonal creative sushi.
Seafood tart sushi, rolled Taraba crab and asparagus sushi, golden fish cake, salmon marinate, beef sushi and corn tofu.
Some had very interesting combination. I like all of them except the beef sushi. The corn tofu gave me a good surprise, it was tofu, but I could feel a good nice taste of corn sweetness once I melted it in the mouth.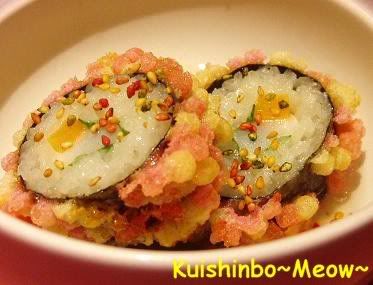 The next dish was Fried Sushi, a famous dish in this shop. In February, it is squid and green vege sushi. Something new for me. It was my 1st time trying a fried sushi. The outer crispy coating gave a very good texture contrast to the cold yet firm sushi inside it.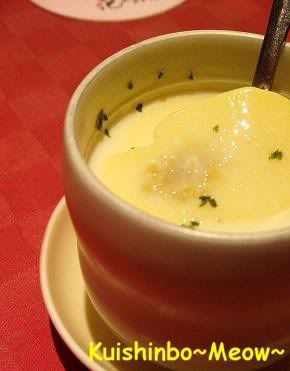 A western-style Chawan Mushi. The adding of milk on top of the chawan mushi was something interesting. Gave a stronger rich taste to the Japanese style steam egg. Inside the steam egg, scallop and young corn were used. Another interesting combination inside a steam egg. Definitely a new steam egg experience for me.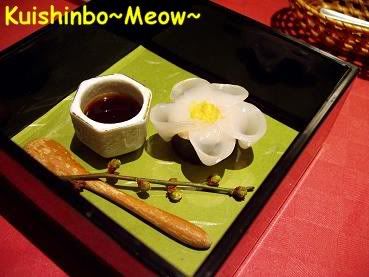 Fine art sushi.
See the pretty little blomming white plum flower? It was made by using squid sashimi. Beautiful to look at, fun to play with (you put the soy sauce by using the wooden spoon)... and the most important, good taste and great texture to indulge with.
A dish that gave a great pleasure to my 5 senses.
This is another interesting dish, by using a concept called HNJ. Hybrid Novel Japone.
Yes, a dish that infused French elements into a Japanese dish.
A combination of scallop with sweet mash potato decorated with coconut and Balsamic sauce.
The dish looked delicious. However, I was not quite satisfied with the broccoli and asparagus. It was a little overcook, made it somewhat soggy.
The sweet potato was a little bit too sweet as well. I would prefer it to be lighter taste.
So basically, this dish was not as good as it looked.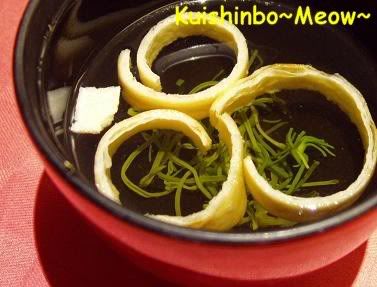 Suimono. Nothing to complement. Just normal plain taste. A good dish to wash down all the complicated taste of a food before continuing on.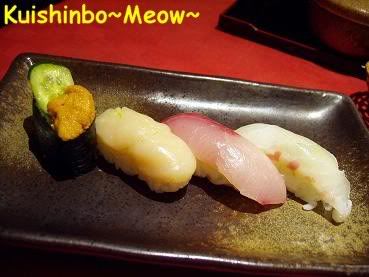 Finally, came to the Buffet part of this Karen course.
Yap, you hear me right. This is a good course with one of the menu is for "eating as much as you want".
It is called Furumai Sushi.
Basically, you have around 40 types of sushi for you to order as much as you want from a list of Edo Sushi and Creative Sushi.
The only rule is, each time you could only order maximum 4 sushi. However, as many rounds as you like.
As you can see from the above picture, I made my first order Uni (sea urchin), Hotate (scallop), Hamachi (yellowtail) and Tai (sea bream) (left to right).
Gosh!!!! This was GREAT!!!
I had least expectation on the sushi at first, as I thought since it is Buffet, then the quality will be most likely so so.
How wrong my assumption was.
The uni was the best after the one I had in Hokkaido. All the uni in Kyoto that I have tasted gave me disappointment. This uni was totally a good shock for me. It melted inside my mouth so smoothly without a single fishy taste. So rich, so creamy, so orgasmic...
The hotate was so fresh. I don't have to chew it. It melted inside my mouth the moment I put it in my mouth.
Ok, Lance, I remembered you recommended me to try a Hamachi. Now I see what you meant. This one was great. It has a very nice savoury taste, not like other white flesh sashimi which can be quite plain sometimes.
The Tai. Mmmmm... was can I say? I love it so much. Definitely one of the best tai I had.
Man~ the 1st 4 choices of mine was a great one. It proved to me the high quality of sushi offer in this restaurant.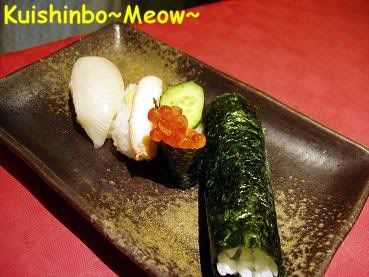 My 2nd plate. Not a too good choices.
From left to right :
Karei, a kind of flatfish. I don't like it, both the taste and texture. It has a bittertaste. The texture somewhat remind me of a raw octopus.
Zuwaigani. It was ok. I guess Japanese crab is just not my cup of tea. Cooked Japanese crab meat only have the sweetness of the flesh, but didn't give me the pleasure of the good aroma I was looking for. I prefer the river crab from Sarawak, my mum's homecook crab. Tee hee heee... Gonna be my first order once I got home. Oolala~
Salt ikura. Hmmm... not good. The only good ikura that I have tasted was in Yuriko's house. The taste of ikura just too fishy for fish fish, including this one.
Kanimiso (miso of a crab). My 1st time trying it. DON'T LIKE. The most fishy choice for the meal. Ah well, as least I know now what a kanimiso taste like.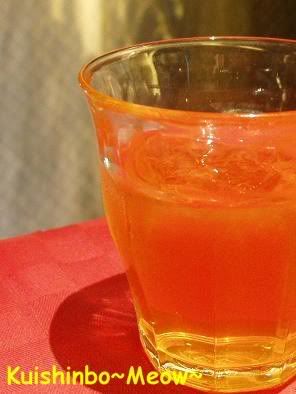 To this point, I had to rest my tongue a bit before I continued. I break my normal rule, I ordered a glass of Ume wine. :P This ume wine was ok, not as soothing as I had expected.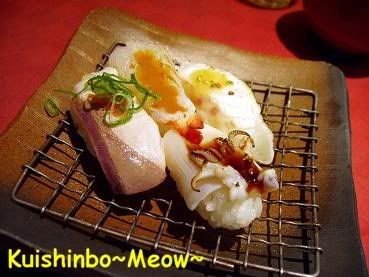 My 3rd plate, I decided to go for Creative sushi themed "Aburi", meaning lightly grilled.
It has 4 types of sushi inside.
Clockwise :
Ika (squid). This was fabulous. A quick grill brought out the umami taste of this sushi. The chewy texture was fantastic.
Hamachi. Did I say I love raw hamachi just now? Tell you one more thing, I love grilled Hamachi even more. Gosh... this was sooo good. It gave a rich feel to the Hamachi due to the melted fat of this fish by the heat. Yet, it still maintain the soft texture and umami of this fish. Geee... even writing it now making me salivating.
Prawn. This was good too. Sweet, a little chewy texture and the accentuation of the prawn good taste by its own miso was something brilliant.
Tai. Ar~ another great one. The tai became sweeter by a slight heat.
My conclusion is, I love Aburi sushi the most. The grilling process tends to condense the good thing of seafood, makes it even more appealing in look and appetizing in taste.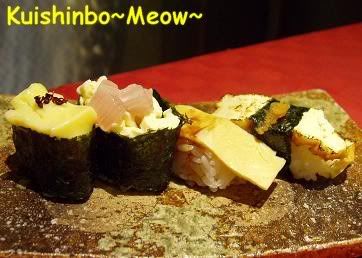 My next choice was still Creeative sushi.
Themed Tofu.
Right to left :
Grilled tofu was crispy outside and soft inside with a slight bitterness.
Yuba sushi was ok. Not too much to say.
Tofu and sashimi combination was the best among these 4. Both have different taste and different texture, yet gave a very good harmony to each other.
Tamago tofu. Oh well, I think eating this egg tofu alone will be better for me.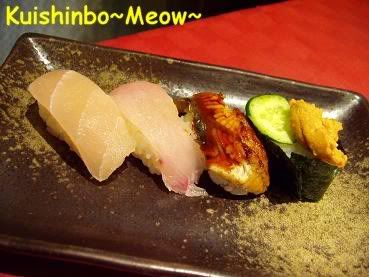 I had enough of the Creative Sushi. I decided to switch back to Edo Sushi for my 5th plate.
I went for Kanpachi, Kajikimaguro, Unagi (eel) and Uni (again!).
I didn't like the kanpachi and kajikimaguro. The unagi was good, but the one nearby my house is better. Once again, my oh-so-in-love uni.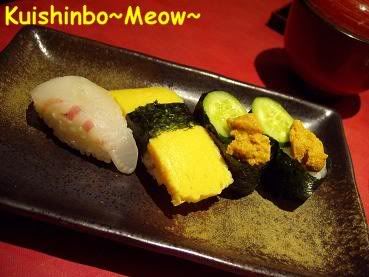 The last plate of my buffet sushi, I decided to have something of my favorite.
Tai (again!), tamago, uni and uni (AGAIN!!! TWO even!!) :P
Man~ I had more than 30 sushi in one meal. Hehe... REALLY BIG APPETITE. Gosh, even now looking at the amount, I wonder how did I managed to finish them all. *salute to myself*
I guess I didn't name myself as Kuishinbo for no reason huh~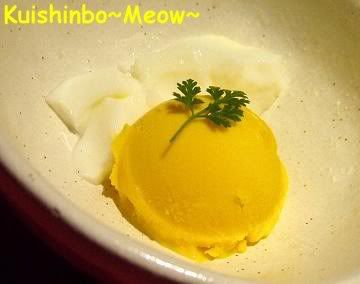 Oh... forget to say one more thing.
I ended my almost 2 hrs "lunch + dinner" with this nice little pumkin ice cream. Yum yum~~~
All the food I had eaten, not counting the Ume wine, I only paid for 2830yen. REALLY WORTH IT!!!
I'll go again, with the woman I love the most. ;)
THE END.