Oh yeah~ Real grills!
It is such a quiet day in my lab. Though it is a normal Monday, most of the people were out for some factory visiting. Left another 2 students, a secretary and me.
Outside is so gloom, rainy day today.
So, I decided to take a longer time to have my lunch. I went to downtown for my food exploration.
Indeed, it was a fun day for me.
The 1st thing I am going to introduce to you with my new experience on food is this...
GRILLED SHELLS.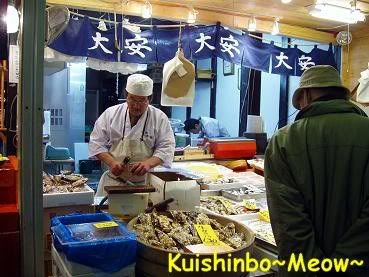 I was walking along
Nishiki Ichiba
(very historical market in Kyoto) last week with friends, when we saw in front of this shop, named
Daiyasu
have a long queue waiting for the eating counter to start its business.
Later then we realized people were waiting to eat seafood here.
It caught my eyes when I saw the signboard was quoting grilled oyster 1 for 150yen. Gosh~~~ now this was really temptating.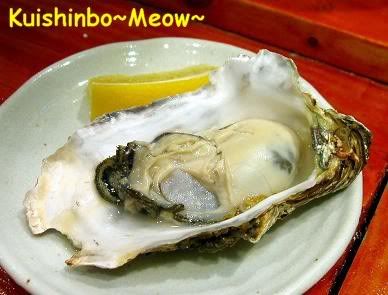 So, today, taking the chance of a rainy normal weekday, I tried it for the 1st time.
Woohoo~~~ really excited to see a grilled oyster (yaki kaki) on its shell for the 1st time in front of me. It was for me!!
I took this picture in less than 10 seconds, and quickly slurped the whole thing into my mouth.
Oh my gosh! This oyster is absolutely fat milky juicy yummy. Now I could understand why my friend strongly recommended me to try grilled oyster (especially in winter) when they know I started to become an omnivor.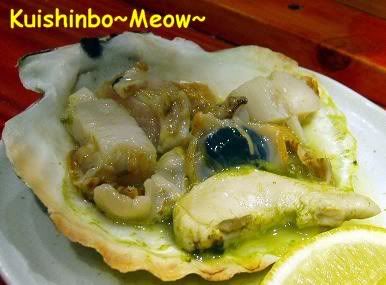 Due to the very good taste of the grilled oyster, I decided to order one of my very favorite shell, grilled scallop (500yen).
Woohoo!! Totally excited to see another whole scallop that was nicely grilled presented on its shell.
A guy next to me were ordering same thing as me, the only different was he had 3 oysters instead of 1.
*gulp* He was very very fast in gulping the whole thing. Just when I satrted to munch first chunk of my scallop, he almost finished his.
Now... I thought I have tried good and fresh scallop before this, today's scallop broke my concept.
A fresh scallop that just break from its shell is an orgasmic food.
Not a single smell of raw taste from sea.
The scallop was grilled to a perfect hardness. The texture was munchy yet still remain the inner juicy part and addictive umami of the scallop.
Ah~ no wonder even though it has been running its business for 75 years, it still remain its popularity.
Gosh... I couldn't believe it I just discovered it today.
Oh well, late better than never knowing it.
;)