Shoo! Shoo! Go away mold luck
As I mentioned before, I was fined because of speeding.
It happened in Hokkaido, where my speed was caught 99km/h on a wide and straight road that with speed limit 60km/h. It didn't write any speed limit there, so I thought it was 80km/h for the limit with that kind of road. How wrong I was. But at least now I know any road without writing any speed limit means 60km/h is the max.
*FLASH* *Urgh~ my eyes painful*
Yes, my "pretty" face was captured perfectly by the high tech camera.
So, the consequent?
6 points were deducted, driving license was stopped for one month, and a fine with maximum fine up to 100,000yen (well, didn't pay the maximum, but near to that).
Now, please tell me, do you think the fine was too heavy?
Few days earlier before the fine, the letter of stopping my license came. I woke up at 5.30am, just to be in time to submit my license in a very deserted place at 9.00am.
Then, few days later, another letter came and ordered me to go to pay my compound. However, the way the letter sound, made me nervous. It sound like I have done another speeding, which I totally couldn't remember. Maybe my soul somehow jump out of me and did the crime.
Luckily, the next day when I was meeting Yuriko, after letting her read the letter, and after she consulted her mother through phone, our conclusion was it should be the same case. *wipe cold sweat* Thank you so much dear Yuriko, your assistance really calmed fish fish a lot with a good sleep. I am glad to have such a friend beside me when I really need the help.
So, on Valentine's, with 1 h of train and 1.5km of walking distance, I reached another deserted place with a big signboard...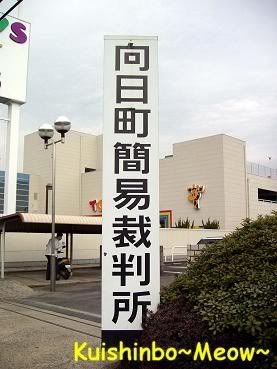 Mukomachi Summary Court.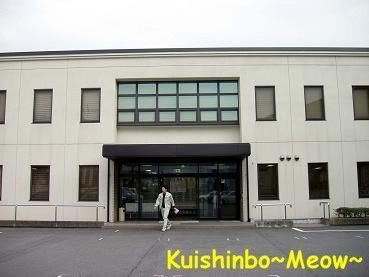 A plain building that gave me pressure before I was entering it.
It took me 1.5 h to finally settle everything.
Tee hee hee... it was fun to talk to the officer. I'll tell about the story in other day.
It was fun to see the faces of people who are having the same case like mind. Most of them was fined as heavily as mine. There was one guy that was fine 180,000yen. Know what he did? He pull out a thick stack of money, all 1000yen, and tell the officer it is 100,000yen. Hehe... the officer have to do the counting one by one.
I could feel grey cloud and lighting kept splashing heads of people sitting around me.
Duh~ cheer up mar~ What have happened have happened, treat it as a very good lesson lor. I didn't want my wrinkle increase because of this. Though I cried a lot when I just knew about the fine. But I am sure I grew up more this time.
Just hope that this "small money" out will bring "big money" for me later in my life. But because of this "small money", I have to cancel my plan of going home for CNY and also to get a new camera. Sob sob...
Anyway, it was over. *Ok, Lance, now you know the whole story.*
So my advise it... NEVER EVER TRY TO AGAINST ROAD REGULATIONS IN JAPAN. It is super heavy for the consequent.
The good thing are... I have policemen and officers kept calling to my phone. How good. I was phone dating with them.
After the case, and by the time I got back to the city, it was 3.40pm. Gosh~~~ I was really dying hungry.
I decided to eat a good meal to sweep away this mold luck.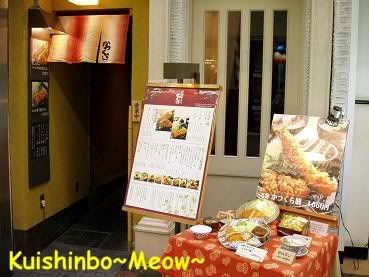 I chose
Katsukura
.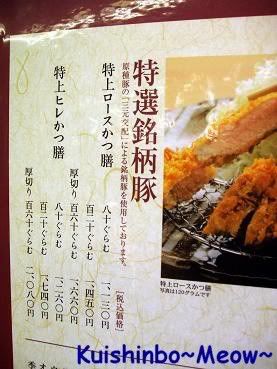 A shop specialized in Fried Pork Chop Rice (called Tonkatsu Donburi).
My first time to try it, after hearing many good reviews about it from friends.
First, I walked along a long and narrow alley.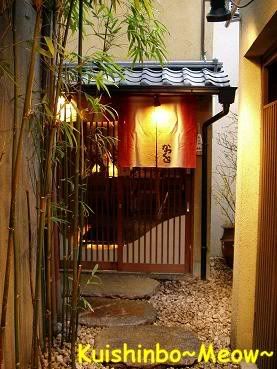 Then, it led me to a nice Kyoto style main entrance.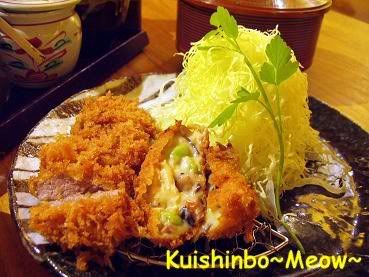 I decided to order a Supreme Pork Fillet Steak 80g (left, 1260yen) and a Yuba Croquette (right, 320yen). The cabbage was a free flow, you can call for a refill after you finish it.
From the above picture, it might look nothing different from other Tonkatsu dish, but it is the ingredients that are used in this shop that made it a worth trying place.
First, the pork is from a supreme Sangenbuta, which means a crossbred pig from 3 different species of Japanese pig.
Then, the coating bread crumb that baked under an oven.
Also, a special blended oil that used for frying.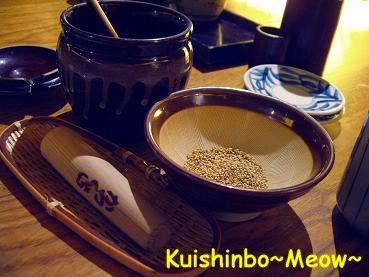 It was a fun thing with the sauce.
First, they gave you a bowl of whole sesame. All you have to do is to grind it with the wooden stick until the coarseness you prefer.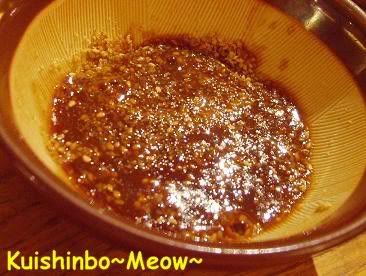 Then, add in special Tonkatsu sauce that home-made by this shop.
Inside this sauce, it has a lot of red wine and apples.
Geee... the glittering sauce is making me to crave for another one now. (For your information, I still haven't eat my lunch when I am typing this.)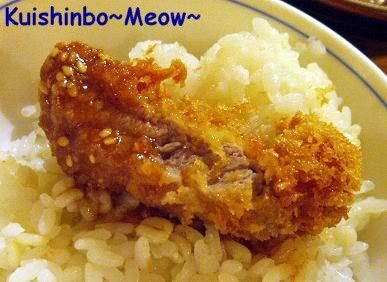 I tried the plain fillet. It was very good. There was not a slight pork smell that spoil the meal. Indeed, I didn't even feel like I was eating a pork that time.
Then, I tried a light dip with the sauce, it gave different taste to the fillet. The coating was juicy yet still able to maintain the crunchiness with this slight dipping. The pork texture was soft and not oily at all.
I couldn't help but to keep eating it with the healthy wheat rice.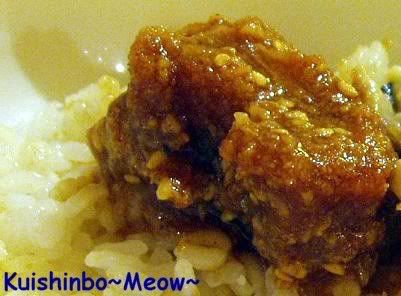 If you are a person who likes thing with a lot of sauce, this piece of fully dipped meat is supposed to make you salivating now. ;)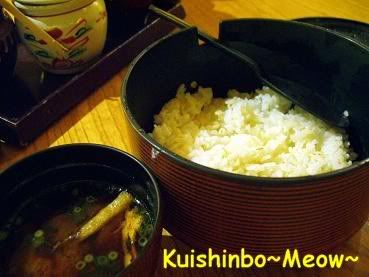 The meal came with free flow of wheat rice and red miso soup. Yes, you can eat as much as you want for these 2 things.
I was very impressed by the miso soup particularly, that I actually had 3 bowls of it. :P It has a very unique taste inside, which only I could recall after thinking for a while.
I was very sure it must be this hidden taste that made the miso soup so special.
So, I called the staff and asked her,
"Hmmm... the miso soup is very special. I like it. What did you put inside?" "This is the red miso."
She was telling me.
That was not the answer I wanted.
So, I reasked...
"There is something different about this red miso from common red miso. I could feel Japanese pepper was added inside."
Boohoo!! You should see how surprised she was.
"Miss!! You are very right. We do add in some Japanese pepper inside the soup."
Ah~ now the mistery was solved.
In fact, I was proud of myself that moment. Hehe... fish fish, not wasting you many years in studying food science. Anybody wanna hire me for a sensory evaluation?? :P :P :P
This was a great meal for me. The layout, the service and the food. I have to give 2 thumbs up for it. I'll definitely list this one as my mum's coming food adventure as well. ;)
I strongly believed my mold luck was totally swept into the drain after having this wonderful meal. *HOPEFULLY*
Ciao everyone. Time for me to eat and to do gym.
Hehe...