Valentine's Choco Series - Gokan
Not a good idea at all to watch too much food programmes on TV. It has a really bad influence on fish fish just like what a Spiderman movie did to a kid. *gulp*
I couldn't kick away the
2 patissiers'
sexy smile from my mind.
By the time I realised, I ended up on 7th floor of Takashimaya on last Saturday.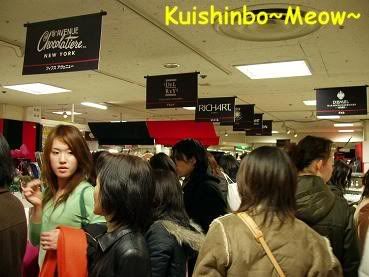 Gosh!! See the crowd that was infected with the same virus as mine. We were all casted with the spell for CHOCO!!! (Hehe, the truth is, these ladies are hunting choco for guys. Fish Fish? For herself. :P I always think giving choco to guys are just a great waste. I prefer to substitute with a can of beer or a model car for them.)
There were too-many-to-choose fancy, elegant, sexy, cute etc.... eh hem... CHOCO on this chocoland. I was kind of tired of Godiva already, so wanna find something new.
At the end, I spent more than 4000yen for Choco only on 4 types of choco. *another gulp*
First brand, it is a Japanese company named
Gokan
, which means 5 senses.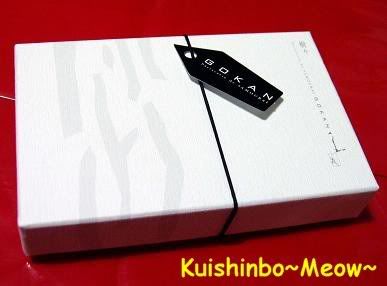 I decided to buy a pack of their Autumn/Winter Limited Edition of raw chocolate after tasted a small bit of it. It is named
Kiki
. It was almost without hesitation to buy it. One of the best raw chocolate that I have ever tasted.
I decided to get a small size for 840yen.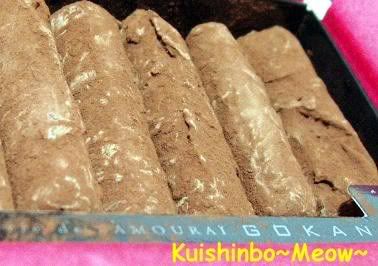 With 7 cute sticks of Kiki inside it.
Well, it does not look as fancy as many other choco, but I can assure you the taste beated most of them.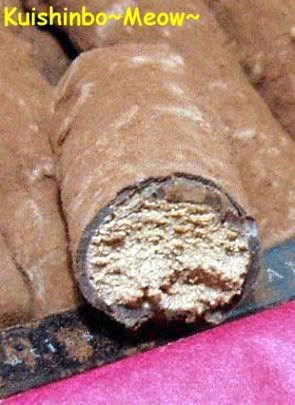 Once bitten, the hidden treasure inside this plain looking stick will reveal its real magic. It was a blending of French and Belgium chocolate.
The inner part of the soft, fluffy and melty chocolate cream was wrapped with a layer of brittle yet easily melt in you mouth chocolate coat. The thin layer of bitter chocolate powder on the surface of this stick gave a wonderful bitter taste for the whole thing, yet not overtaking the nice combination of the sweetness.
I have to close my eyes in order to appreciate it with a different level of enjoyment.
Exactly giving my 5 senses a strong punch.
Gosh~ I feel like go home now just to get another stick of Kiki into my mouth now. *GULP*