Valentine's Choco Series - Griottines
Busy day for me today. Writing paper is troublesome, but who ask me wanna be a student in the first hand. What to do? Anyway, I'm gonna say bye bye to it in 2 months, complicated mood whenever think about it.
Last brand of choco that I brought.
Grottines
.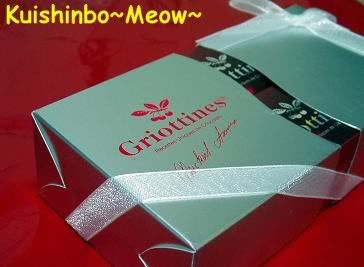 I was attracted to this, because of the non-stop-shouting-loudspeaker that kept promoting that it is the best chocolate of the year.
"Come come!!! The champion of the year, you could only get it this here in whole Kyoto."

Grrrrrr... he got my weak point. I couldn't resist food that have the word "Best", "Limited edition". Especially if it is a chocolate. -_-""" *Fell into the trap willingly*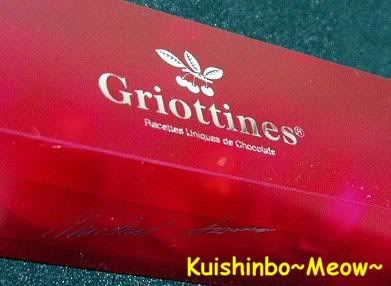 Actually, I wanna to get only a box of this instead of 2-boxes packaging as the earlier picture, but 1-box-packaging has been sold out.
Urgh~ that was still 4 days from Valentine's, and they said sold out already. Stoopid! or should I say Cunning!!
So, I paid 2100yen for 2 boxes of this...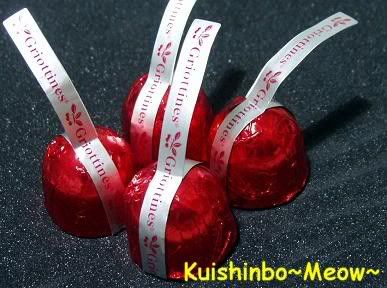 ...with each boxes have 4 Griottines brandied cherry chocolate inside it.
This one is good, especially the cherries inside it.
I later found out that it was no simple cherry, but it is actually a macerating graded and stoned wild Morello cherry that has been pickled in a light alcohol syrup (15%) flavoured with Kirsch (cherry brandy), based on a scret and exclusive method derived from the company's unique savoir-faire. Griottines are free from colouring, thickeners, preservatives and artificial flavouring.
The chocolate was not something very shocking for me, but the cherry did a good work on me. Those of you who likes chocolate, alcohol and cherry... you should really try it, you will fall in love with it. ;)
At least Yuriko did. She so in love with it after she tried the one I gave her. Hohoho!!! This girl is not a fan on chocolate, yet she was screaming with satisfaction the moment she bite on it.
Ok, enough for making you all imagine how high she was while munching it. :P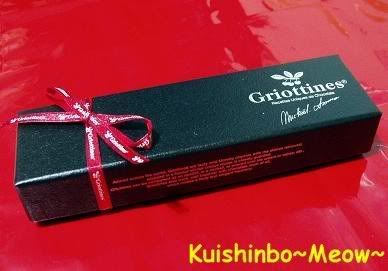 Besides the famous brandied cherry, I also bought a box of Griottines planetarium. Cost 1050yen.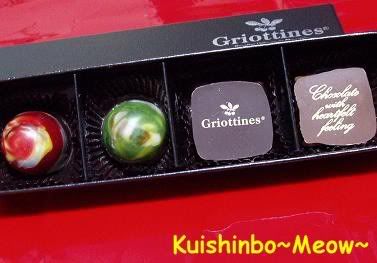 As named, there were 4 chocolates inside, with 2 of them looked very much like planet.
So far, I have eaten 3 of them. I'm saving the red one for last, which I believe is passion fruit flavour.
I like the far right milk chocolate the most. The choco cream inside it blended so well with crunchy small chunks inside.
Furthermore, the series were not as sweet as its appearance.
Ok, this ends my chocoate talk for the few days.
Among the three, did any of them tempted you to try the most? :P I enjoy all of them, just like I enjoy seeing
Richard Gere
,
Johnny Depp
and
Karasawa Toshiaki
. If you know what I mean. ;)
See ya! Time for my gym.