We are slimy... and you will stick to us
Slimy foods are commonly well-known in Japan as healthy foods. In fact, they have quite a varieties of slimy food for you to choose. Natto, nameko, okura, yamaimo, mozuku etc...
I couldn't get used to it the first 2 years I was here.
However, I am now a big FAN of slimy foods. Just like what is a spinach to popeye, slimy foods are boosting energy of fish fish for starting a good day.
Today, I'm gonna show you a few more ways to modify the preparation of these slimy foods into some even more yummilicious and good looking menu.
;)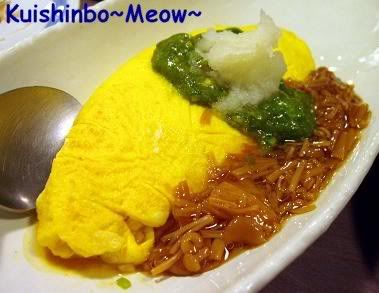 Omelette with nameko (the brown mushroom which is very slimy in nature) and finely chopped okura (okra). The fluffy texture of the omelette kinda match in a strange way with the slimy nameko and okra. It was a unique texture that I have never experienced before.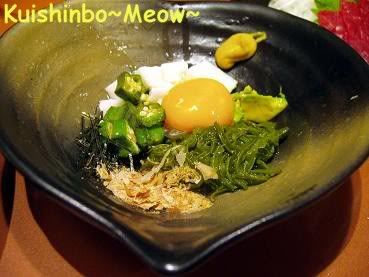 Now, this is another great slimy salad.
You need to mix everything vigorously like mixing a natto before you eat it.
Oh yeah~ this thing can easily making you high. The sliminess of nagaimo (Japanese slimy yam), okura and mekabu (slimy seaweed) were uniformly mixed with creamy raw egg yolk and avocado. The nori and katsuo furikake crispy texture gave a good contrast to the slimy combination. The whole thing is a very good salad, taste even better by adding some mustard to give the pungent and spicy feeling.
Yap, this plate of small salad is challenging your palate with all kinds of goodie.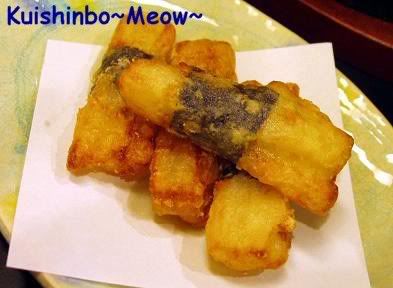 The 3rd one, is how to use a slimy food to make it a non-slimy delicacy. It is yamaimo wrapped with nori and deep fried like a tempura. It is commonly called Yamaimo no Isobeage. This dish is addictive. The yamaimo was fried into the degree where it is still maintain the crispiness of it. This is the hardest to control point as over frying it will destroy the unique texture of the yamaimo. Sometimes, you can eat with a dip of green tea powder salt to enhance the umami of the yamaimo.
This is surely a great dish to go with a nice mug of beer.
Kanpai!!! This is when I will wanna drink a beer.
Ah~~~ slimy just too slurp~~~
*grouuuuuuuu*