Karubi Kuppa
Weird weather.
It was suddenly raining and snowing in my place for a short while this morning.
The weather was so bad these few days, that one by one of my lab people fallen sick.
One of the girl was having flu, and couldn't sensed taste in her food.
She asked me and Mirian to accompany her to eat something shocking.
Hehe... more than pleasure for fish fish.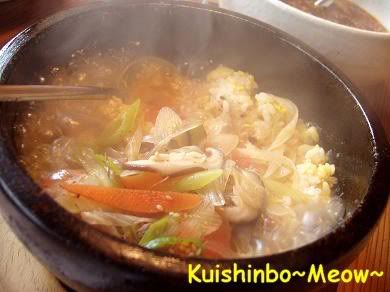 Turned up three of us ordered the same thing for lunch today.
A big bowl of sizzling karubi kuppa.
Do you like slowly braised beef until melt in your mouth texture?
Do you enjoy the burnt part of the bottom of rice that gave you a crispy bite?
Do you prefer something fuming hot and spicy, yet with a strong savoury taste that will not overtake each other uniqueness?
If you do, you will enjoy this bowl of hot stonebowl karubi kuppa.
I did.
*slurp*
p/s: Geee... busy night for me today. Need a big cleaning in my room. -_-"""