Mama fish and the big fish :P
Slept after 1.30am this morning. Woke up at 4.00am. Took a train at 5.00am and reached a huge busy place at 5.30am.
Geee... what did we do today?
May fish fish presnt you the nicest thing to do for the day...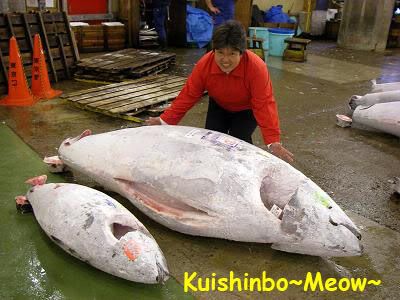 Tra la la~~~
Bring mama fish to meet many many big fish.
See? The biggest fish of the day that we found.
Such a huge tuna.
I think it can even swallow the whole mama fish.
Tee hee hee...
You must go to Tsukiji fish market when you in Tokyo.
It is a good place to see interesting fish selling scene. ;)
Details later.
Nite nite. Head painful, need to check some info before I have a good sleep. My body is calling for help already.