My final night
Oops... it has eventually reached the final night for me in Kyoto.
Amazingly, there was a heavy snow tonight, in the end of March. Hmmm... maybe Kyoto feels lonely with my leaving. :P It was the 1st time mum and aunt see snow. You should see how excited they are. Hehe... I guessed I was like them when I 1st saw the snow, but now the excitement gone.
By the way, I managed to taste the most expensive burger in my life, called Judan.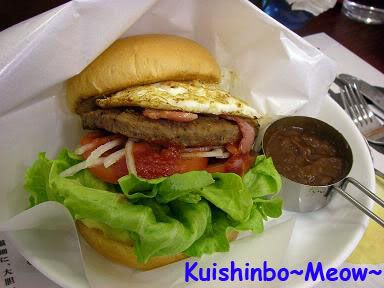 Tralala~~~~ 1000yen for one. About RM32. Geeee...
It was splendid. Huai Bin, YOU MUST TRY, you fast food lover. Hehe...
I have a great difficulty trying to gulp the 10 layers at one go. Mum, aunt and me shared one, just to taste how it was, we went to have a heavy dinner in Watami after that, ordered 10 dishes.
Gosh~~~
I know I am going to miss food in Japan deeply when I leave this place tomorrow.
Know where I am now? In the internet cafe again. I wasted 30 min just to entertain the 2 empresses for their curiosity. But in the end, nothing gained. I guessed I am just too amateur to figure how the things work. So, I just dumped the comic version for them instead to let them enjoy their time while I can have my own time to do blogging.
Muahaha... *I know, I am a bad daughter and niece* No no no... it should be, be prepared if you have a very curious mum. It is scary the things they insist you to do for them.
Man~~~ their requirement really causing me non-stop blushing in front of the 2 cute counter guys. Grrrrrr... feel like digging a hole to hide inside. *wipe cold sweat*
But then, at least they are enjoying their time now.
Ok... time for me to end here. Try to appreciate more of my last night here, be more sentimental.
;) Nite nite.