Tree Cake
*Ring~~~~ Ring~~~*
Fish Fish :
"Moshi mosh~"
~Angel~
:
"Moshi moshi. Gal~ you need anything from Kobe or not? I still have 15 min before going to Kyoto."

Fish Fish :
"No need lar. You come enough liao."
~Angel :
"No need ar? You sure? How about sweet from Kobe? I remember you blogged about you like it."
*light bulb blink blink in fish fish's head*
Fish Fish :
"Ah!! That one. Can can. I want!"
Another end of phone, I heard Angel's laughing voice.
So, ~Angel~ came to Kyoto with a nice omiyage for me that night.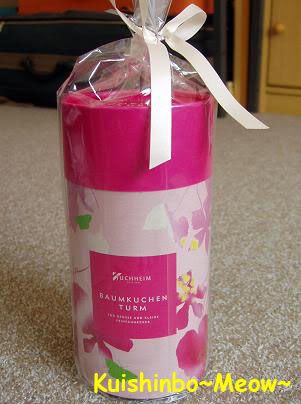 Oo la la~~~ What a pink. Hehe... pink~~~
Then, Angel reminded me it is special edition for White Day.
-_-""" Oh yah~ Day that many guys in Japan will have to dig out there blood sweat money for buying a return-gift for their special one. Poor things.
Tee hee hee... don't be jealous again ladies.
I got a sweetie give me this. Lucky or not? Muah~ gal, thanks a lot.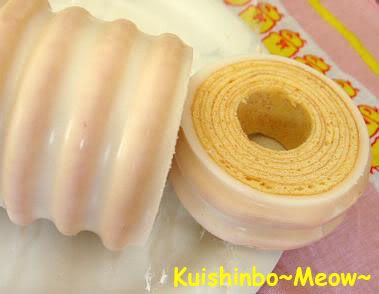 I love it. Baun kuchen. Literally, it means Tree Cake. A German dessert.
See the shape? I'm sure you know why it is called a Tree Cake. ;)
It actually represent Happiness.
That is exactly what I need.
Hope my bad luck shoo away further and further after eating this Happiness Cake.
*Yum Yum*